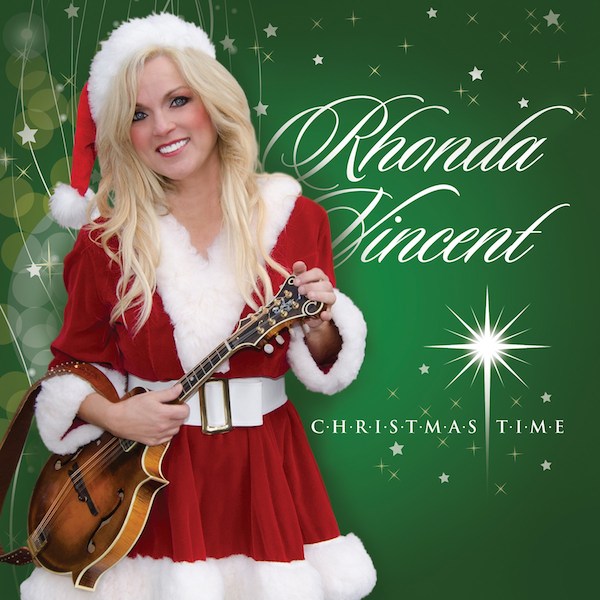 CHRISTMAS TIME
Rhonda Vincent
Upper Management Music
It was 2006 when last we heard from Rhonda Vincent at Christmas time, but she returns in style with, yes, Christmas Time, featuring a delightful dozen tunes including four Vincent originals (one of which, "Christmas Time at Home," was re-recorded for this project after appearing first on the 2006 album, Beautiful Star: The Christmas Collection). Her stellar band, The Rage, is supplemented by the likes of Stuart Duncan on fiddle, the increasingly visible Sierra Hull on mandolin, Michael Rojas on piano and Mike Johnson on steel, all of whom make this a holly, jolly Yuletide evergreen of a seasonal album.
'Christmas Time,' a song Rhonda Vincent wrote for her father, who passed away on Sunday, October 5, 2014.
Rhonda's own songs are family-oriented affairs, starting with the catchy album opener, "Dreaming of Christmas," with its loving images of food and outdoor frolics and a soaring, high celebratory chorus, which is further augmented by feisty solos from Brent Burke on resophonic guitar and Aubrey Haynie on fiddle. The aforementioned "Christmas Time At Home" is both reflective and joyous—a muted celebration, you might say—as a homesick traveler anticipates a comforting return to the embrace of family, "laughing and sharing memories of the moments we still treasure," even as she aches with the memory of Christmases past. Ultimately it's a happy reunion of loved ones and "the simple things we love most," with Rhonda's emotional vocal supported by tender solos from Stuart Duncan, Jake Stargell (acoustic guitar), Aaron McDaris on banjo and Burke on resophonic. Her "Milk & Cookies" has the bright melody, singsong lyrics and bouncy rhythm of a classic children's Christmas tune about Santa's arrival down the chimney on Christmas night—purposely lightweight and fun it is, much like "Jingle Bells," which happens to show up here in a frisky arrangement keyed by Rhonda's freewheeling vocal and featuring lively soloing from two guitarists, Jake Stargell on acoustic and Tim Crouch on gut string. Elvis had his "Blue Christmas" and Rhonda has her "Christmas Time," which isn't quite as blue as Elvis's Christmas but its melancholy is real: Ms. Vincent wrote it in memory of her father, who passed away in October 2014. With Stuart Duncan shadowing the heartfelt vocal with tender, crying fiddle lines, Ms. Vincent reverses field and finds not only solace but even joy in the love binding the family together that even death cannot put asunder.
Rhonda Vincent's promo video for Christmas Time
"Jingle Bells" is the second of four songs on Christmas Time that also appeared on Beautiful Star, but all of these are re-recorded for this project. "Away In a Manger" is done with a bluegrass feel enhanced by Stuart Duncan's fiddle and Aubrey Haynie's delicate mandolin work and a similarly reverent "Silent Night" teams Rhonda on heavenly high harmonies with Kelsi Robertson Harrigill and Charli Robertson, with the arrangement given a lush overlay of strings arranged by the redoubtable Kris Wilkinson. "O Little Town of Bethlehem," "Angels We Have Heard on High" and "God Rest Ye Merry Gentlemen" are rustic and reverent, straightforward readings with atmospheric solos along the way by fiddler Justin Moses, Ms. Hull on mandolin (very tasty on "O Little Town of Bethlehem"), Aubrey Haynie, et al.
'Dreaming of Christmas,' a Rhonda Vincent original from Christmas Time
The big showcase piece is another of those revisited songs, "The Twelve Days of Christmas." This time it's not just Rhonda and the Rage members singing of each day's presents but rather an all-star cast including a youthful sounding Dolly Parton; Bill Anderson doing a fine whispering turn; Ronnie Milsap; earthy Gene Watson; Willie Nelson; Charlie Daniels; the Oak Ridge Boys, Jeannie Seely, Lorrie Morgan, Pam Tillis, EmiSunshine and an arch Larry Gatlin with several readings of "four calling birds" that will have you wondering if you really heard what you thought you heard.
'Christmas Time at Home,' Rhonda Vincent, from Christmas Time
"The Twelve Days of Christmas" may be getting all the press, but Ms. Vincent's fans will likely treasure most the closing "Christmas Medley." With only pianist Michael Rojas accompanying her, the Queen of Bluegrass gives what amounts to a chamber concert comprised of "What Child Is This," "We Three Kings," "It Came Upon a Midnight Clear," "O Come All Ye Faithful," "The First Noel," "O Holy Night" and "Hark! The Herald Angels Sing." A woman of deep faith herself, Ms. Vincent's immersion in the narratives is complete but controlled, respectful of the true Christmas story and seeming humbled by the magnitude of the event itself. That distinctive, keening high register of hers has rarely sounded more earnest or more intense. A thoughtful moment to go out on, it brings Christmas Time back to where it belongs. It might even make you forget how cute she looks in her Santa outfit.