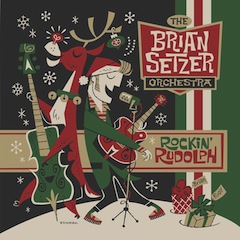 ROCKIN' RUDOLPH
The Brian Setzer Orchestra
Surfdog Records
Hotshot guitarist and inveterate rocker Brian Setzer, who has been responsible for some of the liveliest Christmas music of recent times, returns to the Yuletide fold in 2015 with Rockin' Rudolph, his first holiday album since 2005's rousing Dig That Crazy Christmas, and his sixth seasonal-centered long player in all.
His bold, brassy 18-piece orchestra is in fine shape here and gets considerable air time, if you will, given that almost half the tunes are instrumentals on which Setzer turns them loose. They cut a mean, swinging version of "Hark! The Herald Angels Sing" complete with a sizzling Setzer six-string fusillade; romp festively through a driving version of "Joy to the World" now recast as "Swingin' Joy" and fueled by dazzling dialogues between the trumpets, trombones and saxes; get into a jazzy strut on "Little Jack Frost," thanks to Matt Rollings' King Cole-ish flourishes in his buoyant piano solo ahead of the female backup singers' lively vocal turn; and settle into a soothing, mellow groove on "O Little Town of Bethlehem" in a richly textured arrangement of contrasts between the muscular tones of the saxes and the trumpets' feathery, soaring exclamations.
The Brian Setzer Orchestra, 'Yabba-Dabba Yuletide,' from Rockin' Rudolph
The Brian Setzer Orchestra, 'Rockin' Around the Christmas Tree,' from Rockin' Rudolph
Setzer is no shrinking violet here, though. "Rockin' Around the Christmas Tree" introduces the record with a searing blast of guitar before the host comes in to rock the vocal home while adding more stinging, howling instrumental interjections of his own, along with a sax man's hefty solo. He acquits himself admirably with a personable lead vocal on a faithful rendition of Andy Williams's classic "Most Wonderful Time of the Year" and croons a cool "Have Yourself a Merry Little Christmas" with atmospheric support by his female singers and the tasty stylings from Rollings' piano. "Rudolph the Red-Nosed Reindeer" has been reimagined in many ways since 1949, when Johnny Marks adapted his brother-in-law Robert May's original children's story into a song that eventually sold 25 million copies after Gene Autry recorded it but Setzer's "Rockabilly Rudolph" vies with Chuck Berry's "Run, Rudolph, Run" for best rockin' version–thanks to the heated guitar soloing, sizzling horns and an occasional Jerry Lee Lewis glissando surfacing in the mix, courtesy Matt Rollings on the 88s—and might well have an edge by virtue of Setzer's arrangement evoking the mood of '60s hip detective series such as Burke's Law, 77 Sunset Strip and Surfside 6. Not least of all, in "Yabba-Dabba Yuletide" he takes the theme song from The Flintstones and turns it (or overturns it) into a rock 'n' roll romp fit for Old Saint Nick with plenty of speed-picked guitar and all sorts of other textural effects on his Gibson amidst the bursts and flurries of horns and a hard working drummer powering the whole enterprise forward. Who knew the Brian Setzer of Stray Cats days would transform himself into a modern-day Father Christmas? Clearly, in his current guise, he's the man with all the toys.
The Brian Setzer Orchestra, 'Carol of the Bells,' from Rockin' Rudolph
The Brian Setzer Orchestra, with Matt Rollings on piano, 'Little Jack Frost,' from Rockin' Rudolph
Note: Rockin' Rudolph is available as a single CD, but for Setzer aficionados and completists, a deluxe, limited edition box set, priced at $114, is available. It includes the Rockin' Rudolph CD; commemorative sheet music/guitar chart to the "Nutcracker Suite" as performed by Setzer in concert; a custom, three-inches-tall Brian Setzer die cast metal alloy tree ornament; Setzer's own Murray's Pomade hair product; a commemorative Brian Setzer Orchestra (BSO) "Martini" logo stainless steel guitar pick; BSO Christmas album cover drink coasters; six Polaroid-style BSO concert photos; and a "Live in Nashville" 10 x 10 print.