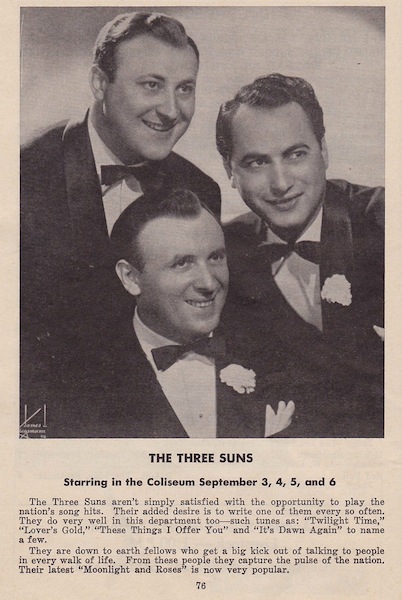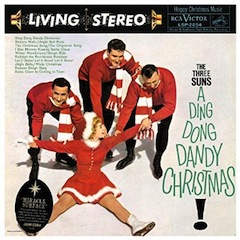 A DING DONG DANDY CHRISTMAS
The Three Suns
Real Gone Music
There was a time, in the late '40s into the pre-Elvis early '50s, when a trio of guys—who were different guys on record than they were in live performance—playing tasty but fairly straightforward pop instrumentals could command a large enough audience to reach the upper regions of the charts and make a decent living playing clubs. The now-almost-forgotten Three Suns were one such group.
In 1939 brothers Al (guitar) and Morty Nevins (accordion) teamed up with their cousin Artie Dunn, a radio and vaudeville veteran who played the electric organ and sang. They gained prominence by appearing in nine "Soundies" (early music shorts well predating music videos) on movie jukeboxes and soon secured a standing gig at the Circus Lounge in Manhattan's Piccadilly Hotel in the theater district. They hit it big commercially in 1944 with "Twilight Time," a group collaboration recorded for the Hit label. Les Brown quickly snatched it up as a cover, followed by another version by Jimmy Dorsey's orchestra, but with lyrics supplied by songwriter Buck Ram. That no one remembers the Suns' original version has nothing to do with Les Brown or Jimmy Dorsey but a lot to do with Ram's lyrics as dramatically rendered on disc in 1958 by Tony Williams in his role as lead singer of The Platters. Through the '50s, on into the rock 'n' roll era, the Suns had chart hits of varying degrees even as the band lineup constantly shifted.
'White Christmas,' The Three Suns, from A Ding Dong Dandy Christmas
'Ding Dong Dandy Christmas,' The Three Suns, from the album of the same name
Recognizing his limitations as a guitarist (RCA hired studio guitarists to supplant him on Suns records), Al Nevins left the band in 1954, got into the production side of the business and later went into music publishing, partnering with Don Kirshner in Aldon Music, which would become one of the most successful publishing firms in history thanks to its deep entrenchment in the Brill Building. Soon after his brother left, Morty Nevins was replaced in the touring band; Artie Dunn, who did have some musician chops, was hindered by his inability to read music and thus replaced in the studio. With musicians on the order of Bucky PIzzarelli, Fred Mendelsohn and Phil Kraus forming the Three Suns' studio lineup, the hits kept on comin' for a short while (their last big chart success came in 1957 with the #16 album Midnight for Two, but the band continued recording into 1963, disbanded, then reunited in 1966 under Morty Nevins's aegis with yet another lineup.
After RCA began recording in stereo in 1958, Suns albums were notable for the way the group took advantage of new technology to add unusual, often humorous stereo effects to songs, along with additional instruments that had theretofore not been part of their studio efforts. This experimental streak reached full flower on their 1959 Christmas album, A Ding Dong Dandy Christmas, produced by Al Nevins and arranged by Charles Albertine. Reissued, finally, this season by Real Gone Music, A Ding Dong Dandy Christmas lives up to the spirit of its title in being a real hoot. Lounge exotica of the first order, A Ding Dong Dandy Christmas features the Suns supplemented by, as the liner notes say, "chimes, bells, an oboe and two tubas."
'Skaters Waltz,' The Three Suns, from A Ding Dong Dandy Christmas
'White Christmas,' The Three Suns, from A Ding Dong Dandy Christmas
This is the Suns' fourth Yuletide effort. The first, The Three Suns Present Your Christmas Favorites, was released as a set of three 45 RPM singles in 1949, followed in '52 by the 10-inch Christmas Party, which in turn was followed, in '55, by the 12-inch LP Sounds of Christmas. A few of the tunes on the latter Christmas discs were reprised for Ding Dong, but that's where the similarities end. At this juncture it sounds like the Suns had decided to go for broke and deconstruct these beloved seasonal songs, then put them back together in a way no one had heard them before. If Irving Berlin was so offended by Elvis's respectful rendering of "White Christmas," then you have to wonder if he might not have stroked out upon hearing the Suns' treatment—rapid-fire rock 'n' roll guitar glissandos raining down on the track along with rushes of chimes, while a stately organ plays a funereal melody line. If the version of "Skater's Waltz" included here is the beloved, elegant 1882 classic composition by Émile Waldteufel (who is credited, so it must be), then I'm a suck-egg mule because it's so far out it's a different tune—but hilarious in the way the burping tuba keeps getting upstaged by the cartoonish chimes until a Lawrence Welk-ish accordion butts in comically and then gives way to a pretty cool rock 'n' roll guitar solo: it sounds like something out of a Marx Brothers movie (save for the guitar).
'Russian Sleigh Song,' The Three Suns, from A Ding Dong Dandy Christmas
'The Chipmunk Song,' The Three Suns, from A Ding Dong Dandy Christmas
"White Christmas" arrives on a wave of speed-picked guitar, tolling bells and an accordion's steady humming melody line before the organ joins in—so you have the guitar playing at some ungodly time signature while every other instrument plods along underneath the guitar. This could be a joke—a well-played one, but a joke nonetheless. If you can listen to the herky-jerky rendition of "Russian Sleight Song" without laughing, well, tu salud, Don Corleone, because the tuba has rarely been employed for better comic effect in tandem with the chimes, but it also has some terrific rock 'n' roll guitar going for it and a cool, Jimmy McGriff-style organ going for it. "Winter Wonderland" lopes along merrily, fueled by oom-pah tuba, organ, a fluttering oboe, a frisky accordion, spiky guitar interjections and riffs, and chimes; arranger Albertine lets the whole genie out of the bottle for his self-composed title track, a rockin' moment in which the music goes 'round and 'round, passed from organ, to electric guitar, to tuba, to accordion as someone gives the chimes all the hammering they can take. And what to say of "The Chimpmunk Song," maybe the least likely choice imaginable given the novelty attached to Ross Bagdassarian's vocal manipulations on the original mega-hit. Well, the Suns make it work by doing the first minute as a stately, accordion-centric waltz (although whomever is playing the whirlwind, repeating four-note figure on the chimes seems, shall we say, amphetamized [is that a word?]), then inserting driving, guitar-fueled rock 'n' roll segments into the remaining minute-plus in what is a decidedly bipolar arrangement.
The Three Suns' original version of 'Twilight Time,' written by the group members and released on the Hit label in 1944. On the strength of lead singer Tony Williams's emotional rendering of lyrics added later by songwriter Buck Ram, The Platters' 1958 single topped both the pop and R&B charts.
If you can't stand your Yuletide fare treated irreverently, then A Ding Dong Dandy Christmas is not for you. But the Suns do this all in good taste and with respect for the songs—this is not insulting, brain-dead fare but rather well considered and well played standards given, shall we say, a jet-age twist. If you've ever endured the torturous dreariness of, oh, the She & Him Christmas album, the Three Suns' sense of humor and natural vitality will be a welcome change for the better. On a historical note, six years after the release of this Yule long player, the Ventures issued their truly inspired Christmas LP (The Ventures' Christmas Album, a classic), which now seems more than a little influenced by the Suns' ding-dong antics.