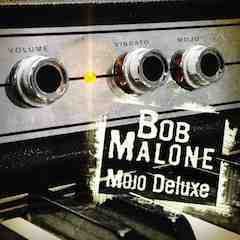 MOJO DELUXE
Bob Malone
Delta Moon Records
From the fierce, opening stomp "Certain Distance" to the closing philosophical, self-affirming, Southern gospel-infused declaration "Can't Get There from Here," Bob Malone (since 2011 better known to some as John Fogerty's keyboardist) takes the listener on a scintillating musical journey through blues, soul and rock 'n' roll landscapes replete with ballads and burners, all attacked with fervor and commitment. A man clearly on a mission, Malone is aided in his efforts by producer and master of all stringed instruments Bob DeMarco, who in the former guise keeps the sonics hot, crisp and immediate, with Malone's voice in bold relief over a rich, often roiling soundscape; in his latter guise he buttresses keyboardist/pianist Malone's fresh sorties with truly tasty, empathetic guitar (acoustic and electric), dobro and slide incursions remarkable for both intensity and economy. A tip of the hat too goes to the principal rhythm section of drummer Mike Baird and bassist Jeff Dean for solid thunder on the bottom.
A live version of 'Certain Distance,' the first cut off Bob Malone's new album, Mojo Deluxe. Marty Rifkin on Harmony slide guitar; Bob DeMarco, electric guitar; Chris Trullijo, percussion; Mike Baird, drums; Jeff Dean, bass. The fervent female gospel backup singers are Karen Nash, Trysette and Lavone Seetal. Recorded at the Grand Annex, San Pedro, CA, January 2015.
'Toxic Love,' Bob Malone, from Mojo Deluxe
With his gravely voice and knowing attitude, Malone more than makes up for his limited range by dint of pure expressiveness and smart phrasing. It's interesting, too, to pinpoint some of the deep roots of his vocal personality. In the aforementioned "Certain Distance," a potent screed of alienation, his spiteful attack on the quotidian (underscored by DeMarco's howling guitar, Malone's own darting Wurlitzer electric punctuations and Stan Behrens's white-hot harp protestations) bears a resemblance in style and fury to that of Tim Langford (aka Too Slim of Too Slim and the Taildraggers). Some might hear a little "Right Place, Wrong Time"-era Dr. John in the funk and gospel overtones of "I'm Not Fine," but Malone's merciless litany of grievances against a paramour and wry delivery of the title sentiment are purely his own. The humorous, gruff delivery he employs on "Looking for the Blues" echoes with Duke Robillard attitude in a lighthearted romp replete with Malone's rippling, Professor Longhair fills. There's a taste of Small Change-era Tom Waits in the winsome vocal and detailed observations of street life curiosities in "Paris" before it soars into an invigorating love ballad.
'I'm Not Fine,' Bob Malone, from Mojo Deluxe
'Watching Over Me,' Bob Malone, from Mojo Deluxe
Ultimately, though, Mojo Deluxe is far less about Bob Malone's influences than it is about his conscience and soul. Consider "Certain Distance," for one, a telling commentary on contemporary life; consider the blunt, Delta-rooted blues treatise on obsessive love, "Toxic Love," with DeMarco's searing dobro lines and Stan Behrens's shimmering harp cutting through a malevolent, thumping atmosphere. And there are three occasions when Malone's characters seek an assist from a higher power: on the piano-driven blues lament "Hard Times," Malone recalls at the outset how his mother appealed to him on her deathbed, "Don't forget to pray" and how he's come to understand that appeal in experiencing a raft of misfortune ever since (DeMarco enhances the singer's anguish with a stirring, crying upper neck electric guitar solo here); and in both the abovementioned "Can't Get There From Here" and "Watching Over Me," sounding like something that might have come from the pen of young Leon Russell, deeply rooted in Southern Gospel as it is (and complete with a trio of rousing gospel females providing responsive support) Malone acknowledges his dependence on a little outside help to make it to the other side. Of the earth and of the spirit, Mojo Deluxe will hit you where you live even as it gets your backfield in motion.