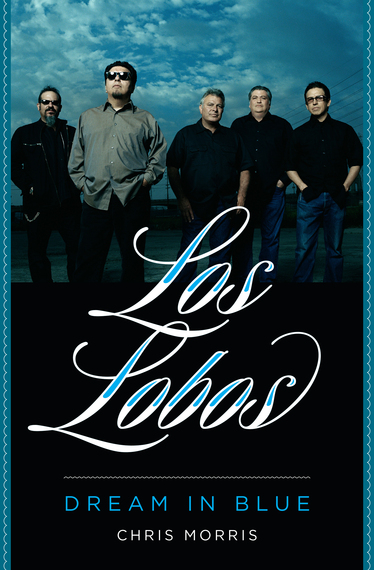 On May 4, 1980, Los Angeles Reader music critic Chris Morris went to see punk heroes PiL (John Lydon's post-Sex Pistols lineup) at the suitably seedy Olympic Auditorium near downtown LA.
Morris and his "plus-one," a saxophone whiz named Steve Berlin, could never have dreamed that…
The East LA-based folk acoustic quartet that opened the show would be pelted by missiles hurled from the audience and driven from the stage after just a few songs.
Steve Berlin would later become the fifth member of that band, expanding their sound and producing a number of their key recordings.
The band would transcend its roots and establish itself as one of the greatest, most durable acts of the rock era.
Morris himself would, 35 years later, write the definitive book about them.
The band is Los Lobos: Cesar Rosas, Conrad Lozano, David Hidalgo, Louis Perez and Steve Berlin. The book is Los Lobos: Dream in Blue.
Los Lobos at The Ritz, New York City, March 26, 1987, 'Serenata Nortena'
Morris is the ideal teller of this tale, drawing on decades of his own fandom and reportage and a wealth of experience in both consumer and trade journalism (including long, distinguished runs at the Reader, the Hollywood Reporter and Billboard). He spent two years immersing himself in all things Lobos, talking in depth to each band member–he scored a rare interview with co-founder Frank (now Francisco) Gonzales–and most of their key colleagues and collaborators, including producers T Bone Burnett and Mitchell Froom.
The debacle at the Olympic might have derailed lesser crews, but, Louis Perez tells Morris, "We didn't feel like we were beaten. We said, 'OK. Let's move some shit around and go back."
By the fall of '81, Los Lobos, inspired by dynamic roots rockers like the Blasters, had incorporated punk's rawness into their folk sound. Bill Bentley, the newly installed music editor of LA Weekly (arch-rival to the Reader) helped put them on the Hollywood map.
"The first story I ran in The Weekly was a Blasters profile by Jim Dawson and he connected me to Dave Alvin (of the Blasters)," Bentley told me. "At a show one night, Dave gave me a cassette tape that only said 'Los Lobos' on it and had a phone number. David Hidalgo of Lobos had given it to Dave. I was promoting shows at a wild basement room below an awful Chinese restaurant called Cathay de Grande at Selma and Argyle in Hollywood, so Dave thought I might want to book Lobos. One listen to the tape and I wanted to sign on as a lifetime fan. They opened for Joe 'King' Carrasco at the Cathay for $100 and revealed that greatness was in their genes, as they played all kinds of American music, from rock to blues to Tex-Mex to country."
Los Lobos, 'Will the Wolf Survive'
Not long after the Cathay gig, Morris was blown away by an electrifying Los Lobos set at the Whisky, opening for the Blasters.
Morris writes with care and insight about each Los Lobos record, providing rich geographical, cultural, and historical context along the way. From their folk roots to their sole hit single, a 1987 cover of Richie Valens' 1958 hit "La Bamba" (featured in Louis Valdez's Valens biopic, it topped the charts for three weeks); to the courageously noncommercial follow up, the Spanish language folk EP La Pistola y El Corazon; to the groundbreaking 1992 album Kiko, an otherworldly masterwork; to The Town and the City, a 2006 darkly autobiographical artistic triumph; to more recent releases and side projects.
"I've been fortunate enough to know the members of Los Lobos for more than 30 years, so writing a book about the band was a natural, and I was delighted when Peter Blackstock, co-editor of the University of Texas Press' 'American Music' series, approached with the idea," Morris says. "The group has developed over time into the most inventive, exciting and courageous act to emerge from their generation of L.A. musicians. They're not just a great East Los Angeles band, or a great L.A. band—-they're a great American band. I've considered myself lucky to have them in my backyard all these years."
Los Lobos, 'One Time, One Night'
Fortuitously, Los Lobos' new studio album Gates of Gold (429 Records) is set for release just 10 days after Dream in Blue. Longtime fans and newcomers alike would be well advised to pre-order both the words and the music.
* * *
When I moved from New York to Los Angeles in '83 to be publisher of LA Weekly, the staff comprised a glorious bunch of punks, anarchists and malcontents, including a Germ, two Debbies (my assistant Shelly Da Cunha, who later married PiL guitarist Keith Levene, and Donita Sparks, who went on to L7, and all three Fiends. By then, Los Lobos were already an office favorite; Jim Kaplan, a drummer who ran the classified department (and now publishes Record Collector News) had their music in especially heavy rotation.
Two years later, I was in New York when I got a call from former CBS Records chief Dick Asher. "I need to talk to you," the no-nonsense ex-Marine and newly appointed president of Polygram Records said. "My secretary booked you a first-class ticket; we fly to L.A. tonight." We'd barely fastened our seat belts when Dick asked me to name my favorite L.A. act. Without hesitation, I said Los Lobos. He nodded approvingly and offered me a job running Polygram's A&R department. I turned the job down–partly because I loved LA Weekly and partly, since I had exactly zero A&R experience, out of sheer terror.
I met the band members years after that, through Toby Berlin, my friend and an LA Weekly client. She introduced me to her brother Steve et al after a wonderful show at the Greek. They were mensches one and all, but were so mobbed with well-wishers that I didn't get to thank them for playing backup to an offer I almost couldn't refuse.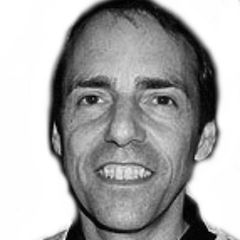 Michael Sigman is a writer, editor, publisher and media consultant and the president of Major Songs, a music publishing company that handles the catalogs of his late father Carl Sigman and several contemporary songwriters. Sigman's writing has appeared in Record World, LA Weekly, the L.A. Times, OC Weekly, The District Weekly, LA Style, The Bluegrass Special.com, Record Collector News, LA Progressive, Deep Roots and other newspapers and magazines. He is also the author of a biography of his father. He currently writes a weekly blog for Huffingtonpost.com.