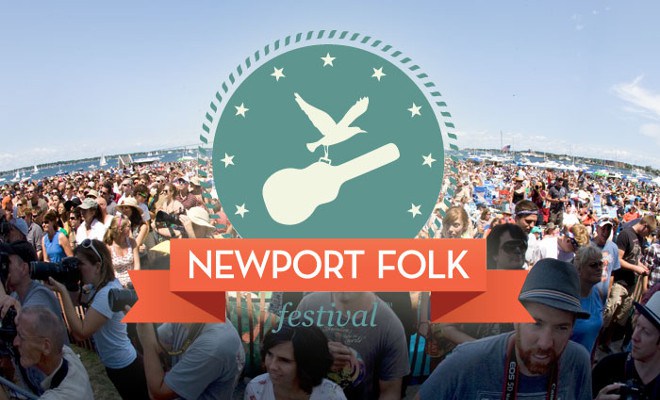 At the end of a surprise guest set at the Newport Folk Festival this summer, James Taylor brought George Wein out on stage. Wein is the 89-year-old who made the Newport Jazz and Folk Festivals into internationally-recognized events, and who today can be seen throughout each Festival checking out the four stages from a golf cart, greeting well wishers and fans (he's also a jazz pianist).
Wein explained that he'd been on a cruise where Taylor was performing, and when the two spoke afterwards, Taylor told Wein that he (Taylor) was aware of what was going on with the Folk Festival, and how it sells out months before a single performer is announced. "It speaks to the integrity of what you've created," Taylor told Wein. Wein responded, "Then why don't you come play?" And he did.
This was Taylor's first time back at the Festival since 1969 when his set was cut short because Wein came out to announce that Neil Armstrong had just walked on the moon. I've been back since, but 1969 was my first Newport, as well. Following Wein's announcement back then, Pete Seeger came out, stuck a piece of paper to the microphone stand with some chewing gum, and sang a song he'd composed on the spot about the moon landing. I don't know that that song ever appeared anywhere else again, but songs "ripped from the headlines" had been the norm in the '60s. Meanwhile James Taylor was also on the Sunday afternoon "new faces" bill at the 1969 Festival, along with Van Morrison and Joni Mitchell. That show was ill-attended due to torrential rains, but new faces they were.
James Taylor and George Wein, together again at the Newport Folk Festival, July 25, 2015
Back to Fort Adams State Park in Newport, Rhode Island, 2015: Taylor has a new album out, Before This World–his first of new original songs in 13 years. But you would barely have known that from his half hour set at Newport. Taylor neither discussed nor played any songs from it. Jay Sweet, who programs the Festival, mentioned it in passing during his introduction, but Taylor included only slow-dance (far slower than the originals) versions of his classics "Sweet Baby James," "Something In the Way She Moves," "Carolina In My Mind," "Fire and Rain," and Carole King/Gerry Goffin's "You've Got A Friend." The latter, Taylor noted, King told him was written in response to "Fire and Rain."
James Taylor at Newport 2015: 'Sweet Baby James'
James Taylor at Newport 2015: a touching version of 'Carolina In My Mind'
That the Newport Folk Festival sells out without having to announce its lineup is testament to Jay Sweet's ability to deliver, year after year, a sampler of up-and-coming acts many of whom are totally new to attendees to count on Newport to introduce them to new music; some musicians who have "arrived" (at least in the context of this crowd–more on that in a moment); and the occasional Taylor-like surprise or salute to Newport's roots. Indeed, except for the history/continuity implied in the existing name, the Newport Folk Festival might more accurately be called the Newport Roots Music Festival, what with The Decemberists, My Morning Jacket, Jason Isbell and a host of other not-very-folkie acts on the roster.
The irony was lost on no one at this year's 56th edition of the outdoor festival that many of the musicians who might be labeled "folk" (as opposed to indie rockers with a roots bent) were relegated to a small indoor location called the Museum Stage. It's called that because it's housed in a museum building on the site, but irony is irony.
There were more acoustically based folk-like exceptions than those on the Museum Stage, of course, and some of them drew mighty crowds and ovations. Mind you, because there are four stages offering music simultaneously, one can at best only hear about a quarter of what's going on, even with moving between stages to catch parts of different sets. That said, here are some of my personal highlights:
Bela Fleck and Abigail Washburn on the main Harbor Stage, sharing seven banjos between them and playing a sparkling set of traditional (a stunning "I've Been Working on the Railroad"), gospel, and original songs.
The Watkins Family Hour, with Sara and Sean Watkins and friends including Fiona Apple at the Fort Stage. In addition to their own electrified string band repertoire, Sara was ubiquitous on the Friday she and the band were at the festival, adding grace notes (and grace) as she sat in with others throughout the day, while Apple delivered a swinging rendition of the Ella Fitzgerald chestnut, "When I Get Low I Get High."
The Watkins Family Hour and Fiona Apple at Newport 2015, with Ella Fitzgerald's 'When I Get Low I Get High'
Spirit Family Reunion, a Brooklyn, NY-based band that plays wonderful original old-timey-infused string band music, and brought higher energy and enthusiasm to their set than their wonderful albums would suggest.
Christopher Paul Stelling, another Brooklyn, NY-based artist (should there be a Newport Brooklyn event?), this one a singer/songwriter with a high tenor and intense delivery that may have been the breakout performance of the festival. (The ovation that followed was hurt not at all by his getting down on one knee and proposing to his girlfriend/harmony singer Julia Christgau right in front of the crowd.)
At the end of his well-received set at Newport, Christopher Paul Stelling extends his set by proposing to his girlfriend on stage. (She accepts.)
But the embrace of "roots," or whatever you want to call it, is what the festival has truly always been about, from Van Morrison to Mississippi John Hurt, The Decemberists to Doc Watson. This year, though, gave the spotlight to a ghost of the past to inform just about every set I saw, as well as those my family reported back to me, our having divided to conquer those four active stages.
This, after all, was the 50th anniversary of the year Bob Dylan plugged in and "went electric." Whatever the controversies over whether Pete Seeger wanted to ax the electricity, whether the sound mixers needed time to make adjustments since there had been no rehearsal with full audience in the open air, and whether the boos outnumbered the cheers, that performance changed Newport, and folk, and rock and roll forever. A session at the Museum Stage was even devoted to author Elijah Wald discussing his book, Dylan Goes Electric.
Throughout the weekend, though, musician after musician noted that Dylan's guitar was hanging backstage to honor the occasion and, clearly, intended to inspire the musicians. When the crowd roared its approval of alt-country rocker Sturgill Simpson's highly electrified set, the Kentucky-born singer cracked, "Sixty years ago you would have booed me off the stage." OK, he had his dates off, but he got the spirit.
Sturgill Simpson at Newport 2015: 'Poor Rambler'
Brandi Carlile, who has been embraced by the "roots" community though she seemed on recordings to be very pop to me, performed a high energy set with second guitar and bass, opting to leave the drums at home for this gig. "If you're a band and the electricity goes out and you're not a band — you're not a band," she told the deservedly adoring crowd. She re-worked songs she'd done in the studio with full band for Newport. "Dylan could do both," she added, so why shouldn't others. Special kudos to her for working up a set that fit the moment.
The only real mystery performance (as in why was he on the bill at all, let alone as the Friday headliner) was Roger Waters. Yes, that Roger Waters, of Pink Floyd. Admittedly, he, too, tried to capture the spirit of the anniversary, throwing in Dylan's "Forever Young" to close his set. But his was a performance that just didn't gel in and of itself or relative to anything else that appeared on the stages at Newport.
Others that impressed on first hearings of partial sets, in no particular order: Laura Marling, Jose Gonzalez, The Lone Bellow, Jason Isbell, Leon Bridges, Tallest Man On Earth, The Goodbye Girls, a New Orleans/Chicago mini-festival on that Museum Stage that got hotter and hotter (note for next year: not much signage or information about those playing that stage).
Apart from Newport Folk Festival t-shirts, the shirts that seemed to be worn by the most people were from the Grateful Dead farewell shows which had played just weeks before Newport in San Diego and Chicago. The Dead would have been perfectly at home at this Newport festival–they were nothing if not a "roots" band–and groups such as Spirit Family Reunion, Watkins Family Hour, and Bela Fleck and Abigail Washburn would have complemented any Dead concert grandly.
Gillian Welch and David Rawlings kick off Newport 2015's 90-minute salute to Bob Dylan with 'Mr. Tambourine Man' and 'All I Really Want to Do'
The grand finale at Newport, however, paid ultimate tribute to Dylan–who toured with the Dead in the 1980s–with just the right spirit of joy and, in its own way, rebellion. Gillian Welch and Dave Rawlings brilliantly anchored a 90-minute salute that opened simply with the two of them doing an acoustic "Mr. Tambourine Man." They added a host of musicians who'd been at the Festival, performing in other capacities or seemingly just hanging out until called upon for this celebration, and building the electrification slowly but steadily.
Performers included Al Kooper, Willie Watson, Hozier, Deer Tick, Dawes lead guitarist-songwriter-lead singer Taylor Goldsmith and former Dawes bandmate-now-solo-artist Blake Mills, Robyn Hitchcock (English folk-rocker from the '80s who introduced his version of "Visions of Johanna" as "the greatest song ever written"), and the Preservation Hall Jazz Band.
Kooper was the only musician who appeared with Dylan in 1965, and, excuse the aside, a few weeks later he joined Watkins Family Hour at Lincoln Center Out of Doors in New York, where they played Highway 61 Revisited in its entirety. That show was live streamed, and a video of it surfaced briefly on YouTube before being taken down by Lincoln Center; hopefully that performance will resurface. It was heartfelt and intense and musicianly and a mini-festival unto itself, with additional guests including Shawn Colvin, Aimee Mann, and others.
At Newport 2015, the end of the Dylan tribute featured most of the Festival's performers onstage with the support of the Preservation Hall Jazz Band for a rousing romp through 'Rainy Day Women #12 & 35'
By the end of the Dylan tribute at Newport, though, most of the musicians who'd played the Festival that day were on stage, and the Preservation Hall Jazz Band provided the perfect raucous underpinning for "Rainy Day Women #12 & 35." Wherever Bob Dylan was that night, I hope he got the good vibes as 15,000 fans across generations sang mightily along. "Everybody must get stoned," indeed.