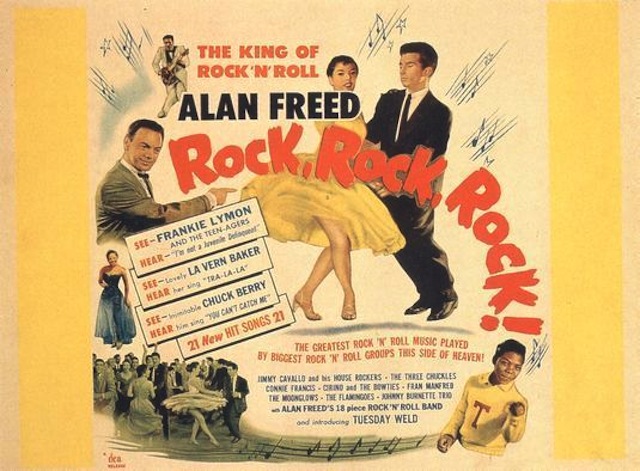 Director: Will Price
Producer: Milton Subosky, Max J. Rosenberg
Screenplay: Milton Subosky, from a story by Milton Subosky & Phyllis Coe
Cinematography: Morris Hartzband
CAST
Alan Freed & His Rock 'n' Roll Band
Fran Manfred as Arabella
Tuesday Weld as Dori
Connie Francis (Tuesday Weld's singing voice)
Teddy Randazzo as Tommy
Jacqueline Kerr as Gloria
Ivy Schulman as Baby
Jack Collins as the Father
Carol Moss as the Mother
Eleanor Swayne as Miss Silky
Lester Mack as Mr. Bimble
Bert Conway as Mr. Barker
David Winters as Melville
Valerie Harper as a prom dancer (uncredited)
Musical Guests
Laverne Baker
Chuck Berry
The Johnny Burnette Trio
Jimmy Cavallo and the House Rockers
Cirino and the Bowties
The Coney Island Kids
The Flamingos
Frankie Lymon and The Teenagers
The Moonglows
The third in a series of five jukebox musicals starring famed (or infamous, depending on your point of view) '50s disc jockey Alan Freed, Rock, Rock, Rock! boasts an absurdly simple plot—high school girl concocts a borderline illegal scheme to raise money to buy herself a new dress for the school prom—some dubious acting and a half dozen outstanding lip-synched performances by early rock 'n' roll icons.
In her first film, 13-year-old Tuesday Weld plays Dori Graham, who can't persuade her father (a suitably flummoxed Jack Collins, in his first feature film—he would go on to a productive TV career, including playing Mike Brady's boss, Mr. Phillips, on The Brady Bunch) to buy her a strapless gown for the school prom and so devises a loan scheme targeting her rival, Gloria (Jacqueline Kerr), in order to raise the money she needs. Gloria, you see, is the new girl in school and has caught the eye of Dori's beau, Tommy Rogers, played with admirable woodenness by '50s teen idol Teddy Randazzo (whose speaking voice is dubbed, by the way—we can only imagine how bad it must have been, seeing as how the dubbed voice is one of the movie's many inadvertent comical touches).
Chuck Berry, 'You Can't Catch Me,' from Rock, Rock, Rock!
The Flamingos, with a great Nate Nelson lead vocal in 'Would I Be Crying,' one of the peak moments in Rock, Rock, Rock! and in jukebox musical history.
That's really about the sum and substance of the story, which exists only as a diversion between the musical performances, which are either hopelessly square or supremely inspired. For every Cirino and the Bowties there is a Chuck Berry doing "You Can't Catch Me"; for every ludicrous Ivy Schulman there is The Moonglows, with Bobby Lester singing lead, with a wonderful love ballad, "I Knew From the Start"; for every Three Chuckles (with Teddy Randazzo) doing "We're Gonna Rock Tonight" (with the immortal lyric, "I've got a heart full of love and a hole in my shoe") there is The Flamingos, with Nate Nelson breaking hearts all over the place with his majestic reading of "Would I Be Crying," one of the all-time great musical performances on film, even if it is lip-synched; for Alan Freed's woebegone stab at singing on "Rock & Roll Boogie" (well, at least he has Big Al Sears blow a mean sax solo) there is the Johnny Burnette Trio scorching "Lonesome Train (On a Lonesome Track)" and Frankie Lymon & The Teenagers with two outstanding numbers, "Baby, Baby" and "I'm Not a Juvenile Delinquent." Not least of all, Lavern Baker makes a welcome appearance rocking out with a Latin touch on "Tra La La." Moreover, the great Connie Francis dubs Tuesday Weld's singing voice on two big numbers.
Frankie Lymon & The Teenagers, 'I'm Not a Juvenile Delinquent,' from Rock, Rock, Rock!
Teddy Randazzo was a mainstay in these jukebox musicals, starring in four of them, but acting was hardly his strong suit. Born into a musical family in Brooklyn, NY, on May 13, 1935, by age 15 he was a professional, recording with his trio The Three Chuckles, a close harmony pop group in the style of the Four Freshmen, and scoring an early hit with "Runaround." In the late '50s and early '60s he had some success as a solo artist, with mid-chart singles such as "Little Serenade" (1958), "The Way of a Clown" (1960) and "Big Wide World" (1963).
If it weren't in the card for Randazzo to be a superstar on his own, then he truly had the last laugh. He had a pleasant crooner's voice and given a ballad could be quite effective at putting a lyric across with feeling, but rock 'n' roll was sweeping his style off the charts and out of the mainstream. Still, with partner Bobby Weinstein he continued writing songs, and started racking up hits, some of which are unqualified pop-rock classics. Nineteen-fifty-nine was his breakout year, with Steve Lawrence's Top 10 recording of "Pretty Blue Eyes" (also a UK hit for Craig Douglas), but he really hit his stride when he teamed up with some friends from the early rock days (and from New York), Little Anthony & The Imperials. For Little Anthony Randazzo wrote not only major, timeless singles but also proved himself a savvy, sensitive producer on great singles on the order of "Goin' Out of My Head" (#6 pop, #22 R&B); "Hurt So Bad" (#10 pop, #3 R&B); "I'm On the Outside (Looking In)" (#15 pop) and "Take Me Back," all dealing with outsized emotions of alienation, betrayal and epic heartbreak. Behind the board he framed the group's performances in empathetic orchestrations, many of them spare and tastefully understated, that enhanced the piercing, haunting quality of Anthony's quavering vocals. All of these songs, but most especially "Goin' Out of My Head," were covered by some of the past half-century's finest singers, and Randazzo himself once said he had lost count of how many cover versions existed; according to the Songwriters Hall of Fame, "Goin' Out of My Head" is in the Top 50 most recorded songs with sales of more than 100 million by more than 400 artists. For much of the last half of his life he divided his time between homes in Hawaii and in Florida. In Hawaii, where he was a major player in the local music scene, he produced and arranged an album for Keola and Kapono Beamer titled Honolulu City Lights that was voted the #1 Hawaii album of all time.
Teddy Randazzo as Tommy Rogers in Rock, Rock, Rock! sings 'Thanks To You'
Little Anthony & The Imperials, 'I'm On the Outside (Looking In),' #15 pop, 1964. Written by Teddy Randazzo & Bobby Weinstein, produced by Teddy Randazzo.
"I've been blessed, really lucky, to have all these good songs" Randazzo said in a 1988 interview in Advertiser magazine. "I could live without doing the shows, because royalties provided an income."
Randazzo died in his sleep on November 21, 2003. He was 68.
*Also of note in the cast: David Winters, who has two brief appearances as Melville, Arabella's heartthrob, originated the role of Baby John in the Broadway cast of West Side Story and appeared in the movie version as A-Rob in the "Cool" dance sequence choreographed for him. He then became an in-demand choreographer in Hollywood, working with Ann-Margret and Raquel Welch, choreographing five Elvis Presley films and the Barbra Streisand A Star Is Born. He was a regular singer/dancer/choreographer on Hullabaloo, and earned several Emmy nominations before moving into directing and producing (more than 200 shows, specials and movies to his credit) and winning a Peabody Award and a Christopher Award. He has directed, produced and distributed more than 50 films.
*In the closing prom scene, take a close look at the "student" dancers: one of them is young Valerie Harper, long before Rhoda was a gleam in anyone's eyes.
Laugh if you will, but at Kirby McDaniel MovieArt the original theatrical poster for Rock, Rock, Rock! Is selling for $2600.
---
Selected Short Subject: 'In the Bag' (1956)
Director: Jack Hannah
Written by David Diteige & Al Bertino
Cast: James McDonald (Humphrey the Bear); Bill Thompson (Ranger J. Audubon Woodlore); Jackson Weaver (Smokey the Bear)
Synopsis: The tourists have left behind lots of trash. Ranger Woodlore enlists his bears to clean up by turning the task into a game (and a dance), but when he takes to his hammock, they see through his ruse. Plan B: bribery no food until cleanup complete. But all the other bears put their trash in to Humphrey's section, so he resorts to a number of unsuccessful ruses to dispose of it. 
Viewer Review: One of the best of Disney's Humphrey Bear shorts, and it makes me sad how under-appreciated Humphrey is. If you love cute and funny characters, Humphrey is both to a tee, and the way he's treated makes you feel sympathy for him as well. In the Bag perfectly and naturally shows Humphrey's cute and funny traits and you also feel sympathetic towards him as well. The other bears deserve a mention too: their expressions and how they act are worth laughs of their own and they are done really expressively in the animation. Ranger Woodlore is a good foil and is very well and distinctively voiced by Bill Thompson but the bears steal the show here. Speaking of the animation, it was wonderful and very crisp and colorful throughout. There is much detail to be seen and the colors are quite rich here too. The music complements the characters' personalities and always matches the action very well; the orchestration is lush without being syrupy. In the Bag is a hilarious short too which makes one forget the slightly formulaic story, the gags do revolve around one thing–Humphrey trying and struggling to clean up the park–but never are they repetitive and they do have variety. Thanks to Humphrey and the clever timing they are hilarious and is one of the more consistent Humphrey Bear shorts in this respect. There is a great amount of charm and warmth here as well. All in all, a winner in every way. —Bethany Cox