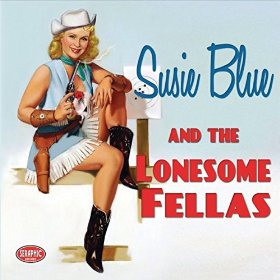 SUSIE BLUE AND THE LONESOME FELLAS
Solitaire Miles
Seraphic Records
In her home base of Chicago Solitaire Miles boasts an avid following as a singer equally at home with jazz and swing. Given that combination of styles, it's no surprise—but an unexpected delight—to hear what she can do with western swing, which is not all that far removed from what she has been doing for years now. In her guise as Susie Blue, with her band (many of them her regular bandmates) billed as The Lonesome Fellas, she deploys her warm, sultry voice on choice material, strictly top drawer fare, from some of the most important songwriters in western swing history. Chief among these would be Cindy Walker, a Bob Wills favorite (he cut more than 50 of her songs), with three songs on this 12-tune set; wildman Spade Cooley, with two numbers; honky tonk pioneers Floyd Tillman and Ted Daffin, with a song each; legendary honky tonker Lefty Frizzell, whose tonk blues "Cigarette and Coffee Blues," embellished by TC Furlong's plaintive steel lines, Tom Hope's bluesy tinkling on the 88's and Stuart Rosenberg's evocative fiddle, is a winning showcase for the singer's cool, gently swinging reading.
It's not all vintage tunes here, however: "The Blue Lonelies" comes from Nashville's Gwil Owen-David Olney team and gets a strutting midtempo treatment featuring a swinging but measured lead vocal and a warm sax from Eric Schneider that would have been right at home in a '50s R&B ballad.
Solitaire Miles/Susie Blue with a taste of Cindy Walker's 'Me & The Man in the Moon' from Susie Blue and The Lonesome Fellas
Solitaire Miles/Susie Blue with her swing rendition of 'Ghost Riders In the Sky' from Susie Blue and The Lonesome Fellas. Eric Schneider on sax, Neal Alger on guitar, Larry Kohut on bass, Phil Gatteau on drums.
Given Bob Wills's prominence in the tunestack (and, need we add, in western swing as a genre?), Stetson's off to Susie Blue and company for offering a brisk rendition of a Wills chestnut, the Fred Rose-E.G. Nelson-Steve Nelson kissoff "Hang Your Head in Shame." Here Ms. Blue's slow-burn reading cruises smoothly over a toe-tapping arrangement featuring a tasty electric guitar solo courtesy Neal Alger, Stuart Rosenberg's strutting fiddle solo and more bluesy piano punctuations via Tom Hope. Wills was Cindy Walker's great champion and made so many of her songs classics with his great band of Playboys. The disc kicks off with one of those, a sweet, swinging rendition of "I Hear You Talkin'," deceptively sweet in the way Ms. Blue delivers the cutting lyrics with a lilt in her voice while the fiddle gleefully saws away behind her. The moon figured prominently in several Walker songs ("Sugar Moon," a co-write with Wills and, for a Wills feature film, "Honeymoon Trail"; "In the Misty Moonlight," a hit for Jerry Wallace and Dean Martin both) but the western-flavored blues ballad "Me & The Man in the Moon" is one of her lesser known items (Ms. Walker herself recorded it in 1944, before she ditched her performing career to devote her efforts full-time to songwriting)—all the better that Ms. Miles/Blue should give it such an engagingly wounded reading (she articulates a certain acceptance of her fate through a simmering hurt) over a languorous, fiddle-laced arrangement. When she signs off with "Ghost Riders in the Sky" as a brisk shuffle, she delivers the final surprise on an album full of surprising approaches to mostly vintage material. Ms. Miles and her band will probably return to their usual jazz milieu but here's hoping she finds time at some point to bring Susie Blue and The Lonesome Fellas back for a curtain call.