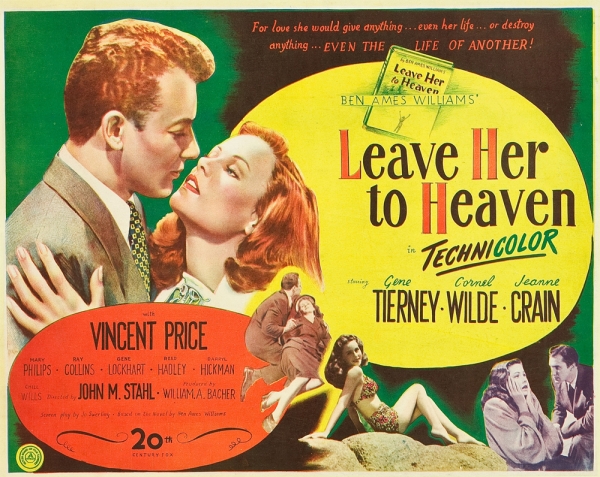 Directed by John M. Stahl
Produced by William A. Bacher, Darryl F. Zanuck (executive producer, uncredited)
Music by Alfred Newman
Cinematography by Leon Shamroy
Art Direction by Maurice Ransford, Lyle R. Wheeler
CAST
Gene Tierney as Ellen Berent Harland
Cornel Wilde as Richard Harland
Jeanne Crain as Ruth Berent
Vincent Price as Russell Quinton
Mary Philips as Mrs. Berent
Ray Collins as Glen Robie
Gene Lockhart as Dr. Saunders
Reed Hadley as Dr. Mason
Darryl Hickman as Danny Harland
Chill Wills as Leick Thome
In Act 1, Scene V of Shakespeare's Hamlet, the Ghost urges Hamlet not to seek vengeance against Queen Gertrude. "Leave her to Heaven," the Ghost advises, "and to those thorns that in her bosom lodge to price and sting her."
Thus the inspiration for director John M. Stahl's captivating film noir from 1945, Leave Her to Heaven, starring a stunning Gene Tierney, Cornel Wilde, Jeanne Crain, with Chill Wills, Ray Collins (later to become a household name as Lt. Trask on TV's Perry Mason), Vincent Price and Darryl Hickman (whom TV stardom also beckoned, as Dobie Gillis in The Many Loves of Dobie Gillis). Shot in luscious Technicolor by Leon Shamroy (who won an Academy Award for Best Cinematography, Color), the story was adapted for the screen by Jo Swerling from the best selling novel of the same name by Ben Ames Williams. In addition to Shamroy's Academy Award win in Best Cinematrography, Leave Her to Heaven also garnered Oscar nominations for Ms. Tierney (Best Actress); for Lyle R. Wheeler, Maurice Ransford and Thomas Little (Best Art Direction—Interior Decoration, Color); and Thomas T. Moulton (Best Sound, Recording).
At the 45th New York Film Festival, Martin Scorcese discusses his affection as a filmmaker and fan for Leave Her To Heaven and its influence on his films New York, New York and The Aviator.
THE STORY
Novelist Richard Harland (Cornel Wilde) returns to his remote island home, called Back of the Moon, after two years in prison. His friend and attorney, (Ray Collins), narrates how Richard meets beautiful socialite Ellen Berent (Gene Tierney) on a train. She falls in love with him based mainly on his close resemblance to her recently deceased father, to whom she was obsessively attached.
Ellen is already engaged to an ambitious Boston attorney, Russell Quinton (Vincent Price), who begs her not to marry Richard because of the bad press it would bring to his upcoming political campaign. However, she jilts Russell and rapidly marries Richard, who at first is fascinated not only with Ellen's beauty but her exotic and intense manner. It gradually becomes apparent however that Ellen is pathologically jealous towards any other person and activity that her husband cares about.
Richard's younger disabled brother, Danny (Darryl Hickman), whom Richard dearly loves, comes to live with them at their lodge even though Ellen pleads with the doctor to not allow the move. She becomes increasing irritated by Danny's presence and the attention he gets from Richard. One day, while she and Danny are out on a rowboat, Danny decides to see how far he can swim. However, Danny's paralyzed legs weigh him down, and Ellen watches heartlessly as Danny struggles to stay afloat. He drowns in front of her as Ellen registers no reaction on her face. When she hears Richard approaching the lake, she only then begins screaming.
Later, she becomes pregnant, but tells her adoptive sister, Ruth (Jeanne Crain), that she has an active disdain for the "little beast" inside of her. She then deliberately causes the miscarriage of the couple's unborn son when she throws herself down a flight of stairs. She returns after a few weeks in the hospital and accuses Ruth of being in love with Richard, especially after the dedication of Richard's new book is to "the girl with the hoe"–a reference to Ruth's penchant for gardening.
Richard starts to suspect that Ellen is directly responsible for both the death of his brother and his son, and accuses her of letting Danny drown. When Ellen confesses that she did let him drown and she would do it again, he leaves her. She then decides to poison herself, coldly framing Ruth in jealousy over Ruth's warm but innocent friendship with her husband. Posing as a victim, Ellen writes to her ex-fiance (since elected a county district attorney) laying out her claims of murder, which said that Ruth wanted her dead. Ellen expires hand-in-hand with Richard, who is next seen being grilled by Russell, the prosecutor for Ruth's trial. Ruth is then pressured by Russell into admitting she has always loved Richard. In response, the previous recalcitrant Richard resumes the witness chair and testifies about Ellen's insane jealousy and her dual confessions to him. Ruth is acquitted, but Richard receives two years in prison as an accessory to his brother's death for withholding knowledge of Ellen's actions from investigators.
With those two years now behind him, Richard is welcomed home to Back of the Moon by a loving embrace from Ruth.
Gene Tierney: Tumult, Turmoil & Triumph
On-screen, gorgeous brunette actress Gene Tierney helped to invent the femme fatale in movies such as Laura and Leave Her to Heaven, and off-screen, she had serious romances with four of the great playboys of the 20th century: John F. Kennedy, Howard Hughes, Prince Aly Khan and costume/fashion designer Oleg Cassini. So how did she end up, at age 38, standing on a ledge fourteen floors above 57th Street, wondering what her body would look like on the pavement if she were to jump? Such are the vagaries of Hollywood stardom.
Born in Brooklyn, New York, 1920 Gene wanted to be more than a debutante. Howard, her father, a wealthy New York insurance broker, lavished his riches on his children but also subjected them to the unrelenting hostility he felt towards his wife. So fierce were their battles that young Gene retreated into a fantasy world in her own mind. In her late teens she landed roles in Broadway plays and began collecting rave reviews. New York Herald theater critic Richard Watts, Jr., in hailing one of her performances, opined: "I see no reason why Miss Tierney should not have an interesting career—that is, if cinema doesn't kidnap her away."
Cinema did indeed kidnap her away, in 1940, when 20th Century Fox offered her a contract. She made her screen debut in Fritz Lang's The Return of Frank James, starring Henry Fonda. Her squeaky voice—"I sounded like a sped-up Minnie Mouse," she said—threatened to be an impediment to her career, so studio executives suggested she start smoking to deepen her timbre. Plum roles began coming her way and she made the most of them in critically acclaimed and popular successes such as Belle Starr, The Shanghai Gesture and Son of Fury, leading to her first big starring role in Ernst Lubitsch's black comedy Heaven Can Wait. Against her domineering father's wishes, she married Paramount's playboy fashion designer Oleg Cassini in 1941; shortly thereafter she learned that her father—who had set himself up as his underage daughter's executor when she signed with 20th Century—had lost all her money in dubious investments. She dissolved the corporation he had set up and did not speak to him again until he was on his deathbed.
Gene Tierney, Tyrone Power and John Carradine in a scene from 1942's Son of Fury: The Story of Benjamin Blake. Directed by John Cromwell, produced by Darryl F. Zanuck.
To aid the American cause in World War II a pregnant Gene appeared at the Hollywood Canteen with a bevy of other stars to entertain the troops. During that appearance, a female Marine quarantined with German measles left her confinement because she "just had to meet" her favorite star. Their fleeting encounter was disastrous for Gene, who contracted the virus herself. Her daughter by Cassini, Darla, was born severely mentally disabled, deaf and partially blind. The Casssinis were told nothing could be done for Darla beyond constant supervised institutional care. Howard Hughes then stepped in and paid for all the bills arising from Darla's care.
In a true best of times-worst of times scenario, Gene then landed her immortal role in Otto Preminger's Laura. Offscreen, her marriage to Cassini was collapsing, and in 1946 the couple divorced. While filming the gothic Dragonwyck, she began dating John F. Kennedy, then a dashing WWII hero. Despite their intense love affair, JFK advised her that her divorce—anathema to the Roman Catholic Church—and his political ambitions doomed any chance of them marrying. Gene soon reconciled with Cassini, by whom she had a second daughter, Christina, who was born healthy.
Channeling her inner turmoil into her work, Gene earned an Academy Award nomination for her portrayal of the narcissistic murderer in Leave Her To Heaven, Fox's most successful box office hit of the 1940s. Other box office hits followed in quick succession, including The Ghost and Mrs. Muir, The Razor's Edge and Whirlpool.
Gene Tierney and Tyrone Power in a scene from The Razor's Edge (1946), directed by Edmund Goulding, produced by Darryl F. Zanuck. Music: 'Paris Montage' by Alfred Newman.
When her marriage to Cassini ended in 1951 she entered into a succession of doomed love affairs, including a highly publicized fling with Prince Aly Kahn. Between the pace of her professional life and the tumult in her personal life, Tierney wrote that she felt like she was "falling down a manhole." Finally she suffered a complete mental breakdown and locked herself in her mother's New York apartment. She was taken to the Harkness Pavilion in New York, where she endured excruciating multiple sessions of electro-shock therapy—some 20 in all. Pronounced cured and released in 1957, she found she could no longer act because the electro-shock treatments had destroyed her memory—she couldn't remember her lines.
Spiraling into an emotional abyss, on Christmas Day, dressed only in a sheer nightgown, she clung by her fingernails to the walls on the ledge outside her mother's apartment and studied the street below.
"Slowly, I swung myself out of bed, walked into the living room and raised the window," she wrote in her memoir, Self-Portrait. "The next thing I knew I was on the ledge. It was hardly more than two feet wide. I kept my arms and back pressed against the building, my fingers digging into the rough surface. But I felt almost serene
"I must have stood there for 20 minutes. I was totally without fear, and I thought, 'What's the point of living?' I thought of what I'd look like when I hit the ground—like a scrambled egg. That didn't appeal to me. If I was going to die, I wanted to be in one piece."
Who said "Vanity! They name is woman!" It saved Gene Tierney.
The trailer for Laura (1944), Gene Tierney's signature role. Directed and produced by Otto Preminger. Also starring Dana Andrews, Clifton Webb, Vincent Price and Judith Anderson
Checking into the Menninger Clinic, Tierney began putting her life back together in therapy, during which she would openly address her guilt over her disabled daughter's fate, her failed relationships, her issues with her father and her own low opinion of herself. As part of her therapy she took a job as a salesgirl in a local department store, the aim being to immerse her in life outside the dream/nightmare polarities of Hollywood. After a customer recognized her, doctors counseled she get out in front of the expected outing and speak openly about the personal anguish she had hid so well during her years of public adulation on screen and off.
She accepted an offer of a role in the film Holiday for Lovers, but her comeback fizzled when she could not handle the stress of production. She returned to doctors' care at Menninger. In 1958 she met and, two year later, married Texas oil baron W. Howard Lee (their nuptials took place shortly after Lee had divorced Hedy Lamarr, to whom he had been married since 1953. In 1962 she was signed to play the lead role in Return to Peyton Place but dropped out after becoming pregnant. She later miscarried. But the marriage to Lee proved solid: they were together until his death in 1981.
Later in '62 she did make her return to the silver screen in Otto Preminger's Advise and Consent, and a year later appeared in both Toys In the Attic and Four Nights of the Full Moon; in 1964 she played Jane Barton in the racy The Pleasure Seekers, then retired again, although she did show up on TV occasionally, in The F.B.I. series, in a TV movie with Ray Milland titled Daughter of the Mind; and, in 1980, in the TV mini-series Scruples. Her greatest role in her later years was as herself, when Self-Portrait was published and she spoke frankly about the indignities she had suffered and the permanent damage caused by the electro-shock treatments. The final irony of her life came with her death in Houston in 1991. The young woman who had been advised to start smoking to lower her voice to a more sultry level was a victim of emphysema.
Selected Short Subject
Herman & Katnip in 'Sudden Fried Chicken' (1946)
This 1946 Paramount Noveltoon cartoon features Herman, Henry Rooster and Hector. Directed by one of the greats of animation, Bill Tytla, who was a key animator on Disney's Snow White and the Seven Dwarfs, Pinocchio and Fantasia. He will forever be remembered as the principal animator of Dumbo the elephant. Herman and Katnip were a knock-off of MGM's Tom and Jerry by Paramount's Famous Studios. They star in are some of the most violent cartoons ever created—so much so, they are acknowledged as the inspiration of The Simpsons' Itchy and Scratchy. Arnold Stang voiced Herman; Sid Raymond supplied Katnip's voice.
Leonard Maltin's published history of Hollywood cartoons Of Mice and Magic described the Herman and Katnip series as a prime stereotype of the "violent cat versus mouse" battles that were commonplace among Hollywood cartoons of the 1920s through the 1960s. The violence in this series, while intended for comedic effect, often reached a level of brutality that surpassed Tom and Jerry, Mighty Mouse and Warner Bros.' Sylvester the Cat put together. Herman's battles with Katnip always ended with Herman victorious over Katnip, and frequently Herman and his mouse companions would sing a victory song as they observed Katnip being brutally punished or suffering a horrific demise (e.g. being eaten by sharks; killed in a rockslide while mountain climbing; strung up with Christmas lights and plugged into an electric socket; getting electrocuted by a "shock tester" machine then flattened by it).
Noveltoons was an anthology series of animated cartoons produced by Paramount Pictures' Famous Studios from 1943 to the close of the studio in 1967. Casper the Friendly Ghost, Herman and Katnip, Little Audrey, and Baby Huey all got their start from this series. It was the successor series to the Color Classics series produced by Fleischer Studios (indeed, several Noveltoons would feature characters that originated in Color Classics). This series was also very similar to the two series from Warner Bros., Looney Tunes and Merrie Melodies, in that it features several recurring characters under one umbrella title.
The pre-October 1950 Noveltoons were sold to television distributor U.M.&M. T.V. Corp. (subsidiary of National Amusements) in 1956. National Telefilm Associates (also subsidiary of National Amusements) acquired those cartoons soon afterward. Paramount sold the rest of the Noveltoons to Harvey Comics. As new Noveltoons were produced, they were also sold to Harvey, until 1962. Paramount still owns the remaining Noveltoons, and has reacquired the cartoons sold to U.M.&M., but a good deal of those cartoons have fallen into the public domain.