On the Front Lines: Diné Women Stand Firm Against Unfettered Oil Development
 By Laura Paskus
In Navajo stories, the Twin Heroes Naayéé' Neizghání and Tóbájíshchíní fought many evils and monsters, including dinosaurs. Today some people worry that the battles are being repeated, though with oil drills instead of monster reptiles. And a handful of Navajo women are at the vanguard, trying to draw attention to the effects of drilling on their communities and keep the fossil fuel industry at bay.
"It's almost like we're standing against an evil giant," said Etta Arviso, an advocate for Navajo Code Talkers who is concerned at the growing number of oil leases being sold by allotees to their land. "This has gotten way out of hand. It's like they're bringing the dinosaurs back to life."
Here in the Juan Basin, there are an estimated 22,000 natural gas wells, as well as uranium mines, coal mines and coal-fired power plants. Now, Navajo women like Arviso are bracing for the next wave of development as companies explore for oil from the Mancos Shale, thousands of feet below the surface of the earth. She and a handful of other women are the thin female line between unfettered development and the environment that sustains their communities, working with other environmental groups including Diné CARE.
Sarah Jane White is another. Pinching a sage bush, she rubs the gray-green leaves between her hands. The fragrant leaves can be used fresh, or dried for use during the winter.
"It's been medicine for years," said White, turning her gaze toward the hills south of Counselor, on the eastern Navajo Nation. "There's a lot of sacred places, too, and burial sites."
Like Arviso, she is worried. Since early 2014, the federal government has approved about 100 new wells around the Navajo communities of Counselor and Lybrook. These wells were "exploratory"—companies were supposed to be seeing if there's oil worth investing more time and energy into, not actually producing large amounts of oil to sell.
But people who live here seem surprised by how quickly things have changed. The highway is busy, day and night. Semis and tanker trucks roar up and down the gravel roads. And flares from the wells can light up the nights for weeks or months at a time. All that changes the land, and the relationships people have with the landscape.
"There are medicine gathering places in these hills, every direction you look, there are offering places," White said. "But corporations don't have respect for that. The only thing they're looking at is dollar signs and getting the job done. Human beings, human health? They don't care. Especially if it's Indian."
Standing in front of a makeshift church, White mentioned the homes along the packed dirt road to the church from US Highway 550 in northwestern New Mexico.
"As you drove in around here, how many people did you see have electricity?" she asked, pointing out that the people living here are still struggling to survive. "I noticed this church doesn't even have electricity.
In the 19th century the federal government deeded 160-acre tracts of land to individual Navajo families. Here, on the eastern edge of the Navajo Nation, there are about 900,000 acres of these allotments—and this is where much of the current oil drilling and leasing is occurring.
For a one-time payment, sometimes topping out at nearly copy00,000, hundreds of individual families have signed agreements with drilling companies exploring for oil within the San Juan Basin. Those allotments aren't part of the Navajo reservation—they are held in trust by the federal government—and the Navajo Nation does not have oversight when it comes to drilling or development on those lands.
Companies have already paid out tens of millions of dollars to families who agree to allow drilling. And the work brings jobs and revenue to the area. But it's still not enough to lift many of the people on the edge of the reservation out of poverty.
"Any company—it doesn't matter if it's oil, coal, uranium—they hit the minority people, the people that have hardly any money, that live like this. They show a few dollars, who's going to refuse it? If I live here and somebody's going give me a little bit, of course I go for it," White said, waving toward the church and the two-track dirt road. "The thing is that in the long run, what do we get into? Sickness, bad health, all kinds of bad health is what we run into." And she worries that once the oil wells run dry, companies will pull out, leaving behind contaminated lands and water.
This time, she wants to make a stand against the development, she said.
"I don't agree with it, and I don't care how much money they're going to be giving to the people or the Navajo Nation," White continued. "What I want is clean water, clean earth, clean air, for the next generation."
Her four-year-old grandson, Albino, plays around outside the church.
"The next generation, I'm talking about 50, 100, 200 years from now," White said. "Or else, our kids—like my grandson—they're going to be drinking oil infested water, they're going to be drinking poison, they're going to have a hard time." —Indian Country Today 3/8/15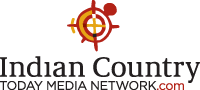 This is the first of Indian Country Today's three-part series profiling some of the women who are part of the effort to reign in oil and gas development on the Navajo Nation. Follow this link to part two: "Death in the San Juan Basin: Navajo Women Combat Unregulated Oil and Gas Exploration"; and this link to part three, "Women Warriors: Diné Protect Cultural Identity and Environmental Health."
Bobby Magill's photo of Victoria Gutierrez and Sarah Jane White, at the top of this page, was originally published on May 28, 2014, with his in-depth, must-read report for Climate Central.org on the Navajo community's efforts to combat climate change, "The Navajo Nation's Shifting Sands of Climate Change." Published May 28, 2014. Mr. Magill's gallery, "Portraits on the Front Lines of Climate Change: The Navajo Nation," can be viewed here.
***
Statue of Chief Joseph Recommended for U.S. Capitol
By Richard Walker
A state commission has recommended to legislators that statues of two pre-statehood figures representing Oregon in the U.S. Capitol's National Statuary Hall be replaced by statues of Nez Perce leader Chief Joseph and women's rights advocate Abigail Scott Duniway.
If approved by Oregon's legislature, Chief Joseph's statue would be the eighth of an indigenous figure in the National Statuary Hall. The others:
Sequoyah (c. 1770-1840), creator of the Cherokee syllabary; given by Oklahoma in 1917.
William Penn Adair "Will" Rogers, Cherokee (1879-1935), entertainer and social commentator; given by Oklahoma in 1939.
Kamehameha I, king of Hawaii (1758-1819); given by Hawaii in 1969.
Chief Washakie (c. 1798-1900), Eastern Shoshone leader; given by Wyoming in 2000.
Sacagawea, Lemhi Shoshone (c. 1788-1812), guide and interpreter for the Lewis and Clark Expedition; given by North Dakota in 2003.
Sarah Winnemucca, Paiute (1844-1891), educator, author, and defender of her people's rights; given by Nevada in 2005.
Po'pay, Tewa (c. 1630-c. 1688), leader of the 1680 Pueblo Revolt against Spanish colonial rule; given by New Mexico in 2005.
'Let me be a free man': The words of Chief Joseph, read by Peter Buffett
Sequoyah's statue was the first representing a Native American to be placed in Statuary Hall. Kamehameha's statue, at 9 feet 10 inches tall on a 3-foot-6-inch granite base, is the largest and heaviest in Statuary Hall. The statue of Po'pay is the first in Statuary Hall by a Native American artist, Cliff Fragua, Jemez Pueblo.
Since 2003, seven states have replaced statues with those representing figures they feel better represent their history or contributions to humankind. In August 2014, then-Oregon Gov. John Kitzhaber established the Statuary Hall Study Commission to determine whether Oregon's statues of pre-statehood leaders Dr. John McLoughlin (1784-1857) and Rev. Jason Lee (1803-1845) should remain or be replaced by other notable Oregonians.
Commission chairman Jerry Hudson notified Kitzhaber and legislative leaders on January 26 that the commission had unanimously agreed to recommend the statues of McLoughlin, the Hudson's Bay Company's superintendent at Fort Vancouver, and Lee, missionary and founder of Willamette University, be returned to "places of honor" in Oregon and that "two equally worthy individuals who represent different chapters in Oregon's history" be installed in National Statuary Hall, according to the commission's website.
On March 4, the commission made the recommendation formal with a vote. According to KGW.com, Chief Joseph received seven votes from the nine-member commission, Duniway received six.
Jim Boyd is chairman of the Confederate Tribes of the Colville Reservation, where descendants of Chief Joseph's Wallowa band are enrolled today.
"The statue of Chief Joseph at Statuary Hall in D.C. will be a great honor to Chief Joseph and to all those who have been left a legacy that has helped mold who we are today as very proud Indian people," Boyd said.
"He stood strong and fought hard for his people and territory in a way that will always be remembered, and will continue to inspire and guide what will be for generations to come. It is a great thing that the state of Oregon is initiating this legislation."
According to a state biography, Chief Joseph, or Heinmot Tooyalakekt (Thunder Rising to Loftier Mountain Heights), was born in 1840 in the Wallowa Valley of eastern Oregon. His father, Tuekakas, was the leader of the largest of independent Nimiipuu, or Nez Perce, bands living in Oregon, central Idaho, and southeastern Washington. Heinmot Tooyalakekt became leader in 1871 upon his father's death.
Heinmot Tooyalakekt's band never agreed to an 1863 treaty that surrendered 90 percent of Nimiipuu lands, and resisted the federal government's order to abandon their ancestral lands and move onto a small reservation.
According to the biography: "In meetings and councils from 1874 to 1877 with army officers, Indian agents, and a delegation from Washington, D.C., [Heinmot Tooyalakekt] argued persistently that the resistant Nez Perce bands were not bound by the 1863 treaty. As a follower of the Dreamer religion of the Columbia Plateau, he pleaded as well that his people were intimately bound to their homeland and could never leave it, and that to become farmers, as the government insisted, would violate the Earth Mother."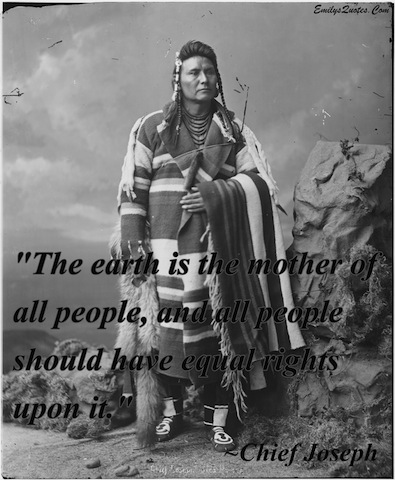 In spring 1877, Gen. Oliver O. Howard, commander of U.S. forces in the Pacific Northwest, insisted that all resisting bands report to the reservation within a month. (According to another bio, this forced removal violated the 1855 Treaty of Walla Walla, in which the Nez Perce reserved 7.5 million acres of their ancestral lands and the right to hunt and fish in their usual and accustomed territory.) Howard's order resulted in the Nez Perce War of June to October 1877.
Heinmot Tooyalakekt and other Nimiipuu were captured 40 miles from the U.S.-Canada border. It was here, at the base of the Bear's Paw Mountains near present-day Chinook, Montana, that Heinmot Tooyalakekt made his brief speech of surrender that reportedly ended with, "From where the sun now stands I will fight no more forever."
According to the state's biography, Heinmot Tooyalakekt "was never a war leader. He was, rather, a diplomat and a negotiator, and he made his greatest contribution in that role after the war." The U.S. exiled the Nimiipuu to Indian Territory, present-day Oklahoma. For eight years, Heinmot Tooyalakekt campaigned for his people's return to the Pacific Northwest. He spoke with the press, politicians and President Rutherford B. Hayes about the injustices committed against his people.
Finally, in 1885, the Nimiipuu were allowed to return to reservations in Idaho and Washington, but not to eastern Oregon. Heinmot Tooyalakekt visited, but never again lived in, the Wallowa Valley.
Heinmot Tooyalakekt, Chief Joseph, died in his home on the Colville Reservation on September 21, 1904. His grave, marked by a large monument, is in Nespelem on the reservation.