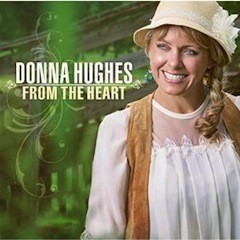 FROM THE HEART/FLY
Donna Hughes
Running Dog Records (2014)
For those of us who thought it had been way too long since last we heard from the gifted bluegrass singer-songwriter Donna Hughes, she has more than satisfied our yearnings for some new music from her precinct by releasing not one but two albums containing a total of 33 tracks. Most of these are new original songs, and in typical Donna Hughes fashion they are not mere toe tappers, murder ballads or broken-hearted weepers. No, time seems to have been much on the fetching Ms. Hughes's mind of late, and so it is that graveyards play a central role here, most vividly on the 21-song From the Heart. These graveyards are both literal and metaphorical, however, as Ms. Hughes ponders the lives led by many of the unknown, faded names on tombstones here and there, especially as the years pass and those departed souls have fewer and fewer visitors to their final resting place. One of the most moving of these, and in her entire, rich catalogue, is the solemn, brooding ballad "The Red Oak Tree," to which Scott Vestal injects some of the loneliest banjo fills you'll ever hear and Jenee Fleenor adds further haunting ambience on fiddle, both musicians supporting a remarkably measured Hughes vocal that is free of melodrama but clearly emotionally invested in the poignant moment. In a similar vein, the lilting bluegrass ballad "Daffodils" ponders perennial blooming in light of the human parade that has marched through the field in ages past and now been forgotten, except for "the yellow daffodils" that return every year—"one day soon I will be free," she sings softly, "when you find my daffodils."
Donna Hughes, 'Red Oak Tree, a Donna Hughes original. The video shot in North Carolina at the Asheboro City Cemetery in Asheboro; the home of Chad & Barbara Hall (otherwise known as the "John Hughes" home) & Loraye Hughes' home (Donna's mother), both in Trinity; and the Denton Farm Park. From From the Heart and Fly.
Love gets the same incisive investigation. In "Lucky," the anxious, driving tempo frames a forthright vocal from Ms. Hughes daring a fellow to go on if he thinks he can do better, but "remember, good love is hard to find," followed by a classic Donna Hughes riposte: "You got lucky babe/I found you…" In contrast, the tender ballad "I Wanna Grow Old With You" is an earnest declaration of commitment, whereas the bluegrass dirge "Walk By Faith, Not By Sight" is a chilling deathbed proclamation of eternal love by a dying woman. And if all this sounds desperately dreary, well, Ms. Hughes, a true artist, has a way of lifting her clear, ringing voice to take her narratives to a transcendent place and make art out of tragedy or misfortune. She can also stick the needle in quite elegantly in shredding institutions of dubious value, as she does with biting humor in "Walmart Checkout Line" and "Facebook." But the most amazing moment on From the Heart, arguably, comes in "Dog On a 10 Foot Chain." This somber, acoustic-based ballad is literally a chained dog's lament over his thoughtless owners—"they forget to give me water/they forget I'm here/they don't know how smart I am/they don't even see my tears/what did I do wrong/what did I do/just want someone to love me as I love you…" (that last part will have you misty-eyed, much like your faithful friend and narrator). Nice atmospherics by Rob Ickes on dobro and Cory Piatt on mandolin will tug at your heart as surely as Ms. Hughes's plaintive, measured vocal. Dog songs are among the rarest of musical breeds, if you will, and for the life of me I can't think of one this affecting since Elvis's cover of Red Foley's "Old Shep" on his second RCA album in 1956.
Donna Hughes, 'Dog On a 10 Foot Chain,' from From the Heart and Fly
Now, there is another new Donna Hughes album, Fly, that is Donna Hughes as many of her fans have always wished for, that is, in a more austere soundscape. In this case she's opted for a rootsy chamber-style approach, backing her own piano and vocal with only John Catchings' cello, Jenee Fleenor's violin and Mark Fain's bass violin. The catch here is that seven of the songs on From the Heart are reprised in this chamber group lineup. No surprises: they all translate seamlessly, even, or especially, "Dog On a 10 Foot Chain," arguably even more moving when the strings rise plaintively behind the subtle vocal. "The Red Oak Tree," with piano and violin up front in the mix and the cello rumbling low underneath, has an elegiac, "Eleanor Rigby" quality, whereas Ms. Fleenor's violin adds an autumnal quality to the musings on time past and time present. Ms. Hughes adds a few covers to round out the set, including an arrangement and delivery of "Blues Eyes Crying In the Rain" that transform it into a church hymn, which perhaps explains why it's followed by a sturdy but thoughtful reading of "I'll Fly Away" in contrast to the usual triumphant, soaring attack. In this context the surprising choice of Kansas's much-belittled arena rock warhorse "Dust In the Wind" makes sense in a triptych pondering mortality and salvation, and the keening, melodrama-free lead vocal makes it all work. The only weirdness here is a song listed as "Fools Rush In." So you think, sure, Ricky Nelson, Brook Benton, Etta James, Elvis, Jo Stafford. No. It's not the Johnny Mercer-Rube Bloom pop classic but you're close if you were thinking Elvis. Ms. Hughes's "Fools Rush In" is in fact Elvis's "Can't Help Falling In Love," lyric for lyric in a spare, affecting arrangement with the piano and Fleenor's violin dominant behind Ms. Hughes's interesting vocal, in which she stretches some lines, compresses others and generally uncovers new wells of expressiveness in a narrative the King owns as much as any singer has ever owned a song. But Donna Hughes owns these songs right now, all 32 of them in her own fashion, as she reasserts herself as one of our finest songwriters and interpretive singers, in or out of bluegrass.