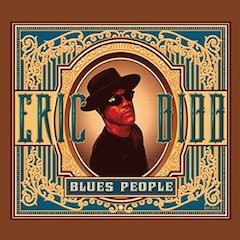 BLUES PEOPLE
Eric Bibb
Stony Plain (2014)
The main appeal with blues troubadour Eric Bibb has always been his positive hopeful tone conveyed with a warm voice, a pristinely picked acoustic guitar and a balanced production from Glen Scott. Those things are present on his latest project Blues People. This time, though, he also wants to nudge listeners toward the path of racial harmony by reminding them of the ugly past and the redemptive major accomplishments that emerged from it, with work still left to do. "The new album is in part a tribute to the memory of the great Dr. Martin Luther King," explains Bibb.
Recognizing the power of the blues community and its historical part in helping to document the abuses and instigate change, Bibb brought many of his esteemed colleagues on board to demonstrate strength that comes from these numbers: from luminaries like Taj Mahal and The Blind Boys of Alabama to newer stars like Ruthie Foster and Popa Chubby all figure into Bibb's grand vision of making this music a conduit for positive progress, and they do it by being completely themselves.
But Blues People avoids coming across as the tiresome "and friends" album by also being one of Bibb's most coherent efforts to date; his unforced mix of country blues, folk, gospel and soul is all held tightly together by his vision and even where Scott applies modern touches, it's hard to miss the connection between these music styles and their heritage of being used to carry larger messages for humanity, not just about personal relationships.
'I Heard the Angels Singing,' Eric Bibb with Jean Jacques Milteau and Blind Boys of Alabama. From his new album, Blues People.
Bibb, though, is savvy enough to prepare his audience with the bigger messages by starting from the standpoint of his own life: "Silver Spoon" is autobiographical, setting the record straight about himself that despite being the son of noted singer, actor and activist Leon Bibb and the nephew of the Modern Jazz Quartet piano legend John Lewis, the younger Bibb built his own career from scratch over many years of hard work. Chubby's electric guitar plays alongside Bibb's acoustic with the right restraint. "Driftin' Door To Door" continues the traveling musician theme but one from an earlier generation toiling under the added burden of Jim Crow laws, and Michael Jerome Browne's slide work on Bukka White's National Duolin guitar also casts a genuine prewar feel to this country blues.
From Blues People, 'Rosewood,' a devastating first-person account of the needlessly destructive consequence of racism as exemplified by the 1923 Rosewood Massacre, when an entire African American community was burned to the ground.
Soon afterwards, Bibb's message of the black man's struggle broadens and deepens. He portrays himself as a participant (with Foster and Harrison Kennedy) in the Selma-to-Montgomery March on "Dream Catchers" played in a funky, '70s soul style. But no where does Bibb gives a more devastating account of the needlessly destructive consequence of racism than his narrative of the 1923 Rosewood Massacre ("Rosewood"), where an entire African American community was burned to the ground, again given as a first person account. Inevitably, though, the vibe returns to Bibb's upbeat tone in the face of adversity, and "Out Walkin'" and "Chain Reaction" expound on those themes.
Bibb doesn't dwell on exposing the wounds found in American Civil rights history and preaching to right the wrongs so much that his innate passion for fun and rejoicing stays suppressed. "Pink Dream Cadillac" is a new twist on the tried and true car metaphor, and Guy Davis' "Chocolate Man," which also features Davis, is a playful jaunt using the tried and true food analogy. It's remindful of Henry Thomas's "Fishin' Blues" popularized by Taj Mahal. Mahal himself shows up with his trusty banjo for the traditional gospel number "Needed Time," and who better to provide the chorus vocals on a song like this than the Blind Boys of Alabama? The Boys also help Bibb testify on Rev. Gary Davis' "I Heard The Angels Singin'."
Eric Bibb discusses the genesis of Blues People, 'in part a tribute to the memory of the great Dr. Martin Luther King,' the inspiration for a collection of songs about change and hope. 'We're gonna have to stay on the case if we want to make a change, so this record is going to be dedicated to that change and creating a more harmonious world…' Includes behind-the-scenes footage shot in the recording studio during the album sessions.
As one of the sharpest practitioners of the Real Blues for quite some time, now, there might not be anyone more qualified today–save for Otis Taylor–to use the Blues as an instrument for promoting social progress. He does so with careful craftsmanship, diversity and poignancy through Blues People.
Victor Aaron is a CPA and mid-level data analyst for a Fortune 100 company by day, music opinion-maker at night. His musings are strewn out across the interwebs on jazz.com, AllAboutJazz.com, a football discussion board and some inchoate customer reviews of records from the late 1990s on Amazon under a pseudonym that will never be revealed. Contact him at svaaron@somethingelsereviews.com. This review is reprinted by permission of the website Something Else (www.somethingelsereviews.com), for which Mr. Aaron serves as co-publisher.