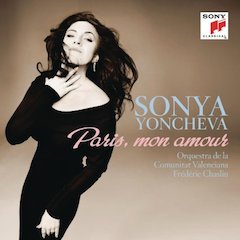 PARIS MON AMOUR
Sonya Yoncheva
Sony Classical
'Oui! Oui!'
This extravagantly gifted 33-year-old artist hails from Plovdiv, Bulgaria's second-largest city. She studied piano and voice there, earning recognition with victories in many prestigious competitions. While still a student, she was immersed in a French-speaking environment: Geneva's Conservatoire de Musique, where she completed her vocal training. It was in France that her technique and stylistic flair acquired the final polish required for a young artist exhibiting major career potential. This occurred initially with the prestigious Le Jardin des Voix led by William Christie, with whom she also toured internationally in a variety of Baroque works. The next major milestone in her development was a summer spent at the music academy of Aix-en-Provence, where she earned the Special Prize of Les Amis du Festival as Fiordiligi in Così fan tutte.
It was inevitable that such a promising artist would be welcomed by Paris's major performance venues. Having captured first prize in the Operalia competition (held at Milan's La Scala), the following year Sonya starred first as Handel's Cleopatra at Versailles and then as Bizet's Leïla at the Opéra Comique. She also established herself as a favorite in the city's most important concert halls. Those previous achievements, however, were eclipsed by the absolute sensation she created in Lucia di Lammermoor, her debut at the Bastille. The city of Paris acknowledged her artistry in a very special way when it acclaimed her in the Concert de Paris, presented last year in front of the Eiffel Tower–an engagement she will repeat in 2015.
Sonya Yoncheva, with orchestra conducted by Domingo Hindoyan, on 'Stars von Morgen with Rolando Villazon, November 16, 2014, performs Massenet's Herodiade, Act 1,Scene 1: 'Celui don't la parole,' also featured on her debut album, Paris, mon amour
Sonya Yoncheva's connection to French opera, and to Paris, has led to a debut album concentrating on a particularly appealing period, the "Belle Epoque." Those years–-1871 to 1914–were notable for sophistication, incomparable romance, boundless imagination and a certain boldness in all areas of cultural life. The Belle Epoque eminently suits Sonya, who communicates both elegance and panache onstage, both in her distinctive, multicolored voice and her irresistible personality. Among the album's highlights are arias by Jacques Offenbach and Jules Massenet, who knew how to create rewarding, crowd-pleasing works for Parisians of their era. Their music gives Sonya a wonderful opportunity to display her versatility as a vocal actress in excerpts from Les contes d'Hoffmann, Hérodiade, Le Cid, and Thaïs. Her ease in the middle range enables her to excel in the final aria sung by the heroine of Charles Gounod's Sapho, originally written for mezzo-soprano. Sonya's musical curiosity will leave devotees of French opera in her debt, thanks to her resurrection of numbers from unjustly neglected works by Charles Lecocq and André Messager.
From Paris, mon amour, Sonya Yoncheva performs from La Bohème, Act III: 'Donde lieta usci'
Yoncheva complements the French composers with the two best-known Italian operatic creators of the Belle Epoque years, each of whom had his share of memorable experiences in Paris. Giuseppe Verdi's La traviata, of course, takes place in that very city, and Violetta is the quintessential parisienne, despite the conflicted feelings about her life that emerge in her great Act One solo scene. As for Giacomo Puccini, he composed his first opera, Le villi and his fourth, La bohème, within a period that found the Belle Epoque in full swing. Yoncheva sings the arias of these operas' two fragile heroines, the forester's innocent daughter Anna and the doomed Parisian seamstress Mimì.
Paris, mon amour presents an artist with an enormously bright future, whose immediate plans are full of exciting projects. She will soon renew her association with the Mozart repertoire in Munich (as Fiordiligi) and Monte Carlo (as Donna Elvira). Her brilliant coloratura ability will be on display as Lucia in Zürich and then as Violetta at Covent Garden. And among the many venues that will hear her in concert is Paris's renowned Salle Gaveau.
For Sonya Yoncheva, clearly that special Paris connection will always be a vital component of her life as an artist.
Oui! Oui! –-examiner.com, January 9, 2015
From Sapho, Act II, No. 19, Sonya Yoncheva performs 'Où suis-je?…O ma lyre immortelle' as heard on her album, Paris, mon amour
'…vocal glamour to spare, vocal acting that lingers…'
Here's another piece of evidence that we are currently enjoying a spectacular resurgence of Golden Age voices and artists, particularly from Eastern Europe. The region has a dazzling legacy in this regard, and Sonya Yoncheva clearly has great things ahead of her. To judge from this recording, sensitively conducted by Frederic Chaslin, this young lyric soprano from Bulgaria seems to have everything–above all, she has vocal charisma, with an extraordinarily pliant technique and a gorgeously shimmering timbre throughout the range. She can express longing and rapture like few of her contemporaries on the international stage. Without being cravenly imitative, her vocal signature reminds me of the glory days of Renata Scotto–there's a slight metallic edge to the voice that enhances the emotive thrust of the singing, and there's also a nearly cinematic quality to the characterizations. The Massenet selections are all heartbreaking, without falling into bathos. The "Sapho" aria lies a little low in the voice and thus cannot quite manage the allure that Elina Garanca, for example, achieves in a recent recorded recital, but the harrowing aria from "Le Cid" is magnificent from beginning to end. Strangely, despite the fact that "Traviata" is already a signature role for this soprano, the account of the Act I showpiece is the least memorable moment in the recital–it's well sung but anonymous (and the vocal stratosphere will never be her strongest suit, I think). But there is charm in abundance in the rare piece from Charles Lecocq's "Les Cent Vierges" and the musical japonaiserie from Andre Messager's "Madame Chrysantheme." Yoncheva has vocal glamour to spare, but it's the vocal acting that lingers. Just listen to her Thaïs. –L. Gallagher, Amazon.com Reviewer
'A Synthesis of Sound and Atmosphere…'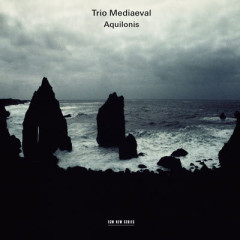 AQUILONES
Trio Mediaeval
ECM
Trio Mediaeval–three Norwegian women whose singing produces "a sound of extraordinary and consoling beauty," says the Boston Globe–offer a collection of polyphony from the medieval to the modern titled after the North Wind, Aquilonis.
On this recording one can sense a reference in the title to the Nordic roots of the singers, as well as the bracing purity of their voices; moreover, the album's repertoire travels from Iceland to Italy, from north to south like the Aquilonis wind. In creatively realizing the music of one Saint Thorlak–who died in Iceland just before Christmas 1193–Trio Mediaeval accompany their vocals with discreetly textural instrumentation. The group has also arranged 12th-century Italian chant and sings 15th-century English carols, with timeless Scandinavian folk melodies in the air, too.
From our contemporary age come pieces by the Swede Anders Jormin (best known as a leading jazz bassist), American William Brooks and Englishman Andrew Smith. Former Hilliard Ensemble tenor John Potter, in his liner notes for Aquilonis, aptly describes Trio Mediaeval's ability to "create a synthesis of sound and atmosphere…history and geography blending seamlessly".
The album was recorded, like all Trio Mediaeval's previous five, at the monastery of St Gerold in the Austrian Alps, in June 2014 with Manfred Eicher producing. It's the first of the trio's discs to feature soprano Berit Opheim, alongside Anna Maria Friman and Linn Andrea Fulsgeth. –Arkiv Music
At Nomemus, the Nordic festival for Medieval Music in Söderköping Sweden, Trio Mediaeval performs music from the Worcester Fragments of 13th and 14th century England. Concert at S:t Laurentil Church, September 8, 2011.