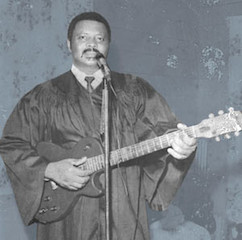 'Essential'
LORD YOU'RE SO GOOD: LIVE RECORDINGS, VOL. 2
Reverend Charlie Jackson
Fifty Miles of Elbow Room #6
In 2003, Kevin Nutt's CaseQuarter label issued the first comprehensive collection of vintage recordings by the guitar-toting Louisiana preacher Reverend Charlie Jackson.
The CD compilation of impossibly rare 45 rpm singles produced by Robert Booker or Jackson himself showcased the fiery preacher, very possibly the last of his breed, lofting trebly licks and chugging away on his Fender Mustang.
Most of us figured that was the first and last word on Rev. Jackson, who passed away in 2006.
Not so. In 2011, Adam Lore and 50 Miles of Elbow Room (named after a 1920s performance by Rev. Ford Washington McGee) presented on quality vinyl a volume of songs gleaned from cassette tapes Jackson recorded at church services and anniversary programs. Jackson led some of the songs and in other cases served as supporting musician for guest artists.
Volume 2 hit the streets the following year, also pressed on quality vinyl and containing more samples of Jackson's vanity tapes from the 1970s and 1990s. The specific date does not matter: Jackson's playing is as consistent and recognizable on the 1990s selections as on those from the 1970s.
Reverend Charles Jackson & Brother James of Baton Rouge, 'Come Into My Room,' recorded at Rosedown Baptist Church in St. Francisville, LA, July 7, 1974. Included on Lord You're So Good : Live Recordings, Vol. 2.
Two tracks on Volume 2 stand out in particular. One is the dynamic "Send It On Down," recorded at New Prospect Baptist Church in Baton Rouge, where Jackson supports a hard singing quartet that vamps like the Blind Boys of Alabama. "I've Got a Mind to Live for Jesus," a mid-1990s recording, features Jackson accompanying his wife, Laura Davis Jackson, whose voice is endearing and powerful, the result of years of experience singing for the Lord.
"Stand By Me," a starkly recorded cut featuring just Jackson and his Fender, is the only non-live performance on the seven-selection LP. Lore notes that the cut came from a repaired eight-track tape of unissued studio material.
On what was apparently his only trip outside the U.S., Reverend Charles Jackson appeared on this unidentified show from Ireland, graciously indulged a clueless interviewer and discussed being a cowboy in Mississippi before cutting loose with a gripping version of his first single, 'Wrapped Up and Tangled Up in Jesus." He's backed by the El Dorados and Big Joe Louis and His Blues Kings.
From the same Ireland TV show, Reverend Charles Jackson performs a vocal-and-guitar version of 'Morning Train,' the B side of his first commercially issued single.
Considering the crude way in which the original tapes were produced and the fragility of the tapes themselves, Lord You've Been Good has a nice tone to it. The album notes are by Lore and Nutt, with vintage photos peppered throughout.
Volume 2 is still available via 50 Miles of Elbow Room's website. Volume 1 is sold out, but the website notes that CD and digital releases are "to come." In addition to two of the Reverend's single releases (one a rare original release, the other an officially licensed reissue of the artist's first 45, "Wrapped Up Tangled Up in Jesus"/"Morning Train"), 50 Miles also offers the CaseQuarter label release of the CD God's God It: The Legendary Booker and Jackson Singles, representing the bulk of the Reverend's commercially issued material. For the serious deep roots gospel collector or aficionado of raw, glass-shattering electric guitar performance, these recordings are essential.
Pick: "Send It On Down."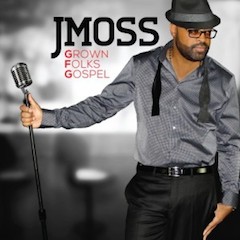 '…a laid-back vibe but PAJAM swagger…'
GROWN FOLKS GOSPEL
J Moss
PAJAM (2014)
www.pajam-music.com/jmoss.html
The next generation of Detroit's Clark-Moss gospel dynasty is growing up.
For J Moss, son of Bill and Essie Moss, that doesn't mean he's embracing his parents' traditional gospel style. His music is just settling down, embracing a soft R&B quiet storm kind of pacing, and his lyrics becoming more contemplative.
Thus, it should come as no surprise that Grown Folks Gospel is J Moss's most mainstream effort to date. It grapples with a world in which there are more questions than answers. Album cuts such as "It Is What It Is" and "Beyond My Reach" articulate this well, and add that faith and belief serve a person well in such a world. Meanwhile, "Love Like That" and "Nothing" (featuring PJ Morton, another grown up next gen from a gospel music/ministerial family) wonder aloud, but rhetorically, why God loves us, despite our faults.
J Moss, 'You Make Me Feel,' featuring Faith Evans, from Grown Folks Gospel
On Arise360, J Moss discusses the making of Grown Folks Gospel
Featuring Fred Hammond, "Beyond My Reach" is the album's highlight, a thoughtful and musically understated ballad that acknowledges our littleness in a world of big questions and few clear answers. In the context of the other album cuts, the effervescent single, "Alright OK," is a wise reminder to not sweat the small stuff.
J Moss, 'Beyond My Reach,' featuring Fred Hammond, from Grown Folks Gospel
Make no mistake: despite the laid back vibe, the album still features the PAJAM swagger. 21:03 assists on "Everyday," for example. But in general, the album takes the J Moss cutting-edge groove down a notch. Songs like "Hanging On," which features posthumous work by jazz artist Wayman Tisdale, is smooth jazz, not the electric jams one typically associates with J Moss.
On the final track, "Faith," J Moss declares that he doesn't need awards, fancy cars, or super stardom. All he needs is faith. Sage words from a grown-up gospel singer.
Picks: "Alright OK," "Beyond My Reach."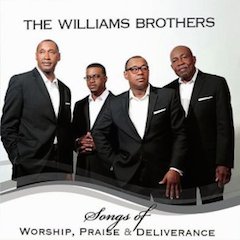 '…a fine balance of traditional roots and contemporary gospel…'
SONGS OF WORSHIP, PRAISE & DELIVERANCE
The Williams Brothers
Blackberry Records (2014)
With more than 50 years of harmonizing under their belt, the Williams Brothers are an institution in the quartet community.
The group's longstanding willingness and ability to adapt to the latest in sacred and secular sounds is exemplified in its latest album, Songs of Worship, Praise & Deliverance. Here, the Williams Brothers attach their meaty quartet harmonies to the meditative Praise & Worship style currently sweeping the gospel music and church communities.
Listeners expecting to hear hip-slapping, drive-tempo traditional quartet singing on Songs of Worship, Praise & Deliverance will be in for a surprise. The album's vibe is relaxed and contemplative—-prayerful, really—-and an uncredited small chorus of singers backs the vocalists on ten easy-as-Sunday-morning selections.
The Williams Brothers, 'All Things,' from Songs of Worship, Praise & Deliverance
The Williams Brothers, 'I Give Up,' from Songs of Worship, Praise & Deliverance
As if to telegraph the album's distinctive vibe, church-wrecker Beverly Crawford builds the temperature incrementally rather than convert the opening song, "You Are," into an instant revival. Indeed, Crawford sounds like Gladys Knight in her composed authority. Likewise, Bishop Neal Roberson, a longtime traditional quartet maven, takes it easy on "I Give Up." Clever turns of lyric, a Williams Brothers staple, show up several times. For example, although its title suggests finality, "I Give Up" is not at all about giving up. Roberson declares that when you feel like giving up, turn it over to the Lord. On "Constantly," quartetter D.J. Rogers leads the group in the mantra, "I constantly thank you/He constantly blesses me."
One of the most Williams Brothers-sounding of all tracks on the album is the concluding cut, "Just to Say Thank You." The quartet delivers this song of unconditional praise with its trademark smooth and rhythmic harmonies. Similarly, on "This is Your Night," the quartet recalls what an "old preacher said at a revival meeting down in Mississippi," while the choir encourages congregants to come to the altar.
As is their MO, the Williams Brothers accomplish a fine balancing act between their traditional roots and today's gospel on this latest offering.
Picks: "This Is Your Night," "Just to Say Thank You."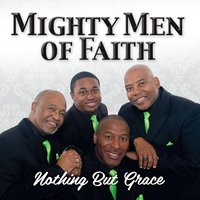 '…rolling contemporary, musically and lyrically…'
NOTHING BUT GRACE
Mighty Men of Faith
N2L Records (2014)
Nothing But Grace is the latest album by California's Mighty Men of Faith, a quartet that rolls contemporary, musically and lyrically.
Musically, the quartet paints a smooth patina—-like an aural Dippity-Do—-on their harmonies, giving the overall impression of a 1980s soul vocal group gone gospel. Likewise, the group's vertical praise lyrics have more in common with the repertory of today's small choirs than gospel quartets, which tend to stay faithful to verses about life's trials and faith in God as a solution.
Mighty Men of Faith, 'These Things I Pray,' from Nothing But Grace
The Mighty Men's harmonies are distinctive in this day and age because instead of blending in the treble clef they emphasize the bass for a fuller, creamier result. As a result, the singers sound better as an ensemble than as soloists. The harmonies work best on "I Thank God" and struggle a bit to find their way on "I Will Praise" and "God is My Supply," though the latter is saved by its trad feel, from the burbling organ to the bluesy verses.
"Run and Go Tell It" is the current single and illustrates the group's sound well, but "This Joy" is more interesting because of its retro funkiness. "Father These Things I Pray" is the loveliest song composition on the album. Written by Woody Woods, "Father" is a straight-from-the-gut bedtime prayer that sounds like a 1970s Christian song given a soulful interpretation. It is a sacred song with legs.
Mighty Men of Faith—-Wendell Basey, Charles Johnson, Rev. Richard Hayes, and Rev. Ed Prothro-Harris—-made their debut in 2009 and are up for five Rhythm of Gospel Awards.
Picks: "This Joy," "Father These Things I Pray"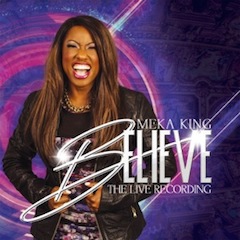 '..brimming with bold, dramatic P&W arrangements'
BELIEVE: THE LIVE RECORDING
Meka King
Sonflower Joy Music (2014)
www.mekaking.com
Those who attended Praise & Worship Leader Meka King's live recording session at The Gathering Place Church in Sanford, Florida, on February 18, 2012, entered a gospel concert but exited a church service.
Believe. The Live Recording is King's sophomore CD and the product of the February 2012 recording session. The two-disc set is brimming with bold, dramatic P&W arrangements. Most were recorded live, with a few final tracks sounding as if they were made in a studio.
After a theatrical spoken word intro, the program moves swiftly and energetically into a continuously-running set of power praise songs with relentless rhythms and optimistic lyrics.
When the tempo slows the album comes into its own. King harmonizes sweetly with LaRue Howard and Charlyce Simmons on the ageless hymn, "Tis So Sweet," and from there, she moves into the thematic crux of the program—belief and hope. The two-part title track allows King to do a little sermonizing on the subject, which she does with the extroverted presence of a seasoned evangelist.
Promotional video for Meka King's Believe: The Live Recording
Disc Two opens with "Healer," another interpretation of the belief trope. As on Disc One, Disc Two's slower and more contemplative selections, such as "You're All I Want," are the most appealing. The King-penned "You're All I Want" is the best of her writing contributions to the album and could well enter the worship team circuit. In addition, King covers Chris Tomlin's P&W anthem, "Our God," and the Chris Allen Band's "God Is Bigger," which gets Christian rock-fueled support from Ashraf Jangda's buzzing electric guitar.
With solid production by King and Jamaal Andrews, and learned pacing, Believe. The Live Recording will appeal most particularly to fans of P&W and live worship projects.
Picks: "Healer," "You're All I Want."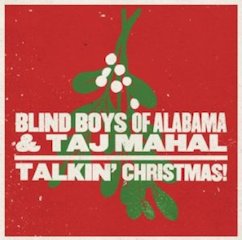 '…national treasures…'
TALKIN' CHRISTMAS
Blind Boys of Alabama & Taj Mahal
Sony Masterworks (2014)
Like the Chieftains, the Blind Boys of Alabama have been embraced by some of today's hippest rock and roots musicians. On Talkin' Christmas, the gospel quartet that is now an American icon celebrates the holidays with musical polymath Taj Mahal.
Mind you, this is not the first time the Blind Boys have tackled the Christmas canon. That was 51 years ago, when the group was on Vee Jay Records. They and then-label mates the Swan Silvertones, Charles Taylor and others delivered fairly standard versions of familiar carols.
Talkin' Christmas, on the other hand, is a mix of new songs and classics, all given Taj Mahal and producer Chris Goldsmith's funk-n-groovin' treatment. Familiar titles "Do You Hear What I Hear" and "Silent Night" are infused with R&B and country roots, respectively.
Blind Boys of Alabama & Taj Mahal, 'Do You Hear What I Hear?' From Talkin' Christmas
Blind Boys of Alabama & Taj Mahal, 'There's a Reason We Call It Christmas,' from Talkin' Christmas
Taj plays banjo, harmonica, and even ukulele as Jimmy Carter, leader of the Blind Boys, shouts and squalls in the spirit of group co-founder Clarence Fountain, who is not present on the CD. Newcomer Paul Beasley, formerly of the Gospel Keynotes and the Mighty Clouds of Joy, lends his Aaron Neville-like tenor on "Merry Christmas to You," done originally by the Salem Travelers, and channels Rev. Claude Jeter on Jeter's own "No Room in the Inn."
The making of Talkin' Christmas
The album's most compelling track is the Dixieland version of "Christ was Born on Christmas Morn" with its infectious 2/4 beat. Original songs such as "What Can I Do" and the funky title track—-Mark Nishita plays the organ like Booker T. Jones on the latter—-emphasize the true meaning of Christmas and how Yuletide love for one's neighbor should be a year-round practice.
With Talkin' Christmas and the group's corresponding nationwide Christmas tour, the Blind Boys of Alabama reinforce their status as national treasures.
Pick: "Christ was Born on Christmas Day."
'…a pocket-sized worship service'
SHIFT
Eddie James
Fresh Wine Records (2012)
Back in the day, recorded black sacred music was restricted by its medium. The brittle 78 rpm and its cooler cousin, the 45 rpm record, gave singers and musicians about four minutes per side to get their message across. The LP expanded things a little, offering as much as an hour of music. Today, a two-disc CD set enables artists to provide nearly three hours of almost uninterrupted listening.
The latter is what singer-songwriter and minister Eddie James has employed for Shift. This 2-CD pocket-sized worship service is produced in the style of a Shekinah Glory Ministry or Israel Houghton project, artists whose bold, unapologetic P&W style may have inspired James and his music ministry
"There's a new breed of Christian," James and his team sing on the title track, defining the shift as "a changing of the guards." While the "shift" the group sings about is a more aggressive attitude against sin, it is also emblematic of the high-octane P&W music sweeping the country, or what I unscientifically call the "Lakewood Sound," in reference to the Texas megachurch that helped popularize the style. It mixes jazz, gospel, R&B, electric rock, acoustic rock, prog rock, CCM, and pop into a multicultural mélange designed to fill the biggest megachurch. I hear everything from John P. Kee to Chris Tomlin to Rance Allen in Eddie James's arrangements.
Eddie James, 'Breathe On Me,' featuring Bryan Waddell—a 'hypnotic call for spirit possession' from Shift
Thematically, Shift combines vertical praise with new-age pleas for the Holy Ghost to rain down fire. "Breathe On Me," featuring Bryn Waddell, is a hypnotic call for spirit possession, and "Holy Spirit Come" is a tender plea for the same, made all the sweeter by Jayna Cullens' vocal cameo. "Joy" and "I Love You" are passionately sung love ballads to the Most High. "You Reign," featuring Nick Franklin and Alicia Evans, is most evocative of the Lakewood Sound with its acoustic underlay.
The album's highlight is "That Same Spirit," a hard-driving call-and-response rouser akin to a '90s John P. Kee composition. Its bluesy coda evolves into a praise break. This song, perhaps more than any other on the set, reminds the listener that James entered the gospel music field with the Phoenix Mass Choir.
Where gospel songs start slow, build to an emotional apex, and end with a cool down, Shift is just the opposite. Like a racehorse, the album charges out of the gate with high-octane praise, slows in the middle with meditative musicality, and gallops on the finish line with rock and roll energy.
Eddie James, 'I Love You,' from Shift
The musicians are tight and focused and the choir is strong and committed. Like the SGM projects or a symphony, Shift is best listened to as one continuous work, as opposed to individual songs.
P&W enthusiasts will lap this album up. And for those who want to experience Shift live, Eddie James has a series of Shift Conferences lined up for the new year. Visit www.ejministries.org for more information.
Pick: "That Same Spirit"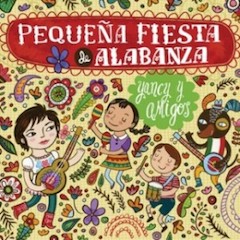 '…I wish children's religious music was this hip when I was growing up.'
PEQUENA FIESTA de ALABANZA (PRAISE PARTY)
Yancy y Amigos
Elevate Entertainment (2014)
Christian singer-songwriter Yancy began writing kid-friendly songs for the littlest congregants at Church on the Move in Tulsa, Oklahoma.
Her "Little Praise Party" series of compact disc and DVD song collections caught on so well that she has, with able assistance from Christian music stars Jaci Velasquez and Nic Gonzales (two of the "amigos"), translated some of them into Spanish. Thus was born Pequena Fiesta de Alabanza.
This Spanish-language collection will certainly satisfy its intended demographic. It contains fifteen short, punchy songs bursting with energy. They are deliberately easy to learn, eminently singable, and decorated in sugary combo pop. Sometimes the guitars snarl, however, as on "Padre Abraham (Father Abraham)" and "Ir (Go)." The title track has a pop-country flair. All in all, I wish children's religious music was this hip when I was growing up.
Yancy & Little Praise Party, 'Fiesta de Alabanza (Praise Party)'
Some songs will be familiar to all listeners—"Si Te Sientes Muy Feliz" is "If You're Happy and You Know It," and "Esta Lucecita" is "This Little Light of Mine"—while other songs are originals. The ballad "Dios Bueno Es (God Is So Good)" has a lovely, plaintive melody, and would be exceptional if sung a cappella and with cascading harmonies.
Pequena Fiesta de Alabanza offers Spanish-language praise songs for the cool kids.
NOTE: Yancy returns February 10, 2015, with Little Praise Party: Taste and See, the fourth release in the popular worship music series for young children.
Picks: "Ir," "Dios Bueno Es."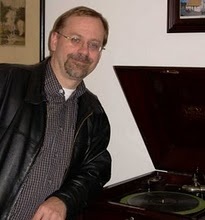 Bob Marovich is a gospel music historian, radio announcer and author. His "Gospel Memories" radio program of vintage black gospel music and artist interviews airs live first Sundays from 3 a.m. to 7:30 a.m. on Chicago's WLUW 88.7 FM, and streams live at the station's website. Snippets of recent broadcasts can be heard online at the Gospel Memories Radio Show. Bob is also the founder and editor of The Black Gospel Blog, now the Journal of Gospel Music, the source for the reviews published here. Bob launched JGM on the tenth anniversary of The Black Gospel Blog, which he founded July 28, 2004, as the first blog to cover African American gospel music. His first book, Shout Troubles Over: The Birth of Gospel Music in Chicago, is scheduled for publication in March 2015 by the University of Illinois Press as part of its Music in American Life Series. Bob lives in Chicago with his wife, author Laurel Delaney, and their two cats.