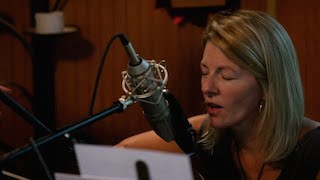 Laurelyn Dossett is starting off 2015 on a positive, topical note with an eloquent new song, "The River's Lament," inspired by the Dan River coal ash spill of February 2014 (check out this Dan River Coal Ash Spill Timeline from North Carolina Health News for a depressing overview of yet another needless environmental calamity). As Ms. Dossett wrote in the email accompanying this video:
"…written with the intent that we not forget, and shared with hope that we won't let it happen again."
Video by Harvey Robinson of Monkeywhale Productions
Visitors to TheBluegrassSpecial.com/Deep Roots Christmas coverage since 2011 may recognize the name Laurelyn Dossett as the composer of a holiday song cycle commissioned by the North Carolina Symphony and released in album form as The Gathering. It's been one of our Christmas Essentials since its release. That's hardly all this gifted singer-songwriter, based in the piedmont of North Carolina, has accomplished in her admirable career. As her website enumerates, her resume includes:
*Wrote "Anna Lee," featured on Levon Helm's Grammy-winning record Dirt Farmer, and CD/DVD, Live at the Ryman
*Wrote "Leaving Eden," the title track for the Grammy-winning Carolina Chocolate Drops' 2012 release
*Writer of "Vote Against Amendment One," a protest song written in response to North Carolina's marriage amendment (which passed in 2012)
*Writer or "My Beloved Enemy," from the NC Music Love Army's collection of protest songs, We Are Not For Sale (2013)
That's only the beginning, and we refer readers to the abovementioned website for more information and more Laurelyn Dossett music.