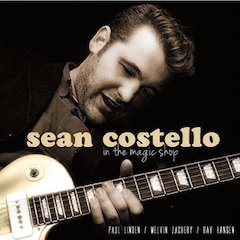 IN THE MAGIC SHOP
Sean Costello
VizzTone
The question is, how many ways can a record touch your heart at its deepest point? Let me count the ways.
In the case of Sean Costello's astonishing In The Magic Shop, it starts with the liner booklet's five statements from people close to the artist, including his mother (closest of all, of course, and a health care professional who clearly struggled to keep herself together while composing her two-page statement, which includes an informed explanation of her son's co-occurring diagnoses of bipolar disorder and addiction that sets the record straight about the tragedy of his death on April 15, 2008, a day before his 29th birthday); VizzTone label owner (and a musician in his own right) Richard Rosenblatt; pianist Paul Linden and guitarist Jimi Zhivago, both of whom made invaluable contributions to these sessions; and Magic Shop studio owner/four-time Grammy winning producer Steve Rosenthal, who confides in a haunting soliloquy as to how it took him six years to play these recordings and even then he needed the support of engineer Brian Thorn to polish them up for release. For all the poignancy of Debbie Costello Smith's remembrance of her son, a passage in Rosenthal's anguished reflection most shadows the stirring, raw truth of the artist's performances here, to wit:
Listening to him all these years later
It seems he was trying to tell me something
I just couldn't hear it
So many songs in this set speak of displacement, disappointment, darkness and even death
At the time I thought it was the "blues"
Now I know it was "Sean's blues"
From In The Magic Shop, Sean Costello's 'Can't Let Go'
This is so true, but perhaps more amazing is how Costello, even in the darkest hours here, reveals an intense will to surmount paralyzing despair—which is often couched in terms of romantic dysfunction—and live with a vengeance while owning up to his own role in upsetting the apple cart. In its confessional quality In The Magic Shop is every bit the personal statement Rosenthal claims it to be but it is also, pure and simple, a powerful musical experience. Half of its dozen tunes are Costello originals (co-written with the aforementioned Paul Linden) that show how much he had grown as a writer since beginning his recording career in earnest on Landslide Records with 2000's Cuttin' In (his first album, 1998's Call the Cops, was a self-released effort by the then-16-year-old blues prodigy backed by his band The Jivebombers, which numbered one Paul Linden among its members). According to informed sources, the tracks here were recorded at the same time he cut what became an acclaimed self-titled album for the Tone Cool label. Released in 2005, that long player ended the artist's four-year recording sabbatical on a resounding note by showing him in full command of the blues idiom but stretching out credibly to incorporate soul, folk and rock 'n' roll into his trick bag. It wasn't a favorite of blues purists but it announced Sean's intention to explore what he could say in other styles that were part of his artist's DNA. As his mother writes, "Sean was capable of playing anything and had very eclectic tastes in music." Thus the tunes on In The Magic Shop, ranging from the funky but searing self-penned R&B confessional "I Went Wrong" to the spirited funk and gospel thrust fueling Costello-Linden's "Make a Move" to a gritty cover of Rod Stewart's stomping heartbreaker "You Wear It Well" blessed with a little different flavor courtesy Zhivago's 12-string National and a ragged vocal by Sean that ups the ante on the narrator's veiled attempt at a sanguine attitude towards his lost love (unfortunately the reference to "Madame Onassis" has been supplanted by "Angelina," who has never worn it as well as Jackie O wore it).
Sean Costello covers Rod Stewart's 'You Wear It Well' on In The Magic Shop
Sean Costello, 'Told Me a Lie,' from In The Magic Shop
Other than Brian Jackson (Wurlitzer, synth, piano), Matt Wauchope (B3, one cut), Zhivago and a couple of female backup singers (on two cuts), Costello gets the job done and then some with a basic band comprised of Linden on piano, bassist Melvin Zachery and drummer Paul Hangen, whose collective sound hits with sledgehammer force, thanks to the sonic immediacy Rosenthal fashioned from these live-in-the-studio sessions. The intensity of the instrumental and vocal performances cannot be overstated: this is fierce, relentless, gripping music, even in its quieter moments, sounding at every turn like the dramatis personae knew something precious and vital was on the line. This much is clear from the opening cut, a cover of B.B. King's "It's My Own Fault," a slow, mournful blues keyed by Costello's spare, tear-stained guitar solo in which he shifts tone and texture in crafting single-string runs and flurries of anxious, aggrieved howls (at a couple of points before the halfway mark of the 4:42 track you hear Costello cry out in the midst of his soloing, as if the notes were being physically torn from his body). When he finally enters vocally, at around the 3:40 mark, inveighing against a woman who's packing her bags for Chicago before lamenting, "it's my own fault, babe, and you can treat me any way you feel you got a right to do" (not a Costello lyric but one you can imagine might have sent a shiver up Rosenthal's spine when he listened back for the first time), the sheer visceral impact of his wounded voice is almost too much to take. His own slinky R&B groover "Can't Let Go" follows, seeming like a bright-hued addendum to B.B.'s tune with its bluesy melody, cool mood and sexy distaff vocal support from Liz Tormez and Brianne Winter cooing seductively as Costello moans, "I've been wracking my brain, is it too late in the game/for you to bring it all back home…" In what sounds like the closer of a conceptual brace of tunes within the album, Costello offers a wrenching plea in the form of "Trust in Me," the blues ballad that was a #4 hit for Mildred Bailey in 1937 and a top 30 single for Etta James in 1961 (Louis Jordan, Dinah Washington and Harry Nilsson have all recorded credible versions as well, whereas Beyonce cut a typically clueless rendition for the Cadillac Records soundtrack, which sank as quickly as did that box office disaster). In Costello's subdued, sensual reading, he sings over a low-key arrangement with his trio (with some tasty, understated bluesy piano from Linden enhancing the moody atmosphere) while throwing himself into the story but not without nuance, an infallible sense of the lyrics' dramatic arc; here again you become aware of the telling, personal nature of the lyrics and how Rosenthal might have heard something that pierced him when Costello emphatically pleas "trust in me in all you do and have the faith I have in you…trust in me and I'll be worthy of you…"
Sean Costello, 'Hard Luck Woman,' a Costello original from In The Magic Shop
From there the pace quickens with the rocking Costello-Linden number "Feel Like I Ain't Got A Home," with Costello's twin guitar lines snaking around each other, Linden injecting lively, bluesy piano and the rhythm section surging—it sounds not unlike a great lost track from Derek & the Dominoes' Layla album. Returning to a funky blues, a cover of Fenton Robinson's "You Don't Know What Love Is" is a mean woman blues of the first order, driven here by Costello's snarling guitar and buttressed by Wauchope's rich B3 musings. Another cover, of Bobby Womack's "Check It Out," is a sizzling shuffle with a lyric suggesting the singer's woman has frightfully underestimated her man's affections and needs to take a harder look at the available evidence of same, assertions given added gravitas and levity all at once by Costello's frantic vocal, the jittery arrangement and the sprightly underpinning keyboard work by Jackson and Linden. A dirge-like original blues, "Told Me a Lie," returns Costello to the album's running narrative centered on betrayal and its attendant consequences (what Rosenthal called "displacement" and "disappointment") and sets up the bracing affirmations of "Make a Move," a rare moment in his career when Costello makes a direct reference to his music having unusual powers: "the time has come to make my move/and take what's rightfully mine… I've paid my dues, it's time to leave these blues behind…and I can see just what I have got to do, we have got to talk about the things we all go through…pull your lover close to you and dig these sounds of mine…" The album then closes on a reflective note with "Fool's Paradise," from Sam Cooke's 1963 Night Beat. It's hard not to be chilled by the opening verse, "I often think of the life I've led/and oh, it's a wonder I ain't dead…," but the bridge offers hope of redemption ("…I've learned my lesson/like all fools I've met/I've learned things in life/that I haven't forgotten yet") emphatically articulated by Costello, with a glimmer in his voice amidst its abiding ache; to this he adds a fine point with a ruminative guitar solo before Linden eases in on the B3.
Sean Costello, 'I Went Wrong,' from In The Magic Shop
There was more ahead post-2005: a memorable support role backing Nappy Brown on the blues great's final album, 2007's Long Time Coming; his final studio album, We Can Get Together (released by Delta Groove in 2008), that showed 2005's Sean Costello was indeed a portent of an artist coming into his own; and a rousing 2011 collection of live performances, At His Best—Live, documenting much of the special magic he produced on stage. That should not have been the end of the story, but there remains so much to treasure and to be inspired by, both in what he left behind and in how he lived his life. To Debbie Costello Smith goes the final word about her son:
"His was a beautiful heart. It's befitting that his talent and inner and outer beauty live on to help the community he was dedicated to. Bipolar disorder can be connected to the face of the most successful, talented person you know. There should be no stigma to a disease that affects the functioning of the brain, any more than one that affects your heart. I am not ashamed of Sean. I am proud of his courage, his strength, his humility, his work ethic, his kindness, his humor and infectious laugh, and his love of life and people. … Hopefully the Fund in his name will get the additional support it needs to be able to further its mission of saving another mother's beautiful child."
Sean Costello, 'Feel Like I Ain't Got A Home,' from In The Magic Shop
She's referring to the Sean Costello Memorial Fund for Bipolar Research, established to help fight the disorder that claimed Sean's life. All profits from sales of In The Magic Shop are being donated to the Fund. Readers are well advised to spend their money on what is not only the finest blues album of 2014, but one of the finest albums of last year, period. Sean Costello is fully present, and very much still with us, on this, a bona fide masterpiece. To return to our original question, how many ways can a record touch your heart at its deepest point? I doubt I can count that high.