Anyone reading this publication since 2011, when it was www.TheBluegrassSpecial.com, or having dropped it on its Contents or Home page since then, will undoubtedly have noticed one of our standing public service announcements has been for the Jeff Golub Fund. Establish in 2011, the Fund was designed to help defray the daunting medical expenses the ace jazz and blues guitarist was incurring in treating what he and his doctors thought was a case of collapsed optic nerves that had cost him his eyesight shortly after completing what turned out to be one of his finest albums, The Three Kings (a tribute to Albert, Freddie and B.B.). At the time Jeff spoke to TheBluegrassSpecial.com in September 2011, he had exhausted all forms of traditional treatments and was ready to explore alternative options.
"There are some things that aren't FDA approved that I want to look into, if necessary," Golub said. "I know there's a guy in Minnesota who's had some luck with this condition, and from what I understand they've had luck with hamsters. Humans are new territory. The first time I went the doctor talked to me about an experimental drug for my first eye, but I really didn't expect this condition to lead to where it is; I thought it would get better, so I wasn't going to let them inject anything into my eye. Now, I will do whatever it takes."
After two years of exploring "whatever it takes" to treat his condition, with no fruitful results, Golub was accepted for review by the National Institute of Health's Undiagnosed Disease Program. In three days his condition had finally been properly diagnosed: he had Progressive Supranuclear Palsy (PSP), a rare, progressive–and untreatable–brain disease. His wife, Audrey Stafford Golub, announced the diagnosis in an online letter posted on November 15, 2014.
Misfortune shadowed Golub in the past few years. In early September, 2012, he misjudged an approaching subway train at the 66th St. #1 station and fell onto the tracks before the train reached the platform. "I took a step and there was no car and suddenly I was on the track," he told the local New York CBS News station. Unable to pull himself back onto the platform, Golub was pulled to safety by an unidentified man on the platform before the train conductor made an emergency stop. "I can't even tell you how terrifying it was," Golub told the New York Post. "I can see colors so I could see the train coming at m e, and I tried to get away as fast as I could. I'm lucky I didn't fall underneath the train." To everyone's amazement, including his own, Golub survived with only minor injuries after the train hit one of his legs. "I should be dead," he told CBS News. Although he was accompanied by his guide dog Luke (a black Labrador supplied to him by Freedom Guide Dogs), Golub would not assign any blame to his faithful canine companion. "I'm just glad he didn't jump down there with me. He's a great dog." Wife Audrey added: "Jeff's only been blind for 14 months, and only had Luke for four months."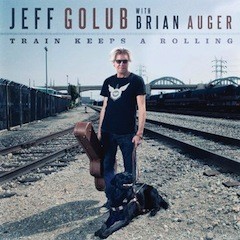 Through it all Golub never lost his sense of humor. His final album, featuring British jazz keyboard giant Brian Auger, featured a title song inspired by his subway accident, Train Keepstrain A Rolling; he would introduce the song in concert by noting, "More people know about me falling in front of train than know the name of the Vice President of the United States."
Greg McKee, a retired graphic designer and one of Golub's best friends since they met in the 1970s, told Cleveland.com that the guitarist accepted his blindness "with such composure and grace. He said he didn't need his sight to play music and just kept going forward. He was on his way to a gig and went completely blind and did the show anyways. The guy just took each day as it came, no matter what. When his speech slowed down, he used his iPphone to send me messages. There was no self-pity or anything, he was always upbeat. He was the most amazing person I have ever had the privilege of knowing." McKee designed the album cover for Golub's Six String Santa CD along with logos and t-shirt graphics for the artist.
New Year's Day 2015 broke with the news of Jeff Golub's death in New York City. He was 59. Survivors include his wife Audrey and sons Chris, 11, and Matthew, 9.
Born in Copley, OH, on April 15, 1955, Golub played his first gig in 1967 at age 12. He studied at the Berklee College of Music and worked in singer James Montgomery's band while in Boston. In 1980, after moving to New York, Golub joined the band of rock singer Billy Squier, with whom he toured and recorded extensively. He was Rod Stewart's lead guitarist from 1988 to 1995, appearing on four albums and five world tours. His first solo recording, the acclaimed Unspoken Words, was released on Gaia Records in 1988.
Golub released more than a dozen albums in all as a leader and three with the Avenue Blue Band. As a sideman he appeared with a staggering array of artists from almost every genre of popular music, including Ashford and Simpson, Alphonse Mouzon, Kirk Whalum, Mindi Abair, Everette Harp, Peter Wolf, John Waite, Vanessa Williams, Gato Barbieri, Bill Evans, Rick Braun, Tina Turner, Dar Williams, Brian Culbertson, Gerald Albright, Henry Butler, Jon Cleary, Marc Cohn, Richard Elliot, Robben Ford, Sonny Landreth, Jeff Lorber and Peter White. Golub was also a member of Dave Koz and the Kozmos, the house band of The Emeril Lagasse Show.
On January 21 B.B. King's Blues Club & Grill in New York City is hosting a tribute show to benefit the Golub family, "Friends of Jeff Golub All-Star Memorial Benefit Concert." Artists slated to appear at this writing include Henry Butler, Dave Koz, Randy Brecker, Mindi Abair, Chuck Loeb, Christopher Cross, Mark Egan, Kirk Whalum and Rick Braun, among others. Tickets are $45 in advance, $55 day of show. Show time is 8 p.m.; doors open at 6 p.m.
Also, an account has been set up to help Jeff's family with expenses incurred during his illness. Donations can be made here via PayPay or by check.
Jeff Golub was a friend to this publication, and we hope we returned his friendship in kind. His artistry, big heart and generous spirit produced sublime music and memories of the man that will not fade in time. Asked what kind of guy he was, Golub's friend Greg McKee answered for all who knew him: "Jeff was one of those rare human beings that made everyone feel comfortable. He was always a gracious host and you could not find a better friend. … He adored his family, so it was easily a great topic to get him going. My wife and I went to see him play anywhere in a three state radius over the last 35 years and he loved that. He loved people who enjoyed what he was doing, so he was really good with all his fans. He would say that he was so lucky he got paid to do something he would have done for free. He was always a good friend, and it was a bonus that he was one of the most versatile and amazing guitarists on the planet."
In tribute, this installment of Video File presents some priceless Jeff Golub moments, on stage and on record. –-David McGee
From his powerful 1988 debut album, Unspoken Words, Jeff Golub performs the haunting 'Widow's Walk.'
'More people know that I stepped in front of a train than know the name of the Vice President of the United States': Jeff Golub and Brian Auger at World Café Live, Philadelphia, August 2013, with the title track from their 2013 CD, Train Keeps A Rolling.
Jeff Golub performs 'Boom Boom' on the Holland America's m/s Westerdam January 19, 2009 for the Smooth Jazz Cruise hosted by Wayman Tisdale, another gifted artist that left us way too soon. In addition to Golub and Tisdale, artists on board included Gerald Albright, Tom Braxton, Peabo Bryson, Jonathan Butler, DW3, Everette Harp, Jeff Lorber, Marcus Miller, Brian Simpson, Jonathan Slocumb, John Stoddart, Jody Watley, Kirk Whalum, Peter White, and Willie & Lobo with special guest Rufus featuring Chaka Khan.
Jeff Golub at the Smooth Jazz Festival in Augsburg, September 13, 2013, performing the title track of his Naked City CD.
A tasty evocation of Freddie King from Jeff Golub, performing 'Freddie's Midnight Dream' at Thornton Winery in Temecula, CA in this undated clip. The studio version is featured on Golub's The Three Kings album (2011 release).
From The Three Kings album, Jeff's take on B.B. King's 'The Thrill is Gone,' with Henry Butler on piano (2011).
Jeff Golub with Henry Butler at the Iridium, New York City, 2010. Video produced by Larry Blumenstein Video Productions. Contact: LarryBlumenstein@aol.com, 917-817-2112. (Copyright 2010)
Jeff Golub's searing cover of Albert King's 'I'll Play the Blues for You' on his 2009 album, Blues for You