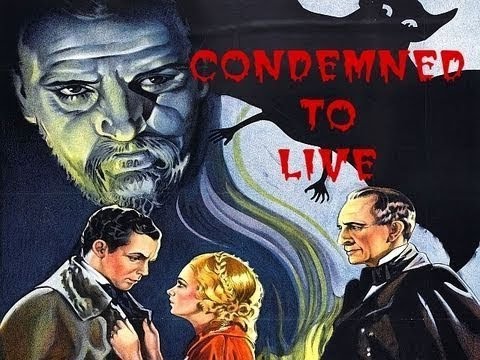 Director: Frank R. Strayer
Producers: Maury M. Cohen, Arthur Alexander, Max Alexander
Cinematography: M.A. Anderson
Art Direction: Edward C. Jewell
Music Department: David Broekman (composer: title theme—uncredited); Charles Dunworth (composer: stock music—uncredited); Abe Meyer (musical director—uncredited)
Written by: Karen DeWolf
CAST
Ralph Morgan (Prof. Paul Kristan)
Pedro de Cordoba (Dr. Anders Bizet)
Maxine Doyle (Marguerite Mane)
Russell Gleason (David)
Mischa Auer (Zan, the Hunchback)
Lucy Beaumont (Mother Molly)
Carl Stockdale (John Mane)
Barbara Bedford (Martha Kristan)
Robert Frazer (Dr. Duprez)
Ferdinand Schumann-Heink (Franz Kristan)
Heidi Shope (Anna, the Maid)
Marilyn Knowlden (Maria, the Young Girl)
Blink twice and you might realize that you are not watching a Universal Picture, but this has all the hallmarks of a film from that studio even though it is a production by the unknown Invincible Pictures company. Like director Frank R. Strayer's earlier genre entries, The Monster Walks (1932) and in particular The Vampire Bat (1933), Condemned to Live evokes many of the favorite sequences from Universal's prestige offerings during the early '30s.
They say imitation is the sincerest form of flattery, and although many independent studios strived to equal Universal's best, only Frank Strayer came close.
Three people—a pregnant woman, her husband and her physician Dr. Duprey—find themselves stranded in a remote part of darkest Africa. As the native drums beat thunderously over the jungle, Dr. Duprey remarks that they are safe as long as they stay in the cavern as the natives fear bats, or "night birds" as they call them. During the night one of the bats affixes itself to the woman's jugular as her child is born. Before Dr. Duprey dies, he places the infant in the trust of Dr. Anders Bizet, (Pedro de Cordoba).
Many years later in a peaceful European village, Professor Paul Kristan, (Ralph Morgan), holds the respect of the community, but then a curious string of gruesome murders ensue and the superstitious villagers blame the attacks on a giant bat.
However, the real villain is revealed to be the kindly professor who suffers from a mysterious affliction that even he is not aware of while his faithful hunchbacked assistant Zan, (Mischa Auer), disposes of the bodies in a hidden pit. Dr. Anders Bizet arrives in the village and confesses that he knew of Paul's affliction when he was younger, but was under the belief that he was cured. The professor's exhaustion from overwork must has brought the affliction back.
Realizing that he is the cause of the murders, after Dr. Bizet stops him from biting his fiancee, (Maxine Doyle), Paul leaps from a cliff to his death followed by his devoted manservant Zan.
This Poverty Row shocker utilizes many elements of the Universal releases including torch baring mobs, similar European settings and the streamlined plot. Like Strayer's The Vampire Bat filmed for Majestic on Universal's backlot sets, Condemned to Live utilizes the just completed European street and castle exterior set from The Bride of Frankenstein and the belltower from The Hunchback of Notre Dame (1923). From this the film can be regarded as a companion piece to Strayer's earlier film.
M.A. Andersen's camerawork lifts the familiar plot to greater heights, but the same cannot be said of RCA Victor's "High Fidelity" sound system. The film suffers from a detracting "mudiness," making some portions of the film only faintly audible.
Condemned to Live is a fine addition to vampire folklore, but despite its sympathetic twist, Ralph Morgan is still given plenty to do when all is dark and his malady takes charge. Ralph Morgan, older brother of Frank Morgan who found fame after his appearance as the Wizard in The Wizard of Oz (1939), made his screen debut during 1923 and later appeared in The Mad Doctor (1940), Universal's Night Monster (1942), The Monster Maker (1944) and The Creeper (1948).
Mischa Auer, a Russian born comedy actor arrived in Hollywood at the advent of sound and remained in constant employment until his death at 62 in 1967. Included in his genre offerings are Drums of Jeopardy (1931), Frank Strayer's The Monster Walks (1932) and And Then There Were None (1945). Mischa Auer became an Oscar nominee for his role in My Man Godfrey (1937).
Condemned to Live, although a cheaper imitation of Universal's "horrors," does boast its own credentials and is a most satisfying film offering from the Poverty Row vaults.
Source: The Missing Link
SELECTED SHORT: 'No Ifs, Ands or Butts' (1954)
An anti-smoking cartoon from Famous Studios, released in 1954 and starring Buzzy the Crow and Katnip. Katnip is a smoking addict. A commercial on television offers him a cure. He sends away for it at once. He finds that he must eat crow meat to kick the habit. ("If the smoking habit/you must beat/then eat a salad/with fresh crow meat," he reads.) Buzzy the Crow just happens to land in Katnip's window. Katnip makes Buzzy help him stop smoking. When the chips are down, Buzzy has a better idea: he has a cigarette that will cure the smoking habit more easily… but what is this cigarette made of? Cigarette jokes range from chain smoking to Tobacco Road.
Directed by Izzy Sparber (as I. Sparber); written by Irving Spector. Music by Winston Sharples. Cast: Jackson Beck (voice of Buzzy), Sid Raymond (voice of Cat). Animation: Thomas Moore (animator), Dave Tendlar (animator) and Martin Taras (animator, uncredited).