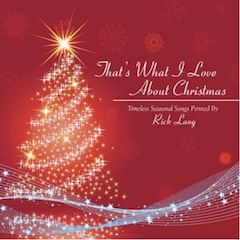 THAT'S WHAT I LOVE ABOUT CHRISTMAS
Timeless Seasonal Songs Penned by Rick Lang
Various Artists
RLM Records
Songwriter Rick Land has endeared himself to the bluegrass and bluegrass gospel worlds with his eloquent, well-crafted tunes, commitment to his craft and personal warmth. His second seasonal album, That's What I Love About Christmas, is only going to elevate the respect he's gained over the years.
With the help of producer-guitarist-vocalist Stephen Mougin, Lang has found his new batch of Christmas songs presented in ways he hadn't expected but has found pleasantly surprising. After hearing some of the first tunes Lang had completed, Mougin offered as to how he could hear them in a small combo jazz-influenced style. Keeping things tight, economical and reflective in mood gives That's What I Love About Christmas an intimate, chamber-like quality; and though the ambience is serene, it's not melancholy—even the reverent readings of "Angels From On High" and "Prepare a Place for Him," by crystalline-voiced Jane Mougin (the latter tune also featuring affecting background harmony vocals by Darin and Brooke Aldridge and Amy Darrow) are upbeat in message.
By Lang's own account on his website blog, most of the songs here were recorded by a jazz trio comprised alternately of electric guitar-bass-drums and piano-bass-drums. The key dramatic personae are Pat Bergeson on guitar, Todd Parks on bass, Chris Brown on drums. They're supplemented here and there by rootsy pianist Joe Davidian; fiddler Aaron Till; Union Station's Ron Block on acoustic guitar; and the young phenom Sierra Hull on mandolin (whose two Rounder solo albums were produced by Block
'Sleigh Full of Toys,' with Aaron Till on lead vocal, Joe Davidian on piano. From Rik Lang's That's What I Love About Christmas.
The titles are not misleading: the album opening "That's What I Love About Christmas" is joyous and swinging behind Davidian's energetic, Guaraldi-like piano and Parks's solid strutting bass behind Annie Sellick's cheerful vocal. "Looks Like Snow" is a low-key anticipation of the weather event in question in a bluesy, sensuous arrangement featuring Bergeson's rich, seductive guitar and producer Mougin's medium-cool Johnny Mercer-like vocal. According to Lang's blog, "Looks Like Snow" was one of the two songs he and Mougin cut as demos to pitch to other artists, but when they listened back the demos sounded so good they moved ahead with the idea of doing a full Christmas album. The versions heard here are those demos, with another bluesy item sung by Mougin, the smooth ballad "Christmas Every Day of the Year," being the other demo, enhanced only by the addition of Pied Pipers-style background voices.
'Where Was Baby Jesus Born?' Lead vocal by Annie Sellick, from Rick Lang's That's What I Love About Christmas.
Arguably the most vivid lyrics Lang penned appear on the lovely Southern soul ballad "Old Man Winter," with an engaging lead vocal by Aaron Till telling of "a blanket of new snow, white as the clouds that hang down from the sky.." and "crops from the summer/are stored in the cellar/been a-patchin' and fixin' to keep out the winter wind/stacked all the firewood, with any luck we should have just enough to get us through to spring…" Lyrically the scene is as specific and evocative as a Currier & Ives print. Santa's last-minute preparations are detailed by Till in "Sleigh Full of Toys," a jazzy swinger enhanced by Davidian's rousing right-hand workout on the 88s and a pop-style backing chorus cooing and shadowing Till's vocal. On a rustic note, Till's fiddling sets up the affecting reminiscence Annie Sellick offers in the touching "Home Made Christmas," wherein a lack of money isn't an impediment to a warm family holiday when presents made by hand are more meaingful than any money could buy. The album's lone instrumental, "Snowfall," a bright, lilting number suitable for a mountain Christmas, features the gifted Ms. Hull on mandolin, Ron Block (presumably) on acoustic guitar and Till on fiddle in an evocative wintry dialogue redolent of pastoral settings. (Again according to Lang, this tune was originally written for the 2002 Salt Lake City Winter Olympics, renamed "Snowfall" years later and then put on the shelf. "I never thought we'd actually ever record the song," Lang notes, "but I guess you just never know.")
'Old Man Winter,' featuring Aaron Till on lead vocal, Pat Bergeson on lead guitar. From Rick Lang's That's What I Love About Christmas.
'Snowfall,' with Sierra Hull on mandolin, Ron Block on acoustic guitar, Aaron Till on fiddle. From Rick Lang's That's What I Love About Christmas.
In an interview with Seacoast Online.com posted on November 27, reporter Christopher Hislop asked Lang what he hoped people would take with them from listening to this album or in attending live performances of this material.
"My hope is that listening to this collection of songs, or seeing the music performed live, leaves people smiling on the inside, and smiling on the outside," Lang answers. "Hopefully folks can forget about their troubles, cares and the stress of everyday life for a while and relax to the sound of this music."
Job done, Rick. Thanks for the memories.