CHRISTMAS AIN'T NO TIME FOR THE BLUES
Clifford Curry
Crowe Entertainment
Of the many reasons to love Carolina beach music, soul man Clifford Curry remains right near the top of the list. His swinging, horn-driven 1980 single "Shag with Me" is a beach music classic, but Curry's career predates that gem by a few decades. While in high school in his native Knoxville, TN, Curry performed with The Echoes for black audiences in churches and clubs and with a group called the Fabulous Six at University of Tennessee frat parties, debutante balls and in white nightclubs. For years afterwards Curry knocked around with other local groups, including The Echoes, who decided to go to New York City and audition for Atlantic Records. Before they crossed the Hudson River into Manhattan, though, they made a stop in Newark, NJ, auditioned for the Savoy label and were signed on the spot. With their name changed to the Five Pennies, the group cut three Savoy singles featuring a trio of Curry-penned songs, including "Mr. Moon," "(Mine) For a Lifetime" and "Money" (the latter being a co-write with fellow Echoes them Myers brothers). There were other group affiliations in ensuing years, unsuccessful recordings for the Herald and Excello labels before he moved to Nashville and went solo as Sweet Clifford while at the same time singing with some fellow vocalists in the Fabulous Six.
Nothing clicked commercially for Curry until 1967 when he was introduced to Nashville producer-publisher-songwriter Buzz Cason, whose Elf label was nationally distributed by Bell Records. Curry took a song Cason had the rights to, an infectious southern soul workout titled "She Shot a Hole in My Soul" (co-written by Mac Gayden, who played some sweet guitar on the track, and Chuck Neese), and gave it one of his typically personable readings—in his younger years his voice was a blend of Wilson Pickett urgency and Lloyd Price brightness—and the single took off, rising to #45 on the national R&B chart. Though "She Shot a Hole In My Soul" has been his biggest chart hit, it did provide him an entrée into the Carolina beach music scene and he has worked it for years with great success (he's been voted into the Carolina Beach Music Association Hall of Fame), even providing one of its signature songs in 1980's "Shag With Me."
Clifford Curry, 'Christmas Ain't No Time For the Blues'
Clifford Curry performing 'She Shot a Hole In My Soul' on Nashville Now, May 15, 1986. Ralph Emery is the host.
Curry's contribution to the holiday season is "Christmas Ain't No Time For the Blues," a cool, swinging blues that acknowledges hard times but counsels accentuating the positive: "Got bills piled high, money's way down low/got no fish to fry, can't bake bread, ain't got no dough/got holes in my shoes, but Christmas ain't no time for the blues/trouble goin' down on my left, good times comin' up on my right…so shake the bad times loose, 'cause Christmas ain't no time for the blues…" From there he goes on to imagine what might happen when he "shakes the bad times loose" and keeps matters merry and bright. Along the way he gets some wailing help from ACM award winning harp man Jelly Roll Johnson as well as solid solo support from sax and guitar (players unidentified) in a tidy, tasty 2:57 of essential Yuletide philosophy. Despite some noticeable weathering (he has, after all, been singing for more than 60 years now) the Curry voice is in fine shape, still a commanding presence when he mounts the pulpit to deliver a positive Yuletide message here.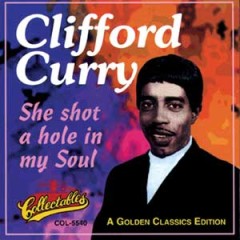 For those who might not have been aware of Clifford Curry's work, Collectibles has set the record straight with She Shot a Hole In My Soul, a single-disc retrospective of recordings for Buzz Cason's Elf label between 1967 and 1973, along with some his early solo sides with Excello (as Sweet Clifford), with liner notes by Cason himself. Lots of good cuts here, enough to make you wonder why the hand of fate wasn't kinder to an artist who had good songs to work with—the Temptations-like "'We're Gonna Hate Ourselves in the Morning" and the soul psychedelia of the "Good Humor Man" are among the winners here—and he always delivered vocally, whether the song called for sensitive balladry or assertive testifying. The disc is available at oldies.com.
An in-depth profile of Clifford Curry is posted online at American Songwriter. In it Curry dispels some of the misinformation published about his career over the years and straightens out the timeline of what he did and when he did it. Good stuff, and a job well done by writer Patricia Albrecht.