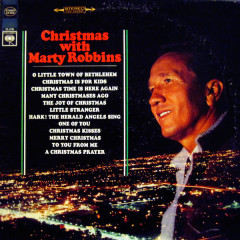 CHRISTMAS WITH MARTY ROBBINS
Marty Robbins
Sony Music Special Products
Released: 1969
Every emotion of Christmas, from jubilation to reverence, is in the wheelhouse of one of the greatest country singers of the 20th Century. Equally important, the Christmas narrative, be it about the Christ child's birth or family reunions or the joy of children on Christmas morn, brought all of this legend's strengths to the fore. Marty Robbins didn't let himself or anyone else down on his 1969 Yuletide gem, produced by Bob Johnston and featuring the Jordanaires on backing vocals. The title tells a tale, too: it's Christmas With Marty Robbins, indicating his proximity to and intimacy with the philosophies he's sharing with us here.
'Christmas is For Kids,' written by Jeanne Pruett and featured on Christmas with Marty Robbins
Robbins specialized in surprising his listeners with his album projects, often delivering conceptual works (the western songs albums being bonafide classics) and often tackling material uncommon to other mainstream country stars who were more intent on protecting their turf than challenging themselves. So it is that for his first Christmas album Robbins features but two traditional carols—a majestic "O Little Town of Bethlehem" with a stirring, nuanced vocal from the star of the show and a measured, hymn-like reading of "Hark! The Herald Angels Sing" with strings and mixed-gender choir. Nine other songs come from the pens of Nashville music professionals and from Robbins himself.
From Christmas with Marty Robbins, 'Many Christmases Ago,' written by Phoebe and Bob Binkley
Jeanne Pruett was a struggling country singer in 1969—in four years she would correct that problem by having one of the year's biggest hits in "Satin Sheets"—but Robbins gave her a lift by recording her message ballad "Christmas Is for Kids," an earnest, somewhat brooding appeal for adults to "look around for a child who's been let down/and love him as we would be loved…," to make them family "for they all need a part in somebody's heart." It's a standard ballad in construction, but a delicate harpsichord adds an unusual, poignant tinge to the ambience. Later he visits another Pruett original, "One of You (In Every Size)," an uptempo love song that inspired a swinging approach that summons memories of Marty's early days when he cut some terrific rockabilly-influenced sides and was sometimes billed as "Rockin' Robbins."
The closing track on Christmas with Marty Robbins, Marty's own 'My Christmas Prayer'
Robbins also embraces jolly sentiments in "Christmas Time Is Here Again," a gently rocking bit extolling love all around treated by Robbins as a love song with a sincere delivery that undercuts the song's inherent sentimentality. From the pens of a Nashville-based husband-and-wife team Phoebe and Bob Binkley (she a vocal coach, he a choir director, educator and vocalist) comes a Spanish-tinged ballad addressing the deeper meaning of the season in "Many Christmases Ago" and another tender ballad, "The Joy of Christmas," a lovely evocation of the temper of the season, to wit: "people seem much friendlier this time of year/and hearts are growing merrier as Christmas day draws near…" and how it makes kids of us all again. Robbins adds two of his originals to the mix: "Merry Christmas To You From Me" is blue Christmas at its bluest in this tearjerking ballad addressed to a paramour he's lost and is desperately longing for as the holidays approach—the way he sings "I'm tied to a mem'ry of you," with the Jordanaires humming in harmony behind him, is a quintessential heartbreaking moment in the Robbins oeuvre. To close the album he offers his own benediction, "A Christmas Prayer," which is exactly what the title indicates—a prayer of thanks for blessings bestowed on him in a world otherwise "caught in grief and misery." Solemn and stirring, it brings out the best in Robbins's interpretive gift in the way he caresses the verses and creates a near-hypnotic mood with the depth of his supplication. Forty-five years after its initial release, Christmas With Marty Robbins sounds right on time for our times.