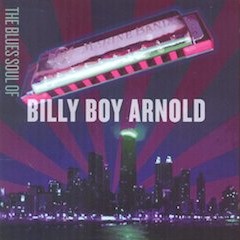 THE BLUES SOUL OF BILLY BOY ARNOLD
Billy Boy Arnold
Stony Plain
Cool, grooving soul and blues with a Chi-town flavor, as authentic as it comes by way of one of the last remaining masters of Windy City blues, an artist who was born there in 1935 and as a wide-eyed 13-year-old sat at the foot of John Lee "Sonny Boy" Williamson and was forever changed. Billy Boy Arnold would grow up to play behind Bo Diddley on "I'm a Man," among other chestnuts, and in his off hours launch a solo career that yielded his self-penned blues classic "I Wish You Would" (memorably covered by the Yardbirds and the Blasters, less so by David Bowie). The last few years have seen a revitalized Billy Boy working at the top of his game, in one case paying homage to Sonny Boy on his heralded Billy Boy Sings Sonny Boy album (2008) and doing the same for another Chicago blues titan on 2012's tasty Billy Boy Arnold Sings Big Bill Broonzy; actually, his resurgence can be traced back to the early '90s when he signed with Alligator and cut two powerhouse albums, 1992's Back Where I Belong and 1995's Eldorado Cadillac. His latest, The Blues Soul of Billy Boy Arnold, produced by Duke Robillard and featuring Robillard's band, keeps the faith with the artist's recent work. The tunes are a mix of soul, blues and rock 'n' roll from familiar and respected sources in those fields; the band misses nary a step in transitioning from one style to another; and Billy Boy's harp, now piercing, now earthy, remains a wonder, as do his warm, swinging vocal stylings. Coming a year after his induction into the Blues Hall of Fame, Arnold has delivered big time in an ideal mating with a producer on intimate terms with his music and history and a band primed to inspire him.
Billy Boy Arnold, '99 Lbs.,' a cover of Ann Peebles's 1972 recording, from The Blues Soul of Billy Boy Arnold. Duke Robillard on guitar, Bruce Bears on Hammond organ, Billy Boy on harp.
There's a reason The Blues Soul of Billy Boy Arnold has broken big out of the gate at blues radio, and one of those reasons can be found on the terrific version of "St. James Infirmary" here. Duke and the boys give it a jazzy groove—with Duke showing the way with his full-bodied, economical soloing—and Billy Boy lays into that groove vocally with a vibrancy uncommon to most renditions of the dark tale and adds an extra fillip of energy to the arrangement with his propulsive harp solo. Pianist Bruce Bears kicks off a rollicking, New Orleans-flavored workout on "Don't Set Me Free" that turns into a rousing horn-fueled romp after Billy Boy (shadowed by silky female backup singers) signs off on his earnest plea for reconciliation with a woman he "done wrong." A grinding, foreboding cover of B.B. King's "Worried Dream" is a peak moment here, 7:35 of deep blue anguish that Billy Boy brings home with a vocal so resigned and sorrowful as to make a listener ache for him; to this Duke adds an extended solo so precise and searing B.B. would surely smile if he heard it, and then Billy Boy steps in with a harp solo of sufficient heartbreak to complement what Duke is laying down on six strings; Bears's bluesy piano ruminations and a gently surging horn section add extra punch to the setting before Billy Boy sends it home with a majestically weary reading.
Billy Boy Arnold, 'What's On the Menu, Mama,' from The Blues Soul of Billy Boy Arnold
On the upbeat side, Arnold gets going on the jump blues treatment of Louis Jordan's "Ain't That Just Like a Woman," a lively outing in which a multitude of sins are traced back to feminine wiles. Backing Billy Boy's freewheeling vocal are a spirited monologue on the 88s courtesy Bears and additional atmospherics from Robillard and Arnold himself as the tune rocks to buoyant close. Early on our man sounds like he's having a ball immersing himself in the strutting, horn-rich Memphis soul arrangement of "99 Lbs.," trumpeting the many delights he gets from his woman, "99 pounds of natural born sugar/99 pounds of natural soul," to which Duke injects a stinging, piercing solo as Bears lays down a heavy hum on the Hammond. (Ann Peebles recorded this in 1972, addressing her man in the lyrics; Billy Boy turns it around lyrically to impressive effect.) Not sure what percentage there is in recording Chuck Berry's "Nadine (Is It You?)," but it works thanks to its sheer ebullience, from Billy Boy's vocal and harp, to the pumping horns to a short, sharp Duke guitar run and Bears's colorful piano support throughout.
Billy Boy Arnold, 'Don't Set Me Free,' from The Blues Soul of Billy Boy Arnold
Round it with a gospel-rooted meditation on Joe Tex's "A Mother's Prayer," in which a single mother is at wit's end trying to figure out how to maneuver herself and her kids through treacherous cultural waters roiling with drugs problems and disengaged teachers; a stomping Billy Boy original, "What's On the Menu Mama," a sly, suggestive come-on in which a lyric such as "you cook the best soul food/than anybody have ever seen" hardly masks what he's really hoping to feast on that night; and another Billy Boy original to close out the festivities, a bouncy, Louis Jordan-style romp in which "rubbing" goes from describing what his parents used to do with a washboard to decidedly more fanciful pursuits involving men and women "rubbing on the same old thing." Honestly, I don't know which to admire most: that at 79 years of age Billy Boy sounds like he's found the fountain of youth, or the abundant evidence on this disc of his undiminished interest in "rubbing on the same old thing" with a cooperative female. Until he decides to come clean about all this, enjoy The Blues Soul of Billy Boy Arnold as one of the finest long players released in what has been a very good year for the blues.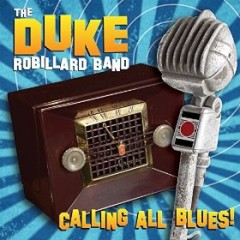 CALLING ALL BLUES
The Duke Robillard Band
Stony Plain
If you're impressed by the work of Duke Robillard and his band in producing and backing Billy Boy Arnold on The Blues Soul of Billy Boy Arnold, it behooves you to check out the fellows' latest recorded blowout, Calling All Blues. There are nothing but positives here, starting with the release being on both CD and a hefty 180-gram vinyl pressing that fits snug and secure on a turntable and yields a a sound so warm, rich and full as to underscore why audio pros lament the rise of the mp3 and regard streaming with disdain. Even better news: you'll dig this tight band having a ball romping, stomping and grinding through eight Duke originals and two tasty covers. Of the many fine moments, pay special attention to sturdy-voiced vocalist Sunny Crownover's tempered wail on "Blues Beyond the Call of Duty," with Duke complementing her with anguished upper neck solos on his Strat. On "Motor Trouble," a double-tracked, mordant Duke laments his aging auto's physical decline in a slow boogie arrangement spurred by the stinging, distorted Robillard guitar. Behind some nice honky-tonk flourishes from piano ace Bruce Bears, the basic quartet delivers a strutting blues on "I'm Gonna Quit My Baby," complete with a loosey-goosey slide solo Duke fashioned while his broken hand was still in a splint. Nice variety of blues styles here played hot but sensitively behind the personable vocals—another Robillard winner, in other words.