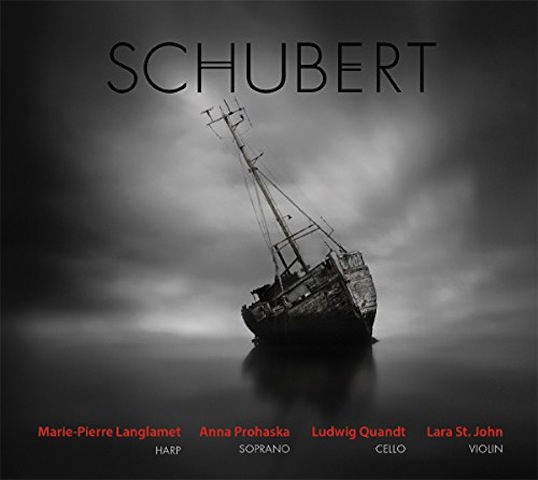 SCHUBERT
Marie-Pierre Langlamet (harp), Lara St. John (violin), Anna Prohaska (soprano); Ludwig Quandt (cello)
Ancalagon
I am sure at some point or another you have mumbled in frustration to yourself the old adage, "If you want something done right, do it yourself!" In recent years, a number of classical musicians and orchestras have turned their mumbling frustrations into bold actions of independence by eschewing the traditional corporate world of recording contracts and founding their own private indie labels. In the United States alone, such major orchestras as the Chicago, Boston, Seattle, and San Francisco Symphonies have created their own house labels to record albums and digital downloads featuring their own artistic choices and calendar schedules. The same can be said for such solo artists as violinist Gil Shaham and his Canary Classics label, cellist Matt Haimovitz and his Oxingale label, as well as violinist Lara St. John and her Ancalagon label, named for her ubiquitous pet iguana, who in turn was named for the Middle-Earth Black dragon from J. R. R. Tolkien's fantasy novels.
Lara St. John. The tall, beautiful, enormously talented violinist with the lovable eccentric personality seems to have more fun with music than musicians are normally allowed to have. I believe that is because she not only promotes herself, but also takes great pride in using her resources to promote fellow artists through her label. Among other projects, to date she has produced two albums for The Knights, a New York City-based chamber orchestra, as well as a pair of delightfully off-beat crossover albums with the ensemble Polkastra.
SELECTED TRACK: Sonatina for Violin and Piano in D Major, D. 384, Op 137, I. Allegro molto
Lara's latest project involved traveling to Berlin in April of 2013 to record an album of Schubert works in arrangements to spotlight Berlin Philharmonic principals, harpist Marie-Pierre Langlamet and cellist Ludwig Quandt, as well as Berlin Opera soprano Anna Prohaska. With Ms. Langlamet in the lead, all four of these brilliant musicians make Schubert shine bright in selections including three lieder from the cycle, "Songs of the Harper," as well as the famous song, "Gretchen am Spinnrade" (Gretchen at the Spinning Wheel) arranged for soprano and harp; the Sonatina in D, Op. 137, arranged for violin and harp; three of the Op. 90 Impromptus, arranged for solo harp; the popular "Arpeggione" Sonata, arranged for cello and harp; and last but certainly not least (as all these performances are equal in stature to my ears) is the compact Piano Trio in Bb, commonly known as "Sonatansatz" (Sonata movement), arranged for violin, cello and harp. I mention each and every selection on this Schubert album because, after repeated listenings, I have found each and every selection and performance to contain intricate detailing of not only Schubert's personality, but the musicians also successfully imbed their own unique voices to naturally meld themselves into Schubert's world. The smile on my face broadens with each listening until it hurts and I must stop the music in order to recover my senses! Yes, I may be exaggerating a bit. But, these consummate artists do not. They are spot on in doing right by Schubert. And Lara St. John and Company have certainly done it right.
Not only do I recommend this album, but I would say that you would also have a delightful journey in collecting all of Lara St. John's albums. –-Ted Weiner, WDAV Classical Public Radio, October 27, 2014
'…in the spirit of a 'Schubertiade'…'
This album was created in the spirit of a "Schubertiade," kind of a musical party that Franz Schubert used to throw with his friends and colleagues. Instead of a piano, there's a harp, played impressively by Marie-Pierre Langlamet, principal harpist of the Berlin Philharmonic. Langlamet accompanies the soprano Anna Prohaska in four Goethe songs, including the feverish "Gretchen at the Spinning Wheel." She also joins violinist Lara St. John in two works including the Sonatina for violin and piano Op. 137. Ludwig Quandt, a cellist with the Berlin Philharmonic, plays the "Arpeggione" Sonata with real passion. Most striking is a set of three Impromptus drawn from Op. 90, all played on the solo harp with remarkable dexterity and sensitivity. Released on St. John's own Ancalagon Records label, the collection is beautifully packaged, with a mesmerizing cover image of a ship under a moody sky. —WQXR.org Album of the Week, September 28, 2014
SELECTED TRACK: Sonata in A Minor for Arpegionne and Piano, D. 821, II. Adagio
'I love everything about this disc…'
Harp stands in for piano on this disc, and even I would have thought I would hate that, because I play the piano and I love the piano and Schubert wrote so beautifully for the piano. But I love everything about this disc. It is on Canadian violinist Lara St. John's nerdy private label, named for something in Tolkien, and it is packaged beautifully, with photos of waves and, on the cover, a mesmerizing picture of a ship under a cloudy sky. The whole project is so much in the spirit of a Schubertiade, the kind of musical party Schubert's friends used to hold during his life. I think a Schubertiade could have done something like this, have the harp accompany the singer in the four Goethe songs–the delirious "Gretchen at the Spinning Wheel" and, appropriately, the three "Songs of the Harper," from "Wilhelm Meister." These are songs you love as a teenager. I know I did. Any serious Schubert fan knows them inside out, and it's good to hear them differently. It helps that there is top talent here. Prohaska has a wonderful, clear voice. Quandt, a solo cellist with the Berlin Philharmonic, plays the "Arpeggione" Sonata with real passion. That ravishing Adagio! The ultimate test of the harp is the set of three Impromptus drawn from Op. 90. I play these pieces, and I am wondering how difficult the No. 2 in E Flat, with its showers of triplets, is to play on the harp. It must present a whole different set of challenges. It certainly presents new sensibilities. I am not going to say this exquisite piano music sounds better on the harp–in the G flat Impromptu the harp can't match the piano's singing sound. But Langlamet, the Berlin Philharmonic's solo harpist, grasps the depth of the music and I found myself marveling at her ease and expression. And anyway, why not give it a try? I do not think Schubert would mind. Thanks go out to Lara St. John, not only for her fine job with the Sonatina for violin and piano Op. 137, but for her creativity and vision. –Mary Kunz Goldman, Listening Post, Buffalo News (September 21, 2014)