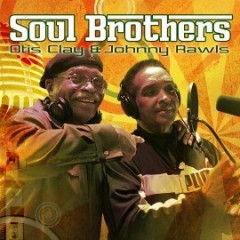 SOUL BROTHERS
Otis Clay & Johnny Rawls
Catfood Records
Towards the end of a spirited cover of Tyrone Davis's "Turn Back the Hands of Time," with the horns pumping and soul sisters chanting, Johnny Rawls beseeches his partner Otis Clay to "go back to 1966 and tell me what you were doing." Gritty-voiced Clay enters and immediately transforms a song about regret over losing a good woman's love into a pulpit-worthy confession of a more fundamental original sin: "I was doing wrong, and I did for so long/but if I could do it all over/I would go on back home/if I could turn back the hands of time/had a good time, I had a good home but I left/I wouldn't be here tonight/wishing on a four-leaf clover…"  Without question the most powerful moment on the Clay-Rawls collaboration Soul Brothers, this version of "Turn Back the Hands of Time" with its seemingly improvised coda exemplifies the bond these two soul veterans have forged over the course of their ten-year friendship. Whatever personal connections they've made, their give and take here shows the depth of their musical connection—evident right away on the opening cut, a percolating B3-and-horn driven take on Dave Mason's "Only You Know and I Know" as their voices blend in harmony and then peel off as they trade verses, when Clay's rougher-edged tone ups the urgency ante in the wake of Rawls's silky crooning.
Otis Clay and Johnny Rawls, live in Toronto, July 2014, treating an audience to a cover of Tyrone Davis's 'Turn Back the Hands of Time.' The studio version is a highlight of their Soul Brothers album. Video posted at YouTube by Gary Asselstine.
Despite their long friendship, Clay and Rawls did not sing together on disc until the former showed up as a guest on three tracks of the latter's multi-Blues Music Award-nominated tribute to the late, great O.V. Wright, Remembering O.V. The Wright album continued a late-career resurgence for Rawls, coming one year after his terrific Soul Survivor (enthusiastically appraised in TheBluegrassSpecial.com of July 2012) and two years after another inspired outing, Memphis Still Got Soul. For his part, the Waxhaw, Mississippi-born Clay broke in as a gospel singer in Chicago in the '50s before going secular in 1962. This journey would find him recording for Atlantic subsidiary Cotillion, where his cover of the Sir Douglas Quintet's "She's About a Mover"—produced by Rick Hall in Muscle Shoals–was a Hot 100 pop hit and top 50 R&B charter, and, come the '70s, with Willie Mitchell for Memphis's Hi Records, where he had his biggest selling single, 1972's "Trying to Live My Life Without You." Since that time he's launched his own label (Echo) and also issued on other labels a pair of heralded live albums cut in Japan (where he is something of a cultural icon) and two others on the Bullseye Blues label. Back on Chicago's West Side he's been actively involved in community affairs as a board member for People for a New Direction and spearheaded the planning, fundraising and development of the Harold Washington Cultural Center. After several years away from the recording studio, he returned on disc in 2007 back where he belongs, in the gospel world, with Walk a Mile in My Shoes, and last year with a secular outing, Truth Is (both albums are on his Echo label), on which he reprises the powerful title track from his 2007 gospel release, the Joe South classic reimagined as a plaintive gospel plea. More recently he scorched the Falcons' 1962 classic "I Found a Love" during his guest appearance on Chicago bluesman Dave Specter's Message in Blue (a Deep Roots Album of the Week selection on July 29).
SELECTED TRACK: 'Road Dog,' written by Trenchard-Rawls-Clay
In short, the aptly named Soul Brothers is a welcome pairing of gifted artists that know whereof they sing when it comes to soul, gospel and pop. Although they assay two other covers besides the abovementioned gems (a tasty rendering of Jimmy Ruffin's monumental "What Becomes of the Broken-Hearted" and "Waiting for Dreams," a surging, socially conscious gospel-rooted ballad by blues powerhouse Kay Kay Greenwade, whose 2001 Texas Justice album Rawls produced; Soul Survivors bassist-songwriter Bob Trenchard is the leader of Ms. Greenwade's band, The Rays, which tours with and backs Rawls on record, as Ms. Greenwade has been disabled by a stroke), the bulk of this album is original tunes, including a handful by Rawls and Trenchard. The sound is late-'60s-early '70s soul and funk with a Memphis flair, fueled by a quartet of solid horn players; to-the-point blues guitar courtesy an uncredited Johnny McGhee; sensitive keyboard work courtesy Dan Ferguson; a discreet rhythm section comprised of Trenchard, drummer Richy Puga and percussionist Jon Olazabol; and the gospel-based responsive background vocals by the Iveys Arlen, Jessica and Jillian. Dark humor informs Trenchard-Rawls's strutting "Living on Borrowed Time" when the singer cheerfully admits to enjoying an edgy lifestyle in his younger days even as he testifies to changing his ways now that he's closer to the end of the line (it's kind of a prequel to "Turn Back the Hands of Time"); Trenchard-Rawls-Clay teamed to pen "Road Dog," a driving, horn-infused treatise chronicling the highs and lows of the wandering troubadour ("sometimes it seems like things never change/I guess that's the price you pay for fame," Clay growls with a certain nuance so as to mask whether he's being sincere or ironic); guitarist McGhee and keyboardist Ferguson lead the way in low-key flourishes as the midtempo blues ballad "Poor Little Rich Girl" unfolds. This Al Basile-Bob Trenchard co-write describes the girl who has gained the world and lost her soul, a state of affairs the singers chronicle not judgmentally but with affecting recognition of the consequences of bad choices. Something old, something new, something borrowed and a lot of blues—Messrs. Rawls and Clay have kept the faith and kept it well. May their paths cross again soon.