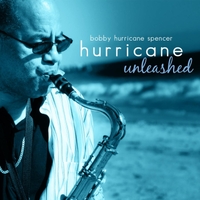 HURRICANE UNLEASHED
Bobby Spencer
R. Music Inc.
In an entertaining interview with blues.gr, writer Michael Limnios asks Bobby "Hurricane" Spencer to pinpoint those life experiences he believes makes him a good bluesman and songwriter.
Says Hurricane: "Three wives, three divorces and five children have given me all the material I need for a lifetime to play and write the blues."
An even more telling quote kicks off the interview when he says "blues helps me live with myself—with my strengths and weaknesses, successes and failures, marriages and divorces. It has been a constant that has given me strength to keep on going and live life with gusto."
Spencer doesn't simply talk a good game—on Hurricane Unleashed he plays it too, and with gusto. This is true whether he's blowing hard and hearty tenor sax on a rocking cover of Bill Doggett's classic 1956 R&B instrumental hit "Honky Tonk"—which has the effect of reminding us of the enduring potency of Clifford Scott's rocking tenor sax on the original even as Hurricane's robust tenor stands on its own as a personal statement—or getting low down and sorrowful to complement his wounded message to a wayward woman on "I Got the Blues," whose carrying on, he cries, has him "playing out of tune, singing off-key…I called you on the phone, all I get is that machine…"
A live version of Grover Washington, Jr.'s 'Mr. Magic,' featured in a studio version on Bobby 'Hurricane' Spencer's Hurricane Unleashed.
Born in Detroit, Spencer has been at this for almost half a century, getting his start in a fertile (and dangerous) East Oakland scene in the '60s, which brought him into the orbit of the fertile scene across the Bay in San Francisco. At one point in his early career he was rehearsing in a studio next door to where a band called the Golliwogs, soon to be known as Credence Clearwater Revival, was honing its sound; he's accompanied and/or opened for the likes of Otis Redding, Marvin Gaye, Solomon Burke, Etta James, Big Joe Turner and a host of other giants since departed. Hurricane Unleashed reflects both his dedication to the blues and the diversity of blues he's delivered in various contexts over the decades. His artistry on the tenor sax has always been his calling card, but on this new album he's also making hay as a vocalist. He won't be mistaken for Otis or Bobby Blue Bland any time soon, but he has a warm, personable tenor voice through which his feeling for the lyric comes through loud and clear, and with affecting emotion on lovely romantic ballads such as "Lovers Hill" that exploit the colors he can command vocally. It doesn't hurt that he can enhance the sensuous ambience with some piercing sax cries.
SELECTED TRACK: Bobby 'Hurricane' Spencer, 'Lovers Hill,' from Hurricane Unleashed
For a man who admits to having had his share of bad luck in love, he remains an incurable romantic, if the songs here are to be believed. The gentle soul strains of "You're All I Need" and the way he caresses the title sentiment—with feathery background support from background singers Kelly Chappue, Bosa Mora and Dominique Toney—underscore his unabashed, heart tugging declaration of commitment to the woman who makes life worth living; of a piece with 'You're All I Need," the warm, heartfelt ballad "You Make Me Crazy" opens with a soaring tenor sax cry before Hurricane eases in with a deliberate, soulful outpouring of affection for a woman whose independence—"you never choose to do what others do/you only do the things you choose to do"—carries over to their intimate moments, to wit: "you kissed me softly at your front door/inside you kissed me gently just once more…" As easily as a romantic falls in love, so is he easily bruised. Spencer doesn't let this reality pass without notice either: with his sax sputtering and Andrea Balestra fashioning an ominous top strings riff on "Holler'n and Wallow'n" Spencer informs his paramour he knows she's "dealin' from the bottom of the deck/you've got all my money, honey, and my credit is a wreck/you cold, cold kitty, I'm in the nitty gritty, holler'n and wallow'n in the mud…" And yes, he's not immune to a gal's purely physical charms, either, as he admits in the frisky "Little Mama," in which he blows a raucous, hot solo over Mo Beeks's lively keyboard support, all to encourage the female in question to show it off on the dance floor because "when you wear those skinny jeans I want to scream and shout."
http://www.youtube.com/watch?v=j0PxvSNngcs
Bobby 'Hurricane' Spenser with a live version of his song 'Big Maybelle,' from his new album, Hurricane Unleashed
Elsewhere he serves up a funky workout to open the album on "Gotta Get Back to Chicago," which is about exactly what the title says; a strutting homage to his sax, "Big Maybelle," featuring a searing sax solo in the opening bars before Spencer comes in crooning hosannas to his Selmer Mark VI ("that's my woman! When I'm feeling down and out she keeps that good love comin'…"), the restorative powers of which he explained in the abovementioned interview when he spoke of arriving at a blues joint feeling down and out, but "when I pulled Big Maybelle out of her case, put her parts together and blew a long mournful blue note, my troubles evaporated." For good measure he even takes off on some exhilarating solo flights in energizing a tasty workout on Grover Washington, Jr.'s instrumental "Magic," while leaving room for guitarist Balestra and keyboardist Beeks to play off of and with his excursions around the melody line.
To his blues.gr interlocutor Spencer asserts: "It's just a great time to be alive and making music." Given how long Hurricane's been at it, you have to be impressed, and perhaps even energized, by his enthusiasm. It's all over Hurricane Unleashed, which maybe explains why the album gets better every time you listen to it. And you will always want to hear it again.