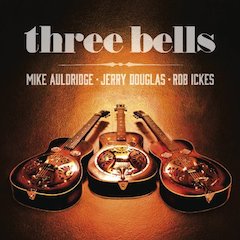 THREE BELLS
Mike Auldridge-Jerry Douglas-Rob Ickes
Rounder
In the history of dobro no one stands taller than Mike Auldridge. As a founding member of progressive bluegrass pioneers The Seldom Scene, he brought his instrument out of the bluegrass shadows and made it a credible solo instrument in almost every style of contemporary music, including modern classical. Auldridge acolytes Jerry Douglas and Rob Ickes have also crossed genre boundaries in raising the dobro's popularity to heights even Auldridge himself may never have envisioned. In a dream matchup in 1994, these three titans were joined by seven other dobro masters on a Grammy winning summit session, The Great Dobro Sessions, produced by Douglas and Tut Taylor, and once again audiences were reminded of how expressive the instrument can be in the hands of virtuoso, soulful pickers.
 SELECTED TRACK: 'Three Bells,' Mike Auldridge, Jerry Douglas and Rob Ickes
In 2012, when Auldridge, Douglas and Ickes gathered once more in the studio, the project was shadowed by one overarching fact: Auldridge was dying of prostate cancer and knew his time was short. Knowing this would be their teacher's final recording, Douglas and Ickes vowed to make it a memorable event, a fitting final farewell to the artist whose melodicism and sensitivity they had embraced as their own hallmarks. Producer Douglas made sure nothing would get in the way of the instruments' conversations by fashioning an austere, immediate soundscape, one free of any sonic embroidery, with the only voices to be heard being the very human ones the three pickers could coax from six or eight strings finger-picked and played with slides. As a title track they selected the vaguely self-referential "Three Bells," the sentimental 1959 career making mega-hit (#1 pop and country, #10 R&B, more than one million sold) for The Browns. Sans lyrics, though, with the melody intertwining gracefully across the multiple dobros, the trio's instrumental version hews more closely to the song's original incarnation as "Les Trois Cloches," as performed by Edith Piaf and Les Compagnons de la Chanson. Far more poetic than the simplified English version, the Little Sparrow's heart tugging performance of the life's journey of Jean-Francois Nicole is a majestic thing, and Auldridge-Douglas-Ickes enhance its majesty with the dignity of their playing, their sensitivity to the narrative's dynamics and the wellsprings of emotion they tap as the track unfolds.
SELECTED TRACK: Mike Auldridge solos on a medley of Meredith Wilson's 'Til There Was You' and Mercer-Mancini's 'Moon River'
"Three Bells" radiates so much respect for the song's history and is so exquisitely, movingly rendered it's no wonder it's the album's centerpiece and title song. However, the whole album is a work of beautiful art, making it a fool's errand to claim "Three Bells" stands apart from the ten other fully realized tracks here, including originals from the principals themselves: Ickes's sweet, reflective "The Message" evokes a pastoral setting in his masterful balance of bass and treble tones blending into and bouncing off each other with carefree abandon; as we get deeper into autumn, Douglas's "The Perils of Private Mulaney" sounds like the backdrop for harvest time in its languid, trebly cirlicues and sturdy gait; for his part, Auldridge offers a heart tugging display of the melodic Romantic side of him with a subtle, tender rendering of a medley comprised of Meredith Wilson's "Til There Was You" and Mancini-Mercer's "Moon River."
But all three gents together? Something else again. Check out the precise interaction and touching responsiveness as the three dobros work off of and with each other on the early 20th century popular song "Silver Threads Among the Gold," one of the album's rustic gems. On "North," a Douglas-Stuart Duncan co-write, matters gain intensity and grit as the song unfolds and breaks into a galloping pace, one dobro chasing another. And there is no happier moment to be found on the album than the delightful romp the trio engages in on a sparkling version of "Take It Away" Leon McAuliffe's "Panhandle Rag," all high spirits and playful runs. On these abovementioned tunes and four others, there's enough heart on display to fill many more albums.
SELECTED TRACK: All three dobro masters convene on Rob Ickes's 'Dobro Heaven'
"There was something special in how the three of us were interacting musically," Ickes says in a press release sent to media receiving review copies of Three Bells. "Even though it was three of the same instruments—and a fretless instrument at that—there was an intelligent conversation occurring, not just three people trying to talk over each other."
Ickes and Douglas sent the great Auldridge out in style. In the end their love for the man most responsible for their choice of instrument and their style surpasses even the music's simple grandeur as the most memorable aspect of Three Bells, a keeper of an album if ever there was one.