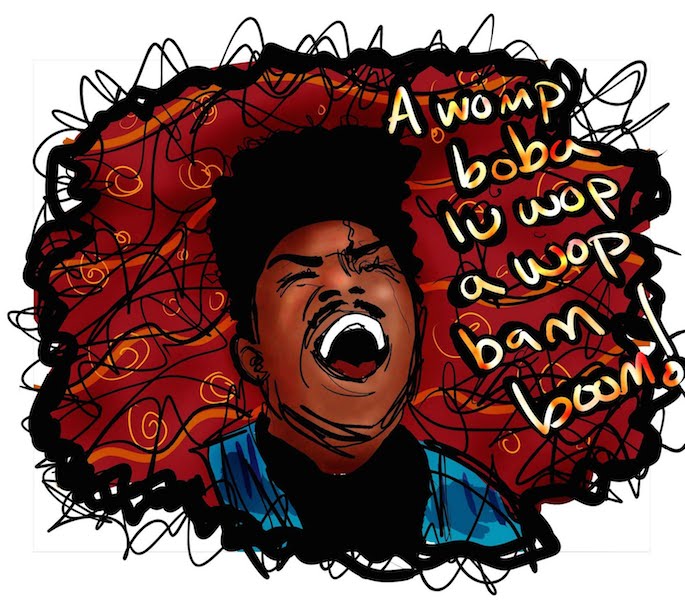 This is the fourth in a series of excerpts from the forthcoming book Field Notes from a Music Biz Life.
In the beginning, the old guard hated the rock but loved the bankroll.
In 1955, Jerry Wexler was producing Ray Charles, Big Joe Turner and Lavern Baker. At the same time, MGM Records A&R (artists and repertoire) chief Harry Meyerson–a dapper gentleman with a sly sense of humor who'd worked with such classy purveyors of the Great American Songbook as Duke Ellington, Frank Sinatra and Lena Horne–was railing against the R&B/rock sounds his friend was helping to invent, telling the NY Daily Mirror, "We have reached the nadir of garbage."
Little Richard, 'Tutti Frutti'
But like most pop music makers, Meyerson loved hits more than he hated rock. When big band/orchestra leader Art "I'm Looking Over a Four Leaf Clover" Mooney called in November of '55 to tout a record that was selling like mad in Chicago, Meyerson wisely asked his 13 year old son Mark to listen in as Mooney spun the track.
"After Art played the record," Mark, now a youthful 72, says, "I enthusiastically told my dad how much I liked it." Meyerson pere tried hard to buy the master, but its owner, Art Rupe at Specialty Records, turned him down. The record was "Tutti Frutti."
Meyerson was one of the ardent anti-rock music men who argued, sometimes bitterly, with pro-rock counterparts like Wexler at my parents' dinner parties.
My father, the songwriter Carl Sigman, was a rational man and his anti-rock screeds had their own internal logic: "It's noise," therefore "it's not music." Ipso facto, "they should call it something else." QED.
But Carl craved hits like a pro athlete craves championships. (Unlike sports, there was more than one way to win. The Sigman/Hilliard novelty "Big Brass Band from Brazil" was the flip side of Mooney's "Clover" and shared equally in the sales royalties.)
Tommy Edwards, 'It's All In the Game'
A couple of years post-"Tutti Frutti," Carl and Meyerson joined forces to score with an assist from the new sounds. Meyerson took MGM R&B crooner Tommy Edwards into the studio to re-cut "It's All In The Game," Carl's collaboration across the decades with Charles Dawes, Calvin Coolidge's vice president. Seven years earlier, Edwards had recorded the tune, with Meyerson producing, as a soft, romantic waltz. But that record, in Carl's punny parlance, "didn't make any noise." (It actually pierced in the Top 20, but that, for Carl, was more whimper than bang.)
The new version of "Game" was no "Tutti Frutti," but its 4/4 doo wop vocals and tasty electric guitar licks smoothed the way to No. 1 on the charts, where it remained for six weeks in the summer of '58. It's since been covered by hundreds of artists across the genre spectrum, including Ricky Nelson, Merle Haggard, Cliff Richard, Isaac Hayes, UB40, The Four Tops and Van Morrison. Bob Dylan sang it often in concerts during the '80s. Van Morrison still does.
It would be unfair to say that Meyerson, Carl and their friends adapted to rock strictly for the lucre. These men needed to stay relevant. Beyond that, there was the pure joy of being connected with a smash–three minutes of magic that stirred the culture and entered America's collective consciousness via car radios, home phonographs and record store doorways.
The Chantels, 'Well, I Told You'
The other record bizzers who populated my folks' gatherings found their own ways to grapple with the rock revolution.
When Joe Carlton headed A&R at staid RCA Victor during the early '50s, his hits came from the likes of Perry Como, Dinah Shore, Vaughn Monroe and Eddie Fisher. He left RCA to found Carlton Records in 1957, and though one of his biggest successes came from Squaresville's Anita Bryant ("Paper Roses"), Carlton put points on the board with underrated rocker Jack Scott, R&B singer Big Al Downing, rockabilly Jesse Lee Turner and Godhead girl group the Chantels, whose 1958 stunner "Maybe" was, sadly for Joe, on George Goldner's End label.)
From where I sat (under the living room table), Jubilee Records prexy Jerry Blaine, a former big band singer and orchestra leader, was a mystery, a quiet voice in a room filled with music and intense conversation. But when interior design partners Terry (my mom) and Amy Barry–wife of Paul Barry, yet another big band singer, who adapted seamlessly to rock and would later partner with hustler extraordinaire Artie Mogull to sign an 18-year-old singer/songwriter named Laura Nyro–went to Jubilee's midtown Manhattan digs to help with the decor, they saw a tiger in action.
Like Wexler, Blaine embraced R&B/rock'n'roll. Doo wop pioneers the Orioles ("It's Too Soon To Know," "Crying in the Chapel") were Jubilee's finest act; Josie, his subsidiary label, released pop/rock classics by the Cadillacs ("Speedoo") and Bobby Freeman ("Do You Wanna Dance?").
The Cadillacs, 'Speedoo'
While Wexler was wailing and Meyerson was railing, Percy Faith, a classically trained composer/orchestra leader whose beautiful instrumental "Theme From A Summer Place" would come to personify easy listening, gave our family a preview of a more melodic popular music revolution in the making.
Rock was anathema to Percy, but he was as delighted as Carl when Guy Mitchell's 1951 No. 2 smash "My Heart Cries for You," a song he wrote with Carl in ten minutes at the racetrack, was covered by Elvis, Ray Charles, Ben E. King, and Charlie Rich.
One day in 1956, Percy made the five-minute drive from his Great Neck home to ours to play the score of a musical he'd been asked to record before its theatrical debut.
I wish I could say I had an inkling of the magnitude of what we were hearing when Percy sang and played "Maria" and "Somewhere" from Leonard Bernstein/Stephen Sondheim's West Side Story. Truth is, I don't remember that at all. But I was as taken with curse words as any seven year old and I laughed like crazy when Mr. Middle of the Road shouted the final couplet from the soundtrack's rockin'est number: "Gee, Officer Krupke/Krup you!"
From West Side Story, 'Officer Krupke'
ABOUT THE AUTHOR: Michael Sigman is a writer, editor, publisher and media consultant and the president of Major Songs, a music publishing company that handles the catalogs of his late father Carl Sigman and several contemporary songwriters.
While still in high school in Great Neck, L.I., Sigman worked for music publishing giant The Richmond Organization cataloging the music publishing giant's vast catalogue of pop, folk and rock songs. During the summers between college semesters at Bucknell, he worked as a reporter for Record World magazine, a leading music industry publication. The day after he graduated (Magna Cum Laude/Phi Beta Kappa) from Bucknell, he began full-time work at RW and served as the magazine's editor from 1972-82.
After a year as a consultant for CBS Records, Sigman moved to Los Angeles in 1983 to become the publisher of LA Weekly, the nation's largest alternative newsweekly, where he served from 1983-2002. He was also the founding publisher of OC Weekly, sister paper to LA Weekly, when it was launched in 1995.
Sigman's writing has appeared in Record World, LA Weekly, the L.A. Times, OC Weekly, The District Weekly, LA Style, The Bluegrass Special.com, Record Collector News, LA Progressive, Deep Roots and other newspapers and magazines. He is also the author of a biography of his father. He currently writes a weekly blog for Huffingtonpost.com.