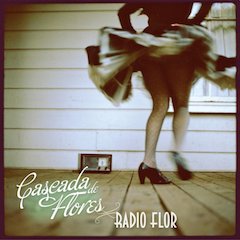 It's a warm summer evening. The windows are open, and the radio is on. As the family gathers and chats, the radio orchestra fills the living room with psaltery and violins. Piano and poetry segues into jingles and wildly romantic boleros. Finally, the deep booming voice announcing "Chucho el Roto" drifts in from the receiver. The family huddles around the radio to catch every moment of the eagerly anticipated radio drama.
It's the sound and feel of XEW, a powerful station out of Mexico that broadcast far beyond Mexico's borders. It broke down national boundaries, and for many listeners in the early-20th century, the voices of XEW became members of the family, the music the soundtrack to daily life. California-based acoustic Latin ensemble Cascada de Flores evokes this cultural moment on its fourth album, Radio Flor.
"It was such a time of adventure," says Cascada de Flores' singer and guitarist Arwen Lawrence. "Besides the jingles, radio novelas and poetry, Mexico adopted music, musicians and composers from all over Latin America. Cuban genres such as bolero and danzón quickly became part of the Mexican repertoire."
Not a mere exercise in historical re-creation, Radio Flor is a highly personal interpretation that springs from the players' lifetime of immersing themselves in Mexican and Caribbean traditions. The result is heartfelt, and touched with the spontaneity that comes from knowing the diverse sounds once featured on XEW like the backs of their hands. "We fall in love with a song or interpreter, then we try to understand what moves us and dig into that," notes Lawrence.
Like the broadcasts of days past, the album was recorded live, keeping a freshness that's audible. "We were able to record the album in two days, and a few songs in one take" explains Lawrence. "Our magic lies in our musical and emotional responses. It is a thrill to be working with expert musicians who also feel the music deeply."
"We try to extract the joy of a song and communicate it," adds guitarist Jorge Liceaga.
As Radio Flor plays, you almost expect a crackle of static to buzz through the speakers, from the opening jingles of "Sintonía" to the sign-off of "Campanitas." Most of the album's songs stem from the era, like the 1933 Cuban bolero, "Como Fue," which the band put down in a single passionate take. "Estrella Solitaria," an obscure gem from the pen of Agustín Lara, one of the first Mexican composers of bolero. The band's rendition gives a well-deserved nod to Afro-Mexican singer Toña La Negra, one of his favorite interpreters of his songs, and one of Lawrence's heroes.
Cascada de Flores, 'With a Song In My Heart,' from Radio Flor. Live at SF Music Day, October 19, 2013, San Francisco Conservatory of Music. Recasting the Rodgers and Hart standard as an Afro-Latin danzón, with lead vocal by founding member Arwen Lawrence.
Cascada de Flores's fundraising video for Radio Flor
Yet the ensemble is at its finest and most creative when it uses the era as a touchpoint—and then makes a leap in a new, innovative direction. Thus, the Rodgers and Hart standard "With A Song In My Heart" becomes an Afro-Latin danzón. "I fell in love with Ella Fitzgerald's version of the song," Lawrence muses. "It occurred to me that the way the melody soars would make a good counterpoint to the Afro-Cuban rhythm of danzón. The danzón experts in the band, Jorge and bassist Saul Sierra-Alonso, gave it its traditional structure of introduction, paseo and montuno, and pianist Marco Diaz improvised within it."
The album's sole original piece, "Marla," was sparked when Liceaga heard a flight attendant's name as the band flew from one New Mexico gig to another, and launched into a cheeky riff. A grammar lesson of double entendres that captures the humor that is so quintessentially Mexican, "Marla" 's swelling, swooping harmonies allude to the Tres Conchitas'. This female vocal trio accompanied the great Francisco Gabilondo Soler "Cri-Cri", the composer of children's songs who touched childhoods around Latin America from his program on XEW.
Cascada de Flores, 'La Chuparrosa,' a live version from the song featured on Radio Flor, 'a piece from the Afro-Mexican tradition of Oaxaca, acts as a gentle, corrective response to the transformation Mexican rural roots music underwent on the popular airwaves.'
While honoring history, the group also felt the need to revise it, bringing once-excluded forms and communities into the fold of the Mexican songbook. "La Chuparrosa," a piece from the Afro-Mexican tradition of Oaxaca, acts as a gentle, corrective response to the transformation Mexican rural roots music underwent on the popular airwaves. "It wouldn't have been on XEW back then, but we think it should have been," reflects Lawrence.
Musically, Cascada de Flores found its own way into the song. "We stripped it down to the voice and cajón and began to add back without much thought, but with feeling. The guitar's meditative arpeggios became the driving repetition of the original dance tune, and pull whatever musician accompanies us into improvisation" explains Liceaga. "Every time we play it, the song becomes something new."
The core members of Cascada de Flores have been re-imagining Mexican tradition for years. After falling for Mexican music as a young woman, Lawrence toured with Grammy-winning L.A. mariachi heavyweights Los Camperos de Nati Cano, an apprenticeship that honed her skills and deepened her love for Mexico's musical language.
Jorge Liceaga grew up in Mexico City, buying his first guitar with the money he'd earned shining shoes. Self taught, he was later mentored by local legend Leonardo "El León" Salas, a transplant from Yucatan, whose trademark "guasanguearla" (the special swing Yucatecans are known for) still inspires Liceaga's playing. Liceaga eventually moved across the border, settling in the Bay Area.
At Freight & Salvage in Berkeley, CA, 2014, Cascada de Flores performs 'Cleveles' from its new album, Radio Flor
The pair founded Cascada de Flores in 1999, building a close-knit musical community for recording and performing throughout the US, as well as in Mexico and Cuba. On Radio Flor, the duo is accompanied by three veterans of San Francisco's traditional music and Latin Jazz scenes: Saul Sierra-Alonso (bass, Mexico City), Marco Diaz (piano & trumpet, San Francisco), Brian Rice (percussion, Michigan). Together, they create a varied soundscape that makes the music sing. Live, the group structures their performance like a vintage radio broadcast, a Prairie Home Companion-style variety show that is organically Mexican, with tons of good-natured humor, and a very personal stamp.
With an ear to the past and an intimate sense of Mexican music's history and soul, Radio Flor brings the beauty of a distant era into the present, very much alive and in full bloom.

(Courtesy World Music News Wire)