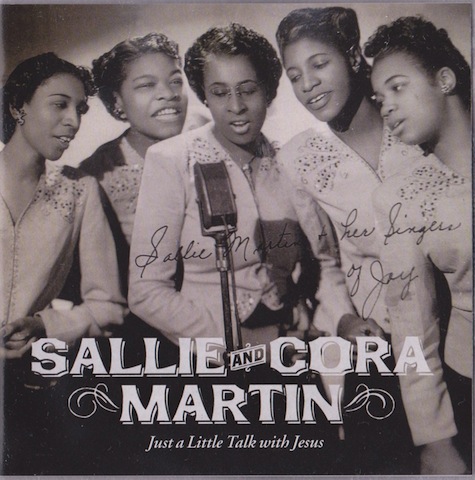 Sallie Martin, the Mother of Gospel Music, paved the way for those who paved the way. A no-nonsense singer, group leader, choir director, entrepreneur and philanthropist, Martin helped Thomas A. Dorsey sell his catalog of songs before going into business with Kenneth Morris in 1940 to form the Martin & Morris Music Studio.
It is in 1940, when Sallie was a member of the Martin & Morris Singers, where Just A Little Talk With Jesus, Gospel Friend's superb twelve-year survey of Sallie Martin's early classic recordings, begins. The 25 tracks represent the first commercially available compilation of most of Sallie's earliest recordings.
The CD follows Sallie and her adopted daughter, Cora Brewer Martin, from their sweet singing days as part of the Sallie Martin Gospel Singers and their collaboration with the famous Echoes of Eden Choir from St. Paul Baptist Church of Los Angeles, to their duets for Capitol and Specialty Records. As such, the compilation is not only a joy to listen to, it is a mini gospel history lesson.
The Sallie Martin Singers featuring Cora Martin, 'Didn't It Rain,' from Just a Little Talk with Jesus
The Sallie Martin Singers, with Joe May, Cora Martin and Sallie Martin, 'It's a Long, Long Way,' from Just a Little Talk with Jesus
Although Sallie's voice was not the most melodious pipe in the organ, she could sell a song with her honest-to-God delivery. Cora, on the other hand, was a quite gifted vocalist who so impressed Art Rupe of Specialty that he wanted her to go pop, just like Sister Wynona Carr. Cora refused, and that ended her association with Specialty Records.
There are many rare selections on the CD, including a mid-'40s Martin & Morris disc featuring the lively piano of Melva Williams and one of the handful of sides Sallie made for Aladdin Records with her Singers of Joy. The title track comes from a disc the group waxed with J. Earle Hines and the Goodwill Singers in 1948 for the predominantly white gospel Sacred label. All of the tracks were re-mastered from the original vinyl recordings. As usual, Per Notini and Jonas Bernholm of Gospel Friend spit shine them so the sound quality is clear.
Sallie Martin and Her Singers of Joy, 'There Must Be a Heaven Somewhere' (1947), from Just a Little Talk with Jesus
With Thomas A. Dorsey, the Father of Gospel Music, on piano, Sallie Martin, the Mother of Gospel Music, delivers 'I'll Tell It Wherever I Go' (note: this cut is not included on Just a Little Talk with Jesus). In 1932 Ms. Martin and Dr. Dorsey formed the National Convention of Gospel Choirs and Choruses.
The album notes (full disclosure: they were written by me) and rare photos, many of which were supplied by longtime Sallie Martin collaborator Kenneth Woods Jr., tell Sallie's story with a detail not seen since Anthony Heilbut's essential history, The Gospel Sound.
Just A Little Talk With Jesus is a fascinating aural glimpse into gospel music as it developed from the sweet and jazzy pre-war era to the harder driving rhythms of the post war years. Regardless of the changes in musical style, Sallie Martin remained the same, and gospel music was all the better for it.