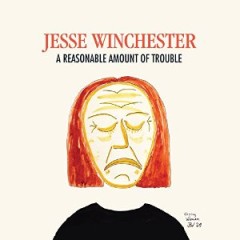 A REASONABLE AMOUNT OF TROUBLE
Jesse Winchester
Appleseed Recordings
When Jesse Winchester set out to record the album that became A Reasonable Amount of Trouble the cancer that would take his life not long after the long player was completed was then in remission. Having been fortunate enough not to have had to live with that dreaded disease or any other, I hesitate to say whether, while he was writing these almost perfect songs, Jesse's intimations of mortality were no longer intimations but rather more like "the sound of rolling thunder at a picnic," to quote W.H. Auden's memorable description of death. What I do know is that few artists have fashioned a final testament as generous, as warm-hearted, as amusing, as insightful and, not least of all, as everlastingly beautiful as this one will surely be judged in our time ahead.
 SELECTED TRACK: 'A Little Louisiana,' Jesse Winchester, from A Reasonable Amount of Trouble
Everything is right about this record: the Maltese Falcon-derived title; Jesse's inclusion of three oldies so reflective of his true Romantic's sensibility; the tasteful, unobtrusive accompaniment of friends such as lap steel master Jerry Douglas, soulful fiddler Stuart Duncan, accordion titan Joel Guzman and sax stalwart Jim Horn, among the notables; the nine new Jesse originals brimming with wisdom, gentle soul grooves, lyrics as gracefully crafted as their insights into the human condition are stirring and true; the crisp, full soundscape fashioned by producer Mac McAnally (who also joins in on acoustic and electric guitars, mandola, keyboards and backing vocals) to place the artist in intimate confines with the listener. Truly, if this doesn't wind up on every critic's year-end best-of list, you, dear readers, are hereby permitted never to trust those critics again.
Touching self-doubt, along with sly wit, informs the folk-flavored "Neither Here Nor There," whereas the slinky, sensual "Never Forget to Boogie" and the thumping "She Makes It Easy Now" evince this southern son's proclivity for self-deprecating humor and bemused observations of mating dances, respectively. The jaunty Cajun-dipped "A Little Louisiana" (featuring Duncan's lively fiddling and Guzman's spirited accordion support) is made to get bodies moving on the dance floor but also happens to be replete with some of Jesse's finest philosophical pronouncements that, taken together, amount to a design for living. From its title alone, you might expect "Every Day I Get the Blues" to be a moment for Jesse to lament the brevity of his time here, and when you feel the gentle breeze of the song's subdued shuffle and tear-stained wash of keyboards softly in the background, you could be forgiven for thinking as much. But in fact it's Jesse lamenting the daily deluge of couples breaking up, of hearts rent asunder en masse, not his own clock running down. "Turn around, turn around, and somebody's baby says goodbye," he sings with that plaintive rise in his voice, "and you're up all night/just listening to her cry." The somber soundscape gives this one away as a hymn decrying a society coming apart even as he takes solace in the peace passing over him when he appeals to Providence, to wit: "and I expect tomorrow will bring one more sorrow/nothing I can't pray my way through/oh but every day, every day, every day I get the blues."
SELECTED TRACK: 'Neither Here Nor There,' Jesse Winchester, from A Reasonable Amount of Trouble
Lovely as his melodies are, graceful as his phrasing is, elegant and understated as the arrangements are, Jesse's lyrics are no less than they've always been, which is to say poetic and wise, centered always on living in the moment, and accepting each moment with a truly spiritual sense of its evanescence, of the fleeting blessing of what's been handed to us right then and there, no matter the nature of the experience at hand. So he tells us:
"I play for the favors/and I worry the neighbors/and I don't expect you to care/this is neither here nor there" –-"Neither Here Nor There"
"Some blues don't go away" –"Neither Here Nor There"
"Don't keep winter waiting/I know, let's go skating/all that we have is now… –"All That We Have Is Now"
"Who knows what lies around the bend/it could be good but then again/it could be empty, cold and bare/like I say, better be prepared…" –-"A Little Louisiana"
"You can see the writing on the wall/all you got to do is read it" –-"A Little Louisiana"
and…
"Get your lovin' while you can/it's always good to have on hand" –-"A Little Louisiana"
SELECTED TRACK: 'All That We Have is Now,' Jesse Winchester, from A Reasonable Amount of Trouble
In some ways the most telling moments on A Reasonable Amount of Trouble come by way of Jesse's choice of oldies to supplement his nine exquisite new songs. All three have roots in group harmony or doo-wop and reflect the latter style's embedded moral code counseling respect for your significant other and full disclosure of the heart's most sensitive stirrings. Jesse takes it upon himself to find new ways into these great numbers and in the process magnifies the heart tugging beauty of the original versions. His attraction to the group harmony/doo-wop canon is no accident: as a youth he was struck by these songs' simplicity and heightened sense of romance, of the novelty numbers' whimsicality, of the ballads' embrace of love as a holy state. So the Cascades' "Rhythm of the Rain" becomes a torch song, a sad but beautiful evocation of the pain of lost love, in a subdued, midtempo acoustic-driven arrangement, whereas "Devil or Angel" becomes a saloon song for the wee small hours on the strength of a sumptuous arrangement built on fingerpicked acoustic guitar, spare electric keys and, later, Horn's smoky, evocative sax, all supporting Jesse's soft, earnest vocal on a track honoring both the rawness of the Clovers' strangely haunting 1955 original (#5 R&B) and the comparatively lush 1960 hit cover (#6 pop) by Bobby Vee. (Fun facts: the Clovers pioneered the use of sax in the nascent R&B field on the group's 1951 R&B chart topper, "Don't You Know I Love You"; and "Devil or Angel" was discovered as an unsolicited demo from songwriter Blanche Carter, who penned no other hits.) Then there's the sweet, strutting rendition of the Del-Vikings' towering "Whispering Bells," with Horn's jaunty, honking sax front and center over silky, bass-centric backup vocals, with Jesse's warm, engaging vocal radiating a doo-wop aficionado's genuine love for the curious heart tugging power of nonsense syllables.
SELECTED TRACK: 'Just So Much,' Jesse Winchester, from A Reasonable Amount of Trouble
The best is saved for last. Jesse Winchester wrote so many great songs it's a fool's errand to say one stands out more than another, but "Just So Much" is that number. A gentle, fingerpicked treatise, it's his most overt pronouncement about his condition, and as you might expect, he takes it all in stride; in fact, it seems he's speaking to everyone listening who cares about him, loved ones and strangers alike, when he begins, "He can pull rainbows/out of the air/beautiful rainbows, He has a flair/and as for His sunsets/what can you say/when it comes to sunsets/the Lord has a way/there is this one place/His power fails/He can help no one, who won't help themselves/'cause there is just so much/there is only so much/just so much that the Lord can do…it's true, too true…" He goes on to recount the wonders of the natural world, the creation of humankind ("his masterpiece"), even worries metaphysically if God debates whether "the glory is worth the grief." Finally, as the song winds down, Jesse finally speaks in the first person, wondering how to find God, "will there be pain," "will I see mom and dad again—why won't He tell m, what it's about, give me some answers, clear up my doubt," only to conclude, of course, "there is only so much that the Lord can do." Here's where you laugh even as you cry. Have any other songwriters ever gone into that good night with so much dignity?
In reflecting on the many wonders of A Reasonable Amount of Trouble, another Jesse lyric comes to mind, from the song "All That We Have is Now," to wit: "The whole thing was such fun."
SELECTED TRACK: 'Whispering Bells,' Jesse Winchester, from A Reasonable Amount of Trouble
But perhaps, when you're listening to the abundant life emanating from "Whispering Bells"…yes, perhaps when you hear Jesse croon the poignant plea, "Bring my baby, oh, my baby back to me…," you think, Yes, please do bring him back. Please. Do.