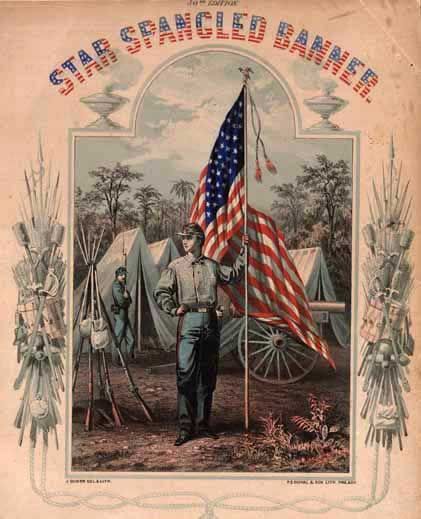 Cover of sheet music for the 'Star-Spangled Banner,' transcribed for piano by Ch. Voss, Philadelphia: G. Andre & Co., 1862 (Courtesy Project Gutenberg)
This weekend marks the 200th anniversary of the poem that became the nation's national anthem. The "Star-Spangled Banner" has never been easy to sing, and it has stirred some doubts over its historical origins. But the anthem remains so emblematic that when Renée Fleming sang it at the Super Bowl earlier this year, some opera lovers tuned in just for the pregame events.
Back in March, the violinist Anne Akiko Meyers gave a Cafe Concert at WQXR in New York City in which she performed her own rendition of the "Star-Spangled Banner." As she notes in the introduction, she plays it on her a Guarneri violin that is older than the United States itself.
When Vladimir Horowitz played the anthem at the White House in 1978, all was fairly straightforward until the very end.
In 2003, a gathering of notable pianists at the Verbier Festival in Switzerland tossed off a rambling eight-piano version of the "Anthem" by the towering American composer Louis Moreau Gottschalk (1829-1869):
Canadian pianist Glenn Gould wed the "Star-Spangled Banner" to "God Save the Queen" in a 1955 recording session otherwise devoted to Bach's Goldberg Variations:
Igor Stravinsky may not take as many liberties with the anthem as some pop stars, but few have had greater repercussions. The urban myth, regurgitated by numbers websites and blogs (including liberal darling Boing Boing), goes like this: Following its performance at Boston's Symphony Hall on January 15, 1944, city police accused composer of defacing the anthem by altering its melody with an unconventional major seventh chord in his arrangement. They also threatened him with a $100 fine for tampering with the rhythms and harmonies of the piece. The charges were eventually dropped. Websites too numerous to list have published the celebrated photo of Stravinsky's mugshot (below).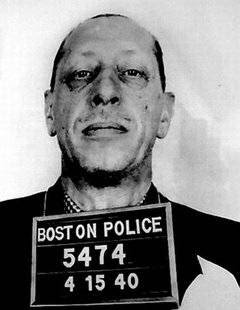 Balderdash. This story has been disproven many times over. The first clue as to its dearth of authenticity is the famous mugshot itself: it's dated 4-15-40, meaning April 15, 1940, some three years and nine months prior to Stravinsky's alleged Boston massacre of the "Star Spangled Banner."
And consider this from Stephen Walsh's acclaimed 2008 biography, Stravinsky:The Second Exile: France and America, 1934-1971, p. 152:
And what about that mugshot? As the author of the blog Stray Snippets notes:
"…but given that he moved to the US in late 1939 and married Vera de Bosset on 9 March 1940 in Massachusetts (capital: Boston) I can at least imagine that the mugshot, which is dated 15 April 1940, was probably taken for some unexciting bureaucratic reason that wouldn't make for eye-catching blog-headlines…"
Finally, here is the Stravinsky version. Readers can decide for themselves whether the great composer should have been arrested for this, but in fact he never was.
Sources:WQXR.org; Stray Snippets, May 2, 2010