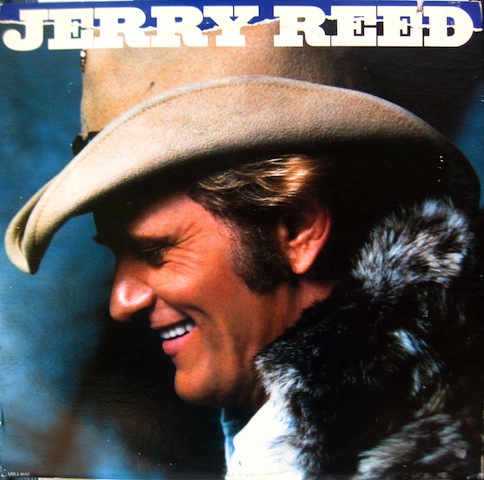 Lately we have keenly felt the absence of two especially great artists—both exceptional singers-songwriters-guitarists—and thought we'd share with Deep Roots readers a couple of warm moments with them as found on YouTube.
Jerry Reed, who passed in 2008, at age 71, became a country star on the strength of terrific novelty hits such as the timeless "When You're Hot, You're Hot" and "Amos Moses," along with his comedic gifts as an actor in a string of rowdy, southern-based action comedies such as the three Smokey and the Bandit movies, W.W. and the Dixie Dancekings, Gator, et al. But Jerry had a truly tender side too, and it surfaced most poetically in arguably his greatest song, "A Thing Called Love." It wasn't a hit for Jerry, but Elvis included a wonderful version of it on his 1971 gospel album He Touched Me, and that same year Johnny Cash outdid his former Sun labelmate by taking the song to #2 on the Country Singles chart. But there's something about Jerry's live solo acoustic version here that hits us where we live.
Jerry Reed, ' A Thing Called Love' (live)
Johnny Cash, 'A Thing Called Love,'  #2 country single, 1971
Steve Goodman was never a household name but his song "City of New Orleans" certainly embedded itself deeply into 20th century American music—Johnny Cash, who knew from train songs, pronounced it "the greatest train song ever written," and recorded his own version, as have countless other artists over the years, not all of them named Arlo Guthrie.
Author Clay Eals pretty much made it his life's mission to document the remarkable work Steve did and life he led and succeeded fabulously in Steve Goodman: Facing the Music. Some of that good work is evident in the videos below, when Steve joins John Prine onstage to pick transcendent guitar to Prine's haunting "Souvenirs" (as he had on Prine's superb 1972 album, Diamonds in the Rough) The backstory here is that after Atlantic, incredibly, dropped Prine from its roster, Goodman championed his fellow Windy City troubadour to the folks at Elektra/Asylum, where Steve was signed. Prine promptly delivered one of his finest albums, 1978's Bruised Orange (which happened to feature one Steve Goodman on guitar and harmony vocals), and basically has kept on making good music ever since. Following "Souvenirs" we find Steve solo acoustic in a New York City studio in 1978, with a fervent, intense reading of his beautiful "You're the Girl I Love," from his 1976 album, Say It In Private. And we couldn't resist including his terrific performance of "City of New Orleans" from England's The Old Grey Whistle Test TV show in 1972, when his great song was still new to much of the America it was addressing.
While attending the University of Illinois, Steve was diagnosed with leukemia and decided then and there to devote what time he had left to making music. Periodically reports would surface of his disease flaring up and about to claim him. Then just like that he would pop up in a club somewhere and look to be in the pink of health. On one memorable night at New York City's late, ever-lamented Bottom Line, shortly after one of these dire bulletins had made the rounds of his friends, he performed a typically touching version of his song "A Dying Cub Fan's Last Request," and when it was over announced, with a bemused laugh he could have copyrighted, "No one's dying around here."
On September 20, 1984, at age 36, Steve lost his battle with leukemia. The next year he was awarded a posthumous Grammy for "City of New Orleans," and in 1988 another Grammy for his posthumous album Unfinished Business, released in '87. In her liner notes accompanying her late husband's 1994 anthology No Big Surprise (a double-CD set of studio and live performances), Steve's wife, the former Nancy Pruter, whom he married in 1970 and with whom he fathered three daughters, wrote these indelible words about her life's mate:
Basically, Steve was exactly who he appeared to be: an ambitious, well-adjusted man from a loving, middle-class Jewish home in the Chicago suburbs, whose life and talent were directed by the physical pain and time constraints of a fatal disease which he kept at bay, at times, seemingly by willpower alone . . . Steve wanted to live as normal a life as possible, only he had to live it as fast as he could . . . He extracted meaning from the mundane.
These are not mundane moments here, but Steve's artistry enhances the deepest meanings in each one.
Steve Goodman and John Prine, 'Souvenirs' & Steve Goodman, solo acoustic, 'You're the Girl I Love' (1978)
Steve Goodman on The Old Grey Whistle Test, 1972, 'City of New Orleans'