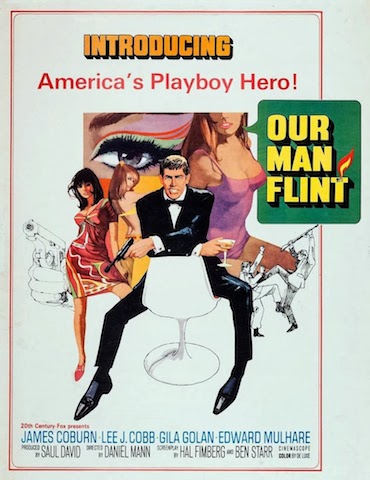 Director: Daniel Mann
Producer: Saul David
Screenplay: Hal Fimberg, Ben Starr
Music: Jerry Goldsmith
Orchestrator: Arthur Morton
Cinematography: Daniel L. Fapp
Film Editing: William Reynolds
CAST
James Coburn (Derek Flint)
Lee J. Cobb (Cramden)
Gila Golan (Gila)
Edward Mulhare (Malcolm Rodney)
Benson Fong (Dr.Schneider)
Shelby Grant (Leslie)
Sigrid Valdis (Anna)
Gianna Serra (Gina)
Helen Funai (Sakito)
Michael St. Clair (Hans Gruber)
Rhys Williams (Dr. Krupov)
Russ Conway (American General)
Ena Hartman (WAC)
Bill Walker (American Diplomat)
Peter Brocco (Dr. Wu)
James Brolin (Technician—uncredited)
'Coburn is perfectly cast—the very essence of detached American übercool'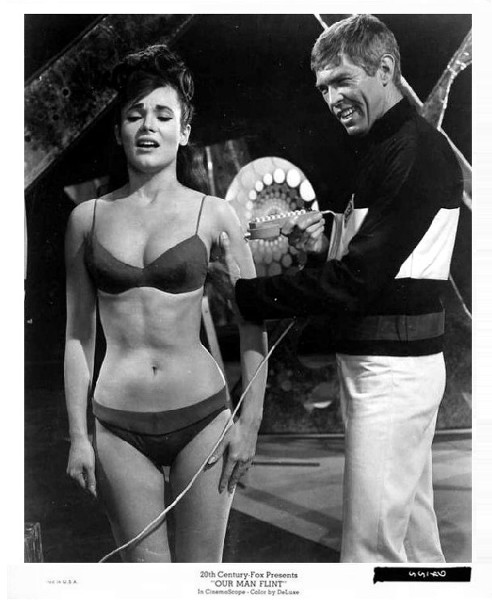 Released the same year as Thunderball, Our Man Flint remains the most successful and beloved of all the so-called "spy spoofs" made to cash in on the 007 craze of the '60s. It's easy to see why. Produced by a major Hollywood studio, the production enjoyed a relatively high budget. The script is a knowing, tongue-in-cheek homage to all the (then still fresh) Bond movie conventions. And as Derek Flint, secret agent extraordinaire, James Coburn is perfectly cast–the very essence of detached American übercool.
A cabal of power-mad scientists has perfected a weather control machine, promising global calamity unless the governments of the world destroy all nuclear weapons and surrender to their authority. Hurricanes, monster storms, volcanic eruptions, melting ice caps–the military forces of the great powers are helpless against such threats. Various spy agencies, coordinated under the American-led Z.O.W.I.E. (Zonal Organization World Intelligence Espionage), have failed to locate the scientists' hidden base or learn the secret of their power. With time running out, computer data banks are consulted to name the perfect agent for the assignment. (The Univac punchcard system used in this scene may provoke a smile due to its antiquity.) The result is conclusive: Derek Flint is the only man for the job.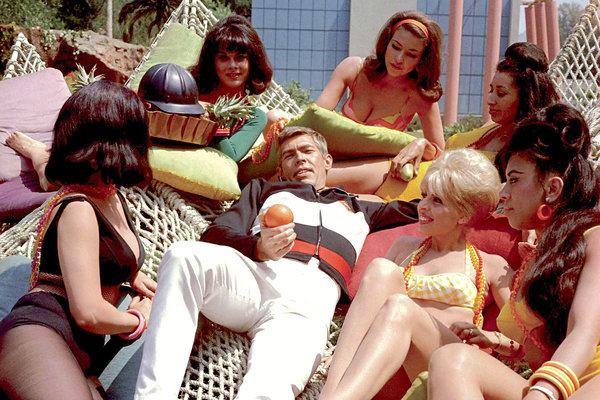 Against his better judgment the head of Z.O.W.I.E., American intel czar Cramden (The Exorcist's Lee J. Cobb), is dispatched by the president to recruit him. A diffident Flint refuses. (Cramden: "Flint, the world's in trouble!" Flint: "It usually is but it manages to extricate itself without my help.") A foiled assassination attempt soon has him on the case, however. The investigation ultimately leads to the island HQ of the Galaxy organization, a group headed by an oddly named trio of eggheads dedicated to world domination under their benevolent control. They haven't reckoned on Derek Flint.
Our Man Flint tries to be a send-up, a spoof, of the 007 films rather than a rip-off; in this it succeeds handily. As in all James Bond pics post-From Russia with Love (1963), there's a pre-titles sequence followed by pop art main titles that feature the undulating silhouettes of curvaceous women. Flint even gets his own theme music courtesy of composer Jerry Goldsmith's swanky score, which repeats this theme in just about every conceivable form throughout the picture. (And it's almost as cool as 007's distinctive theme music, too.) But here the similarities end. Unlike Bond, the dutiful civil servant who risks life and limb for Her Majesty's government, Flint is a mercenary character who only accepts the mission because the villains try to kill him as a precautionary measure. While Bond is an expert in many fields and knows a little about everything else, Flint is a true Renaissance Man–he's an expert in everything, from karate to cooking, from ballet to ballistics. (The guy's a scientist, a medical doctor, an aesthete, a connoisseur, a deadly martial artist and a Zen master to boot.) Bond picks up women during the course of his adventures; Flint hangs out in his plush New York penthouse with a harem of nubile female "assistants" ready to serve his every whim. When Cramden tries to arm him with a variety of Q Branch-like gadgets, Flint declines because his own high tech gizmos are better than the government's. (A cigarette lighter with 82 different functions proves to be his most useful.) The inclusion of the British "0008" character–played by a Sean Connery lookalike–is an amusing way of saying, "Hey, I'm not James Bond. I'm cooler than James Bond."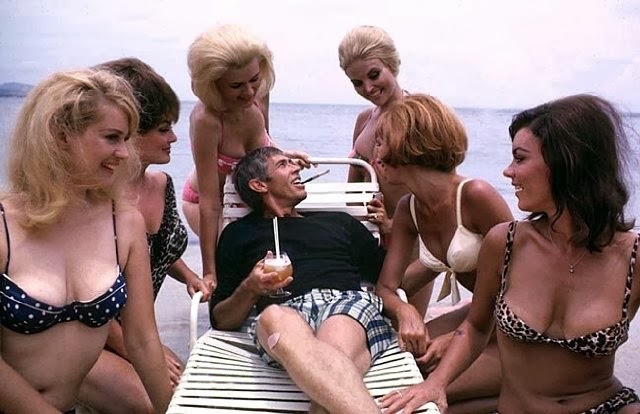 Well, perhaps the character is. But while Our Man Flint is as entertaining as a number of the lesser Bonds, since it's an action-comedy (rather than an action-adventure film with a few comedic elements), it can never hope to top the best of them. The story is even more ridiculous than the silliest of the 007 films, and we don't get to visit any real-life "exotic" locations–Flint's encounters in Marseilles and Rome all take place on the Fox back lot. The kitschy, garish sets lack the artful style of designer Ken Adam's memorable work in the Bond series during the same time period. The movie really shows its age in its depiction of women, managing to be even more sexist than the early Connery Bonds. (Females at the Galaxy base are mentally programmed to be "pleasure units" for the men.) Gorgeous former Miss Israel Gila Golan (Valley of Gwangi ), the flick's femme fatale, is stiff and wooden. (Though certainly dynamite looking in that wet red bikini!) That Flint is so omniscient and totally unflappable means the film isn't able to generate the tiniest bit of suspense, something the top drawer Bonds are still able to pull off–even though we know 007 is going to come through unscathed. Still, Coburn carries the picture with his winking portrayal of the impeccable secret agent. He's charmingly arrogant, wooing the ladies with ease and flashing that huge heliograph of a smile in the face of danger. He's also great in the action scenes. Personally trained by martial arts legend Bruce Lee, Coburn displays a lanky, athletic grace when delivering a high-flying kick to a henchman's face; his karate moves look pretty good. –-by Brian Lindsey, posted at Eccentric Cinema
Selected Short Subject: The Dick Tracy Show, 'Phony Pharmers' (1960)
Directed By Ray Patterson.
Supervising Director: Abe Levitow.
Produced By Glen Heisch.
Executive Producers: Henry G. Saperstein, Peter DeMet.
Animated By Irv Spence.
Written By Ed Nofzinger, Bob Ogle.
Edited By Ted Baker.
Vocal Talent: Everett Sloane (Dick Tracy, Cheater Gunsmoke), "Uncle Johnny" Coons (Officer Heap O'Calory, Stooge Villa, Mumbles), Benny Rubin (Jo Jitsu), Jerry Hauser (The Mole), Paul Frees (Pruneface, B.B. Eyes, Sketch Paree, Flattop), Mel Blanc (Flattop), June Foray, Joan Gardner, Howard Morris.
Source: The Big Cartoon Database
Dick Tracy dispatches Hemlock Holmes and The Retouchables to pursue B.B. Eyes and Flattop for robbing The Able Sable Fur Co. Trailing them to a deserted farm. They find some skunks among the stolen fur pieces and use the stinky animals to capture the crooks.
Originally released September 20, 1960, Season 1. UPA Productions, distributed by Columbia Pictures Television.