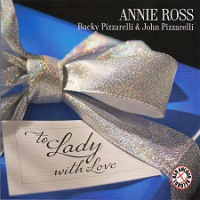 TO LADY WITH LOVE
Annie Rosss with Bucky PIzzarelli & John Pizzarelli
Red Anchor Records
To call Annie Ross the grande dame of jazz singing is on the money but too limited an honorific for an artist who created and embodies so much history in her life and career. Born in 1930 to a pair of Scottish vaudevillians, Annabelle Allan Short was destined for the stage at birth. And oh, how she has occupied the stage, as a recording and concert artist; as a stage and screen actress (as a seven-year-old she sang "The Bonnie Banks o' Loch Lomond" in Our Gang Follies of 1938; 55 years and many film roles later she delivered a memorable performance as Tess Trainer in Robert Altman's Short Cuts); as a songwriter (her lively "Twisted" is now a jazz standard); as a club owner; as one of the most entertaining and fascinating characters of her time. We come here today, however, not to review her staggering resumé but to announce her triumphant return on record with To Lady with Love. In her solo career, embarked upon before she joined and after she left Lambert, Hendricks & Ross in 1962, she has been backed by the Modern Jazz Quartet; by Gerry Mulligan and Chet Baker on the same album (1958's Sings a Song with Mulligan); by Zoot Sims; by Hoagy Carmichael and Georgie Fame; by Art Blakey, Kai Winding, JJ Johnson…you get the drift: only the cream of the crop, players whose improvisational savvy and technical virtuosity could challenge Ms. Ross and she in turn them. We have not heard from Annie Ross musically since 2005's Let Me Sing (a live album recorded in London was released in 2006, but it was of a 1965 performance), so what a pleasant surprise to have her back and in such good form on To Lady with Love, an introspective, reflective homage to Billie Holiday, whom Ms. Ross looked to for inspiration and also called friend (their life stories also intersect at some very scary junctions, the big difference between the two being that Ms. Ross survived her ordeals). (Note: this attractively packaged set from Red Anchor also includes a DVD containing interviews with Annie and the Pizzarellis, the most interesting being Annie's biographical sketch of herself in which she goes into depth about her friendship with Billie. This alone is worth the price of admission.)
Vintage Annie Ross, 'Let There Be Love,' from her 1958 solo album, Sings a Song with Mulligan. Annie Ross, vocals; Gerry Mulligan, baritone sax; Chet Baker, trumpet; Henry Grimes, bass; Dave Bailey, drums.
In 2014 Annie Ross is now 84 years of age, and so time has robbed her voice of the springy, sparkling tone of her youth. But she's not trying to be the young Annie Ross here; instead, as Will Friedwald observes in his liner notes, "Annie's approach has much more to do with acting than it does with the way that most people understand the word 'singing' today." So what we get on To Lady with Love is superbly sensitive, often touchingly understated twin-seven-string-guitar accompaniment by father and son Pizzarellis, Bucky and John, and something approaching Shakespearean grandeur on Ms. Ross's part—without discarding melody she takes these tunes and recasts them as the deeply inward soliloquies of someone haunted by forces she set in motion herself and now must live with the consequences of ill-considered choices. In the Bard's immortal phrase, "loss upon loss" emerges as a theme in a song selection embracing "I Don't Stand a Ghost of a Chance with You," "You Don't Know What Love Is," "When Your Love Has Gone," "You've Changed," "For All We Know" ("for all we know/we may never meet again…"), et al. The effect of her intimate confessions, half-sung, half-spoken, all imbued with ferocious intensity of purpose, is to turn the tables on the listener, to make her interlocutors partners in crime, in a manner of speaking.
SELECTED TRACK: Annie Ross, 'I'm a Fool to Want You,' from To Lady with Love, featuring Bucky and John Pizzarelli on guitars
Maybe, then, you'll feel callous for shunning her advances when she plaintively admits, "I don't stand a ghost of a chance with you," ("I Don't Stand a Ghost of a Chance with You") or perhaps a bit shallow for thinking the grass was greener on the other side when she cries, "I'm a fool to want you, to want a love that can't be true, a love that's there for others too…" ("I'm a Fool to Want You," the rare song bearing a Frank Sinatra writing credit). It's part of Ms. Ross's genius, dating back to the glory days of Lambert, Hendricks and Ross, by consensus now the most important jazz vocal group of all time, to draw listeners into her dramas, enlist them as co-conspirators in her scheme and then share the outcome's triumph or despair.
SELECTED TRACK: Annie Ross, 'For All We Know,' from To Lady with Love, featuring Bucky and John Pizzarelli on guitars
On the other hand, these mature performances are so gripping unto themselves as to be heard guilt-free and sans subtext. These are not Ms. Holliday's towering monuments but rather some far more personal selections, clearly chosen for the depth of their interior ruminations rather than for popular appeal. Bringing the weight of her own history to bear on "For All We Know," as the guitars scatter rich, quiet chords and discrete runs around her performance, she beckons us to hear it without the romantic tinge and instead as a call to seize the day, to make the most of each minute we live before she turns the spotlight over to a tasty, blues-flecked guitar solo. Precisely because she doesn't try to hide her years, "You Don't Know What Love Is" hits with sledgehammer force, despite its subdued atmosphere and the lovely, rich guitar work behind her, when she sings, with a slight quake in her vocal, "you don't know what love is/do you know how lost I've been/at the thought of reminiscing/and how lips/the taste of tears/lose their taste for kissing…" Similarly, there's a fleeting moment of vulnerability and longing in "I Get Along Without You Very Well," when she sings, "I get along without very well/of course I do/except when soft rains fall…," and her voice nearly cracks on "soft rains fall" and in your mind's eye, if you know anything about her personal history, you feel the unfathomable trauma she visited on herself and which was visited on her as well. On the other hand, nothing but sunshine and confidence radiate from her on "Travelin' Light," a Johnny Mercer-Trummy Young gem that has a little glide in its stride as Ms. Ross here seems utterly unfazed by her man bailing and leaving her "travelin' light"—freedom's just another word for nothing left to lose, one supposes.
SELECTED TRACK: Annie Ross, 'I Get Along Without You Very Well,' from To Lady with Love, featuring Bucky and John Pizzarelli on guitars
 SELECTED TRACK: Annie Ross, 'When Your Lover Had Gone, from To Lady with Love, featuring Bucky and John Pizzarelli on guitars
As Friedwald points out in the liner notes, To Lady With Love is replete with "the spirits of departed friends." Sinatra made his own art out of many of these Bilie Holiday songs; Nat King Cole has placed his indelible stamp on "For All We Know." Then there's the late-night saloon beauty of "When Your Lover Has Gone," with Ms. Ross pausing in the chorus to work up to a Homeric delivery of the word "alone" designed to, and succeeding at, giving a listener the chills at the very solitariness of her state. The lineage of this one traces back to 1931 when Einar Aaron Swan wrote the song for the James Cagney film Blonde Crazy; Ethel Waters recorded it that year, then Louis Armstrong, and the floodgates of covers opened (Ella, Carmen McRae, Doris Day, Dinah Washington, Brenda Lee, Benny Goodman, Art Blakey, Art Tatum, Benny Goodman, Ms. Holiday, Anthony Newley, et al). Sinatra made it his own, twice, recording it for Columbia in 1944 and then for Capitol, during the 1955 sessions for his classic In the Wee Small Hours album. In Ms. Ross's hands, it becomes one-half of a passion play within the album, followed as it is by the wry, self-lacerating send-off of "I Get Along Without You Very Well" (numbering among its "departed friends" covers by Chet Baker, Linda Ronstadt, Nina Simone, Ms. Holiday, Rosemary Clooney, June Christy, Charlie Barnett, Sinatra, a pre-T-Bone Burnett Diana Krall and too many others to name). And in keeping with this theme, the warm coda is Ms. Ross's own "Music is Forever," reprised from her 1995 album of the same name, arranged by Mike Renzi. This is the singer's moment to look back on a musical life lived full measure, as she name-checks the great artists that have influenced her and been at her side in the studio or on stage, the point being exactly what the title claims, which happens to be an occasion for Annie Ross to remind us of a fact relevant to her time and certainly to her body of work: "When they say nothing is forever, nothing is forever/I just smile, 'cause I know it's not true/music is forever/music is forever/you still live when we listen—sing to me, sing to me…"