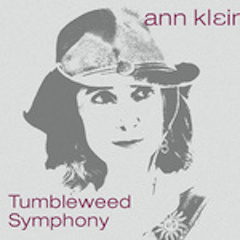 TUMBLEWEED SYMPHONY
Ann Klein
Sowie Sound
Plenty of fans know Ann Klein as a versatile guitarist who has provided sensitive, and by turns fiery, accompaniment to the likes of Joan Osborne and Ani DiFranco and more recently doubled on guitar and mandolin in the band for the Tony winning Broadway musical Kinky Boots, for which Cindy Lauper provided music. An avowed Beatles devotee, Ms. Klein navigates various rock guitar styles with ease and with a signature sound evoking the rock era she grew up in.
That facility on her instrument of choice is on vivid display on the artist's third album, and only second studio effort (the previous LP, Hope Street Sessions, coming way back in 2006, making this one virtually a new beginning), Tumbleweed Symphony. The galloping drums of the punishing kissoff "I'm Gone, So Long" provide the track's thunder but Ms. Klein's searing guitar, shimmering and slightly distorted, providing the angry thrust behind her measured vocal. On the tense, driving "Rodents in the Attic" (a co-write with Dana Fuchs, who plays tambourine on the track, this one's concerned with its narrator's looming complete nervous breakdown), her Lesley-amplified twangy guitar adds a certain urgency, and inevitability, to the lyrics' bold confession of oncoming mental collapse. The rocker guitarist emerges with stomping ferocity in "Break Out," with angry fusillades punctuating the fierce choruses and a serpentine, howling solo arising from the maelstrom.
SELECTED TRACK: Ann Klein, 'Real Love,' from Tumbleweed Symphony
But what this album reveals that maybe has not been so obvious in Ms. Klein's career as a supporting musician is her seemingly natural affinity for country music. Allison Cornell's feisty backwoods violin kicks off the opening track, "Tango Wrangler" ("about a cowboy who likes to dance," says a press release accompanying the album), but the track makes a quick left after those few opening bars and turns into a stomping, hard-edged treatise that has something in common with latter-day Rodney Crowell songcraft and would also sound right at home on a Dixie Chicks record, right down to its fuzzed-out guitar solo. That's only a teaser, though, a little taste of country in a fiery soundscape. More to the point is her country-inflected ballad "Real Love," a lovely, romantic, lilting billet-doux made all the more effective for the seductive tenderness in Ms. Klein's soft voice—she goes someplace vocally here that sounds real and natural, whereas her rock vocals are more studied. Almost on a par with "Real Love," "Rocking Chair" is an easygoing shuffle set to her finger-picked acoustic, brush drums, and David Mansfield's atmospheric dobro (and a heart tugging fiddle solo by Allison Cornell near the song's close) with a touching lyric about a family heirloom that has served honorably through several generations of her family history, and Ms. Klein sings it in a heartfelt alto so plaintive you might think she just came down from the hills. As out of left field as these tunes may seem, are they any more so than the diversionary tactic that is "Remember to Forget," with its sad lyric concerning the ways a woman learns to banish the pain of a breakup, set to an arrangement featuring a soft B3 underpinning and a subtle slide guitar moaning as Ms. Klein tells the tale in a lush, sexy voice reminiscent of Debbie Harry circa early Blondie?
SELECTED TRACK: Ann Klein, 'Rocking Chair,' from Tumbleweed Symphony
In the music business versatility can be more a hindrance than a blessing, since it can render an artist unclassifiable in an industry built on pigeonholing talent instead of nurturing it. On the one hand the country-rooted songs here are so strong you almost wish Ann Klein would head completely in that direction, since she seems so at home there. On the other, to paraphrase Scarlett O'Hara, we'll think about that tomorrow. Right now, Tumbleweed Symphony is a moment to celebrate.