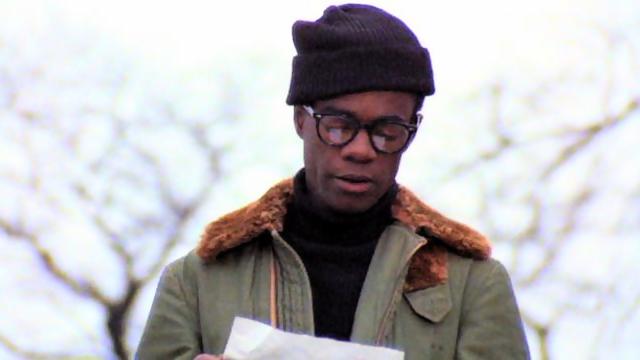 The idea is not original to Deep Roots, except for our singular focus on musical performances as presented on Facebook. If you dig through the viewer comments, it's not unusual to find a gem or two from people that have been deeply touched by a particular song at a particular time in their lives and leave a thought about their experience. One late night we were watching one video when Bobby Vinton's "Blue on Blue" came up in the options listed in the right hand column. So we started following "Blue on Blue" deeper into YouTube and checking out viewer comments along the way. Here's a sampling of some of the most memorable we encountered on our journey.
'BLUE ON BLUE,' BOBBY VINTON, written by Burt Bacharach & Hal David (#3, 1963)
Larry EF: My girlfriend broke up with me in the spring of 1963, my first love. I joined the service immediately after and this song always reminds me of her 51 years later. Wonder where she is?
'ROSES ARE RED (MY LOVE),' BOBBY VINTON, written by Al Byron and Paul Evans (#1, 1962)
Bonnie Schoeneman: reminds me of my sister…she loved him. I miss my sister…RIP Patti.
zrieqi58: My youth–where did the years go??? I was a little girl listening to the radio when this came on–I couldn't wait to be grown up with a date of my own….
THE RIGHTEOUS BROTHERS (BOBBY HATFIELD, LEAD) WITH A LIVE VERSION OF 'UNCHAINED MELODY, written by Alex North and Hy Zaret, produced by Phil Spector (#4, 1965)
mylifeisJDM: Oh how I want to just slow-dance with a girl to this song.
Georgia Baddeley: Back when we still required our pop singers to have some talent..
THE WALKER BROTHERS, 'MAKE IT EASY ON YOURSELF' written by Burt Bacharach and Hal David, arranged by Ivor Raymonde, produced by Johnny Franz (who was also Dusty Springfield's producer) (#1 U.K. single, #16 U.S. single, 1965)
BEARS121: You can be touched by a song, particularly if it aired at just the same time you were suffering a breakup. This great song will speak to you for the rest of your life, reminding you that you once endured one of life's great sorrows.
THE WALKER BROTHERS, 'THE SUN AIN'T GONNA SHINE ANYMORE,' written by Bob Crewe and Bob Gaudio (#1 U.K. single, #13 U.S. single, 1966)
HU₵₵I: This song was playing when Ronnie Kray put a bullet in George Cornell's head at The Blind Beggar pub in Whitechapel, London on 9th March 1966.
Laurel Faletra: all these years later, I can remember so much about those days long ago, yet I can go into another room, or leave my car..go into the store ..and have no idea why I went into another room, and noy remember where in the world is my car!!! Time goes by so fast, something that I used to hear my Mom say so many times,,,,but it doesn't really sink in then..too busy doing this and that..people to see..places to go..now the highlight of my day is just walking from one place to another without feeling pain…well that's a great day!!! R.I.P. Mom and Dad miss you so much
Wah Tenn: The words of this song was how I felt when I got my orders from the Army to report to Vietnam in December 1967.
THE FOUR TOPS, 'ASK THE LONELY,' written by Ivy Jo Hunter and William 'Mickey' Stevenson (#9 R&B, #24 pop, 1965). Background vocals by The Andantes (Jackie Hicks, Marlene Barrow, Louvain Demps)
Robert Sunderland: I thank the Almighty Lord for living while this wonderful group was barking out their music. At 58+ I come back to take a trip down memory lane.
Ray Adams: This song was out the year I graduated form High school….65..66 school year… I went into the Army after that…me and my Army buddies be station in some little fucked up army base town, be in a local juke joint and this song would be playing and tears would almost come to my eyes… I be missing my high school sweetie in college..but the local girls loved us in uniform…they would sooth my grieving heart..I was truly the lonely…
G.C. CAMERON, 'IT'S SO HARD TO SAY GOODBYE' as heard in the final scene of Cooley High, when Preacher (Glynn Turman in a great performance) says goodbye to his best friend Cochise at the cemetery. Song written by Freddie Perren and Christine Yarian for Cooley High soundtrack. (#38 R&B, 1975)
Donna Shinall: "…basketball days and high nights.No tomorrows, unable to remember yesterday. We live for today…" Poignant words to say the least. Wonder who the writer was.
Kathy Hicks: Eric Monte…Same creator/writer that created What's Happenin', Good Times and Sanford and Son…This movie was inspired by his real life in the projects of Cabrini Green housing projects..This character "Preach" was supposed to be him..
Shaun1gza: Saddest part of the movie. I cried like a baby the first time I saw this film. One of the best classic films.
Ray Montez: Miss u Dad know that ur with us tho Your legacy will always be remembered 03-20-02
MegaGoldenleaf: Eyes watered, knees buckled, and an old school "O.G." like me broke down and cried!
Devon Tate: Seeing this made me think about my brother who passed at the beginning of this year january 3rd…I miss you bro
Carol Burns: We just lost our father on Jan. 19. 2013, and this song…is the fabric…of how we loved him so much…especially me because during the times that I washed him, took him on dinner dates…and just spent time with him….those moments I will never forget…him….