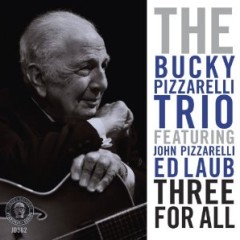 THREE FOR ALL
The Bucky Pizzarelli Trio
Chesky Records
Well how about this? Bucky Pizzarelli is 87 years old and doing that ol' man river thing of just keepin' on rolling along every bit as well as his late buddy Les Paul did it from 1928 (three years after Bucky's birth) up until shortly before his death in 2009 at age 94. On this terrific outing released on the Chesky label, Bucky, born in 1925, teams up with his guitarist compadre Ed Laub, who was born in 1952—there must be some kind of connection there—and his own son and ace guitarist-vocalist in his own right, he being John Pizzarelli, born in 1960 (he missed it!). It is indeed three superior guitar artists conversing amiably with each other within the context of 13 tunes drawn from the Great American Songbook, tunes as timeless as these musicians are melodious, precise, smart and swinging. There are no vocals—the instruments do all the talking—but there is plenty of verve, an abundance of positive energy and frequent displays of jaw dropping virtuosity. As an added bonus, for those listeners into audio quality, Three for All is part of the Chesky Binaural+ Series, which, as a press release accompanying the album claims, is designed to "capture the sound of music as you would if you were sitting in front of the band." Indeed, it doesn't take audiophile ears—and yours truly will be the first to admit to not having them—to hear and appreciate the striking, immediate presence emanating from the speakers, be they computer or home, as this gifted trio makes its way through a classy set of tunes sequenced with clear regard for feeling and flow.
Album promo for Three for All, featuring Bucky Pizzarelli, John Pizzrelli and Ed Laub
It would be nice simply to reprint the informed liner notes penned here by Rich Conaty, the learned and articulate host of "The Big Broadcast" radio show airing on WFUV-FM since 1973. In those notes, concise as they are, Conaty outlines the history behind each number, not only recognizing the songwriters but also the artists responsible for the original recorded versions of these evergreens and in some instances an interesting bit of trivia (noting, for example, how "All The Things You Are" originated in the Broadway score of "a 1939 Jerome Kern flop." Apart from having Conaty sit there with you while you listen to Three for All, his notes make a great companion and might even enhance your appreciation for the respect the guitarists clearly demonstrate for their source material.
 SELECTED TRACK: The Gershwins' 'I Got Rhythm,' from Three for All (Featuring John Pizzarelli & Ed Laub)
Pizzarelli and company chose songs crafted by giants on the order of Kern-Hammerstein II (the sprightly album opening "All the Things You Are," a sunny tune with some nice, moody changes here and there but an occasion for all the pickers to bounce off each other with some single-string runs, striking shifts in texture adding the slightest tinge of melancholy and some playful improvs on the melody line); the Gershwins (the album closing "I Got Rhythm," a jolly, high spirited workout led by a red-hot–presumably Bucky–solo speed picked for maximum breathless effect that draws his mates into a frantic rhythmic fest worthy of the title and winding up with an ensemble flourish of chords that will make you want to stand and cheer their triumphant finale); Jule Styne-Sammy Cahn (a simply beautiful and supremely dreamy exploration of the classic love song from 1945, "It's Been a Long, Long Time," one of those tunes that makes you glad you're alive to hear it, and even without a vocalist the instrumentalists make the song's yearning for his/her love returning from the war near palpable, so delicately do they treat the moment); and Johnny Green-Edward Heyman-Robert B. Sour (a thoughtful rendering of "Body and Soul" that Bucky probes with deliberate, tender restraint before ceding the spotlight to son John, who continues the sensitive rendering as Laub provides steady rhythm support underneath).
 SELECTED TRACK: 'It's Been a Long, Long Time,' from Three for All (Featuring John Pizzarelli & Ed Laub)
Laub takes a bluesy, laconic lead on "Snowfall," Claude Thornhill's 1941 piano composition that became the theme song for his own Claude Thornhill Orchestra and has since been covered almost too many times to count, and by artists on the order of Tony Bennett (who made it the title track of his essential holiday long player from 1968, Snowfall: The Tony Bennett Christmas Album), Henry Mancini, Helen Merrill, George Shearing, Ramsey Lewis Trio, Glenn Miller, Wes Montgomery, et al. One of the key tracks here (as we know from Conaty's notes) is "I'm Confessin'," which began life in 1929 as a Fats Waller recording, credited to songwriters Chris Smith and Sterling Grant, titled "Lookin' for Another Sweetie"; a year later Al Neiburg added new lyrics to music by Doc Daugherty and Ellis Reynolds, retitled it "Confessin'" and sat back as Louis Armstrong made it one of his signal recordings, so much so that Duke Ellington titled his cover of the song "Pop's Confessin'" and tried to imitate Armstrong's vocal style on record. But here there is no vocal, only the guitarists sweetly conversing in a laid-back, bluesy way, with Laub getting more air time over John's easygoing rhythm support. Speaking with Conaty, Laub said the "charm of this album is that both John and I learned from Bucky, and our technique, touch, chord voicing and the voicing of the guitar are so similar. Thus the blend." Indeed, the one non-standard (maybe to become a standard in jazz circles—who knows?) is the title track, "Three for All," credited to all three guitarists, and being an exercise in "the blend" in the way each hands off a phrase to the other and the other takes it somewhere else with an array of chording flurries and lower string ruminations the others pick up and develop before meshing in a witty, bluesy burst at the end that sets up the closing fireworks of "I Got Rhythm." As Laub indicated, Bucky brought out the best in him and John, but ol' man river sounds like their presence fired him up as well. Three for All overflows with life and great spirit, and fellows, a few more like this couldn't hurt.