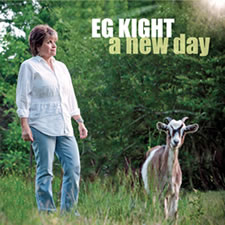 A NEW DAY
EG Kight
Blue South
BELLE OF THE BLUES
Lisa Biales
Big Song Music
When during the course of her fine new album, A New Day, blues mama EG Kight sings "I'm holdin' on/everything I got/I'm goin' strong/since I got another shot/when the sun came up and warmed my face/it felt so good to have another day" (from the album opening testimonial "Holdin' On"); and "don't give up, let the good Lord do His thing/before you know it your spirit will be soarin' again" (from the rousing gospel workout, "Don't Give Up," complete with a festive B3 courtesy Randall Bramblett, a lively church piano outburst by Paul Hornsby supplemented by a spirited call-and-response distaff chorus comprised of Ms. Kight herself and Willie Morris); and "get down, get ride of that frown/the power of music will soothe your soul/let it take you where you need to go" (on the driving "Let's Get Down," a red-hot rocker fueled by drummer Bill Stewart's freight train rumble, some fiery honky tonk piano courtesy that man Hornsby and a scorching, wild-eyed guitar solo erupting from Ken Wynn, while dropping in other similar affirmations and aphorisms along the way, well folks, she ain't, as the saying goes, just bumpin' her gums.
In fact, the story of A New Day is aptly summarized in the opening lyric of the deep blues ballad "Bad Times" (by the way, the artist in question wrote or co-wrote all 10 tunes on this disc), to wit: "We've had some bad times, oh-oh, they were sad times/we've been down and out and had our share of pain/we held on to faith, there'd come a day when we'd see sunshine through the rain" (a duet featuring Ms. Kight in a soulful, affecting dialogue with muscular tenor Greg Nagy on the topic of overcoming adversity together by leaning as one on faith). The unabridged story is in the liner notes, in which Ms. Kight explains her absence since the release of her outstanding 2011 long player Lip Service as being the result of "a life threatening illness (meningitis and encephalitis) and it changed my life. I survived, but I still struggle with it at times. Thanks to the good Lord and my music, I seem to be healing and on my way to a 'new normal.' Every day of my life now is 'A New Day.'"
At the 2014 Blues Music Awards in Memphis, EG Kight (left) and Lisa Biales—aka The Peach Pickin' Mamas—perform an acoustic version of 'Graveyard Dead Blues,' a tune they co-wrote that appears on each of their new albums.
So it's not surprising that many of EG Kight's new songs are double-edged affairs: whatever else they may seem to be about, the spectre of her brush with mortality is ever present. That said, this is largely a moment of celebration for her: "Graveyard Dead Blues," despite its title (it's a Kight co-write with Lisa Biales and Tom Horner), is a gently swinging prenup advisory to her betrothed regarding the fearsome penalty he will pay if he should ever become physically abusive ("I got a stick broom in my kitchen and a big ol' fryin' pan/if you don't want me to use 'em/behave yourself and be my lovin' man"), some words of wisdom keyboardist Mike Harrell punctuates with a breezy, carefree solo; the funky southern soul of "Low Mileage Woman" is a lusty, witty advertisement for herself as a desirable mature lady requiring minimal overhead: "I'm an older model with a solid chassis/I hate to brag but I'm real classy/I need a tune-up but with a little attention/you can have me in mint condition." And then there are the aforementioned "Holdin' On," "Don't Give Up" and "Let's Get Down." Adding a little texture, she offers the piercing heartbreak blues of "Comin' Down With the Blues," a powerful vocal performance, aggrieved and aching, in which the pain of losing her man is near palpable and further enhanced by Ken Wynn's stinging guitar; and the seething blues-rock of "Misunderstood," a lonely woman's confession of "looking for where I belong" while admitting to being her own worst enemy; still, she believes, as stated in one of those double-edged sentiments, "I gotta have faith/a change will come around.' And sure enough, by song's end, it's sunrise again: "With his lovin' touch, I feel so much/what I been lookin' for has come along/I found what I needed, I can't believe/I'm happy and don't have to pretend/my head is clearer, I like the girl in the mirror…I know I can be good, I've been misunderstood."
SELECTED TRACK: EG Kight, 'Bad Times,' from A New Day. Guest vocalist: Greg Nagy; Bill Stewart (drums); Marshall Coats (bass); Tommy Talton (guitar); Paul Hornsby (Piano, B3); Cliff Meyers (tenor sax); Marcus Henderson (alto sax); Earl Ford (trombone); Jerry Mullins (trumpet)
It may be a new day for EG Kight but she knows what brung her here. In addition to ace producer/keyboardist Hornsby, she's reassembled many of the same southern rock hall of famers that enlivened and energized Lip Service, including Randall Bramblett, guitarist Tommy Talton (who has several striking solo moments here), drummer Bill Stewart, trombonist Earl Ford and alto sax stalwart Ma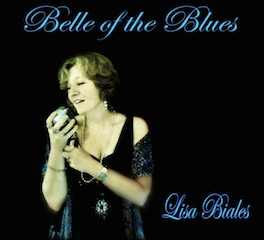 rcus Henderson. Though she says some of these songs were written prior to the onset of her illness, she feels, quite rightly, that the new ones "seem to flow from a deeper place." She's made art of a horrific experience, looks as healthy in the cover photo as she sounds on the disc and in all respects serves notice here of being back in the game in a big way.
As if A New Day weren't enough new EG Kight, it turns out she's had a major hand in shaping the sharp new album from another veteran blues woman. Lisa Biales's Belle of the Blues is co-produced by Ms. Kight and Paul Hornsby; seven of the 11 tunes are EG Kight co-writes (mostly with Tom Horner or Richard Fleming); Ms. Kight sits in on harmony vocals on a few tunes (when they sing together they call themselves "The Peach Pickin' Mamas") and joins Ms. Biales in a lowdown, acoustic-driven duet on Memphis Minnie's "In My Girlish Days" that concludes with the two gals' voices uniting and soaring into the stratosphere in an impressive display of vocal brio. And if you check the musician credits, you'll see Ms. Biales is backed by, oh, Tommy Talton, Randall Bramblett, Bill Stewart, Paul Hornsby, Ken Wynn and bassist Johnny Fountain (who also appears on A New Day). This isn't the first time around for Kight and Biales: the former produced the latter's acclaimed 2012 album Just Like Honey, and on balance you'd have to admit these two have some incredible synergy going for them.
Lisa Biales, 'Bad Girl,' a co-write by EG Kight, Tom Horner and the late Ann Rabson, from the EG Kight-co-produced Belle of the Blues. Randall Bramblett on B3, Ken Wynn on lead guitar, Tommy Talton on acoustic and slide guitars.
Ms. Biales kicks off the festivities with the bright and bouncy "Belle of the Blues," a swinging little nugget that might well become her theme song. In a voice clear and strong, she takes flight as the band kicks in behind her, Talton (he of the fabulous '70s southern rockers known as Cowboy) fashioning a complementary solo on acoustic guitar as Pat Bergeson wails on harmonica. A true force of nature as a ballad singer, Ms. Biales wastes no time in proving this assertion with her deliberate, aching take on the Kite-Horner heart wrenching blues ballad of lost love, "Sad Sad Sunday," with Bramblett's B3 and Talton's dobro adding atmospheric heft to the emotional vocal reading. Shifting from sad to sultry, she tries to convince us her man makes her "do bad things when you hold me late at night," although her flights into the upper register suggest the woman doth protest too much; and once again, Bramblett on B3 and Talton (this time on slide guitar) add instrumental touches that serve to emphasize the lust at the root of the singer's angst.
At the studios of Blues Radio International, Lisa Biales performs EG Kight's 'Trouble,' a tune featured in a band version on her new album, Belle of the Blues
These band numbers, and others here (especially the saloon-style blues of Kight's "Muse"), are terrific but Belle of the Blues elevates to a higher spiritual and musical plane with a five-song set-within-the-sequence beginning with "Graveyard Dead Blues" (yes, Ms. Kite's song, as heard on A New Day but preceded on disc by Ms. Biales's version) and concluding with "Black and White Blues," a slow groovin' capsule portrait of Bessie Smith written by blues historian Dalton Roberts. These are the album's more stripped-down songs, with Ms. Biales backed on three of the tunes only by Talton's acoustic and slide guitars, Bill Stewart's drums and a bass (Tommy Vickery and Johnny Fountain); on two others Hornsby adds laid-back blues piano; and over it all Biales sings with an innate understanding of the grooves and the import of the lyrics. The temperate beauty of "Baby Won't You Please Come Home" is not about Bessie Smith but is in fact one of Bessie's tunes, written by Clarence Williams; Ms. Biales gives it a soft, wistful reading, with a tiny, seductive cry in her voice when she pleads "Baby, won't you please come home" hinting strongly at what's awaiting him upon his return. The aforementioned "In My Girlish Days" spotlights Talton's slide shadowing the sturdy but chagrined vocal in which the singer looks back ruefully on her youthful indiscretions. With Talton on acoustic and dobro, Vickery on bass and Bergeson on harmonica, Ms. Biales smoothly navigates the Kight-Fleming double-entendre advisory "Peach Pickin Mama" about keeping your man to yourself while seeming to delight in noting how fine her "peaches" are compared to anyone else's, an observation Bergeson's trebly, juking harp lines had been saying all along.
From there the album returns to the full band lineup for a big finish of Kight-Fleming's rowdy "Trouble" ("I put the wild in the wild, wild west") with those Peach Pickin' Mamas blending voices on the gospely harmonies as Hornsby and Ken Wynn take off on frisky jaunts on piano and acoustic slide, respectively; and the stomping album closer, "Bad Girl" (a co-write by Kight, Tom Horner and the late Ann Robson), an unapologetic homage to the pleasures of the flesh her man provides her, featuring star solo turns for Bramblett on B3 and Wynn on electric guitar during the song's rousing finale. For Lisa Biales, working with EG Kight has resulted in two of her finest albums; for her part EG Kight seems energized by the collaboration but the really good news is that she's here to enjoy it and to add her own two cents' worth into the mix with A New Day. As Bob Luman put it so eloquently back in 1960, "Let's think about living, let's think about life."