'a signature sound is intact…'
TRIN-I-TEE 5:7 ACCORDING TO CHANEL
Chanel
Obsidian Records (release date: June 17, 2014) 
Chanel's solo debut, Trin-i-tee 5:7 According to Chanel, deserves the superlative "CD Most Likely to Be Released as Vinyl."
The art design by Shamael Lataillade focuses on paisley-bracketed images of Chanel Haynes Schwartz and a record player so old it still bears the 16 speed. The CD is deigned to look like a 45 rpm record, and indeed the songs, all with one word titles, are radio-sized and have the punchy drive of 1970s and 1980s soul hits. So I wouldn't be at all surprised if the CD shows up for sale in vinyl format.
The album's first six songs—-let's call them side one—-have the most gospel/inspirational appeal. On her new single, "Repay," Chanel conjures up the chesty voice of Anita Baker as she wonders aloud about all the friends who are gone. "It could've been me, dead and gone," she opines, but clearly He "has more assignments for me to complete." As a survivor of a February 2014 car rollover crash, I have uttered that same sentiment on numerous occasions.
The album's lead single, "Believe," is a feel good, handclapping song of faith and hope that feels most like Trin-i-tee 5:7, the New Orleans gospel group that Chanel, Angel Taylor, Terri Brown, and later Adrian Anderson formed in the 1990s as a gospel version of Destiny's Child (spoiler alert: without being explicit, a hidden bonus track references how the ladies came together to form the group).
Chanel, 'Believe,' from Trin-I-Tee 5:7 According to Chanel
The second half—-side two, to continue our conceit—-contains lyrics more at street-level than the first half. For example, "Superstar," "Go," and "Larry" employ the drama of life to contextualize the moral that the Supreme Being always watches out for His people, even when we don't always understand the plan.
The production team of PJ Morton, Darion Dorsey and Chanel works very well and ought to join forces again for Chanel's follow-up CD. In particular, PJ and Chanel's capacity and willingness to explore edgy beats and brash arrangements while staying uncannily retro are the reason this album hums.
Trin-i-tee 5:7 may be gone (for good? for a while? who knows) but on Chanel's debut, the group's signature sound is intact, and arguably a mile farther down the experimental road.
Picks: "Believe," "Prayer."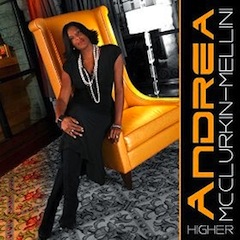 'an accomplished debut'
HIGHER
Andrea McClurkin-Mellini
Camdon Music
www.camdonmusic.com
Sister of gospel star Pastor Donnie McClurkin, singer-songwriter Andrea McClurkin-Mellini is no newcomer to gospel music. She was a member of the McClurkin Singers and a charter member of the New York Restoration Mass Choir. She penned the title track to the family's 2007 Gospocentric album, We Praise You. Still, Higher represents her first full-length solo album, and it is an accomplished debut.
"God Can," written by Pastor Donnie, is the album's radio-friendly single, a song of faith and encouragement with plenty of shoulder swaying swagger.
The album shifts back and forth between rhythm and praise selections such as "God Can," "Have Your Way," and "I Will Lift Up Your Name," and acoustic or more delicate ballads, such as "He Is Good" and the opener, "Are You Washed in the Blood." The latter's lush orchestral arrangement is the ideal setting for this hymn, and Andrea's reading of it is exquisite. To borrow a phrase from the late DJ Alan Freed, it's almost too pretty for radio.
Andrea McClurkin Mellini's EPK for her debut album, Higher
Andrea tosses in some bluesy licks on "He's Always On Time," a song of thanksgiving for "present help in time of trouble." The background vocalists play congregation to Andrea's preacher on this track and elsewhere on Higher. In contrast, "The First Noel" reprises the orchestral feel of "Washed" and focuses the spotlight on Andrea's captivating solo.
The album's multilayered and crystal clear production is a clinic on how to produce a gospel CD. Released in June on Donnie's Camdon Music label, Higher demonstrates what many of us have known all along: Andrea McClurkin-Mellini is a stone singer in her own right.
Picks: "God Can," "Are You Washed in the Blood."
'pop-classical influence amidst R&B and soul flourishes'
JUST BELIEVE
Tim Spady & Inspiration
Tspady Music Productions
Songwriter and keyboardist Tim Spady's new album, Just Believe, is a compilation of songs, most of which deal with faith, endurance, overcoming, and victory through the simple but often difficult act of unquestioning belief.
Spady's calling card is his melodicism: inventive and hypnotic on the opening track, "Joy Will Come in the Morning," and bursting with scrumptious harmonies on the single, "You Give Me." His gospel music contains as much pop-classical influence as it does R&B and soul.
Members of Inspiration handle most of the album's lead vocals. Nneka Best contributes two, the better of which is "Use Me," an offering of above-and-beyond discipleship. Joy Anderson Davis delivers a lovely lead on the title track, which encourages belief even when results are not immediately forthcoming. On "You Give Me," Walt Anderson sounds for all the world like a young Ray Parker Jr. Special guest lead vocalist Vanessa Williams delivers a powerful, emotionally resonant performance leading the way on "God Can," a sumptuous, soaring song of praise.
Just as on his 2011 Songs From My Heart, Spady includes one piano instrumental of a classic hymn. Then it was "Great Is Thy Faithfulness." Here, it is a variation on "The Solid Rock." Both demonstrate his deft touch on piano. He is also the sole accompanist for Mark Collier on "Trust and Believe." Once again, the unfussy lyrics persuade listeners to keep the faith because things are going to get better…if you just, well, you know.
From the new album Just Believe, Tim Spady & Inspiration, with Vanessa Williams on lead vocal
As he demonstrated on Songs From My Heart and now on Just Believe, Tim Spady has a gift for melody. He is a songwriter worth watching and a gifted pianist to boot.
Incidentally, Spady, Best and Chiquita Green, another Inspiration vocalist, can also be heard on Gillian Grannum's 2010 sacred masterpiece, Perfect Peace.
Picks: "You Give Me," "Joy Will Come in the Morning"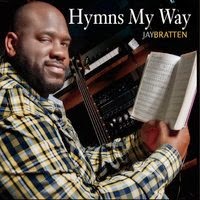 'representing the foundation of church music'
HYMNS MY WAY
Jay Bratten
On Hymns My Way, bassist Jay Bratten, his fellow musicians and a team of guest vocalists offer an hour of instrumental and vocal rearrangements of well-known hymns and gospels that represent the foundation of church music.
The album chugs along from one track to the next, alternating between smooth jazz, new age, easy listening, fusion, and contemporary gospel. The blend works despite the variation in styles.
"Leanin'," known also as "What a Fellowship," is a pick-me-upper with an Earth Wind & Fire meets gospel vibe. It and "Just As I Am" are the closest the album comes to traditional gospel. On the other end of the spectrum are the dreamily majestic and atmospheric "Be Thou My Vision," with its Celtic melody punctuated by blue notes. Dove-nominated vocalist Tammy Trout gives "There Is a Fountain" a country flavor.
"In Christ Alone" is another song Bratten envelops in a Celtic mist. The harmonies and choral touches are exquisite, and the sweet and spicy lead vocal work by Aaron Camper and Kaneisha "NeeCee" Trott, respectively, is spot on.
Bratten puts his bass guitar talent on display on the "Bass Lude" and the smooth "Turn Ur Eyes" where his solo instrumental echoes the singers in a call-and-response segment. A sax wails above, below, and around the melody of "O Magnify."
Bratten's debut album becomes a family affair when his mother Nancy sings "Precious Lord" accompanied by his cousin, William "JB" Bratten.
Hymns My Way succeeds in doing what it set out to do: be different while remaining respectful of the original melodies.
Picks: "Leanin'," "In Christ Alone"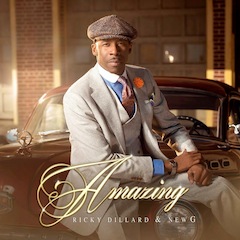 '…in full voice and fine form…'
AMAZING
Ricky Dillard & New G
Light Records/eOne Entertainment
Ricky Dillard was once the young turk on the gospel block.
Beginning in the late 1980s, Dillard and the New Generation Chorale, a Chicago gospel choir steeped in the full-throated tradition of Dr. Mattie Moss Clark, Rev. James Cleveland, and Dr. Charles G. Hayes, offered up high-octane songs such as "More Abundantly" that other choirs were quick to emulate.
Twenty-six years later, Dillard is a member of a circle of venerable choir directors that includes Pastor John P. Kee, Hezekiah Walker, and the late Thomas Whitfield.Amazing, recorded live last year on the choir's 25th anniversary, pays tribute to New G's journey while emphasizing the role that grace has played in its ascendance.
The album showcases Dillard's signature big, round, dense chords that are now the paradigmatic gospel choir sound. But it's Le'Andria Johnson who steals the show with her solo on the mid-tempo "Always There." It's the perfect combination: a well-written gospel song of encouragement led by a young woman with the voice and personal experience to become one of this generation's greatest gospel singers. The song has the makings of a sure-fire radio hit. Rick Robinson's "Be Weak" is another well-crafted gospel song with a simple melody and effective message.
Chicago's Pastor DeAndre Patterson teams with Dillard to remind listeners that "your delay is not your deny" on JJ Hairston and Eric Davis's "I Believe." Byron Cage solos on "Grateful," a ballad of personal gratitude to God for all He has done.
"The Covenant Medley," with its whirring B3 and bevvy of female soloists (including Le'Andria Johnson) concludes the CD with a dramatic thirteen-plus minute exposition on the album's recurring theme of the impact of grace in one's life. It is a fitting conclusion to the album.
Amazing is quintessential Ricky Dillard & New G in full voice and fine form.
Picks: "Always There," "Be Weak."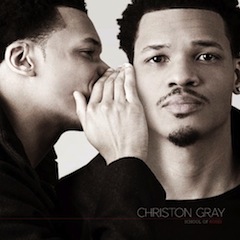 'the most unusual, and most cerebral, inspirational project'
SCHOOL OF ROSES
Christon Gray
Collision Records
Christon Gray's School of Roses may be the most unusual, and the most cerebral, inspirational project you have ever heard.
It's less gospel in its typical structure and more a personal testimony, an album of high hip hop drama clearly designed to be listened to start to finish, rather than as interchangeable singles or selections. The music and lyrics are moody and introspective. An aura of deep regret and an unending desire for redemption permeates every note.
The struggle for God and salvation is not taking place in church but in the day-to-day activities of Christon Gray. The singer scores himself as a troubled soul, his struggles with maintaining personal relationships just one example of a fly life spun out of control. He is also human, his guilt a death wrap so heavy that he seeks redemption, however out of reach it may sometimes seem.
Indeed, Gray adds a disclaimer to the album: "This is NOT our album written to purposely avoid Jesus in every song with the HOPE to get acclaim and break MAINSTREAM. Who cares about that? Seriously, please do not put us in that box. The content is written in such a way where you have to get through Christon's mess and faults, as well as yours, in order to appreciate the love of Christ that is at the END of the album–-'Arena' is the culmination. We are forcing all listeners to listen to the whole album or do not listen at all.  o, like the Bible, the full culmination of Jesus' message is realized in Revelation: the new heaven and the new earth, not in Genesis."
Christon Gray, 'Hello or Goodbye,' from the album School of Roses
The most ominous track, and arguably most melodically breathtaking, comes near the end.  "Roses 103—Ghost" finds a frightened Gray confronting and closing the door on a torturous past. With its Coldplay-like layers of sound, the hypnotic "Arena" is the relief at the end of a long process of redemption. "I still don't see the worth that you see in me/But you would trade the world just to be with me."
Gray sings in a flexible falsetto tenor that is ideal for the electro-hip hop soundtrack and for a soul crying out. An acoustic piano's haunting introductions and interludes turn up the tension that encompasses the album. School of Roses is the aural equivalent of emerging, drenched with perspiration, from a sin-sick fever into the light of a better day.
Picks: "Roses 103—Ghost," "Arena (The Final Hour)"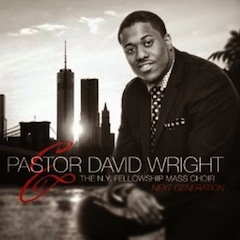 'a rallying cry in the 'Bring the Choir Back' movement'
NEXT GENERATION
Pastor David Wright & the N.Y. Fellowship Mass Choir
Godfather Records
Recorded live at Brooklyn's historic First Church of God in Christ, Pastor David Wright and the N.Y. Fellowship Mass Choir's Next Generation does more to preserve the legacy of Bishop Timothy Wright than any of their music projects to date.
Several songs on the album are in fact Timothy Wright compositions. One of the most popular, "Jesus Jesus Jesus," closes out the CD. "Come Thou Almighty King," "Presence of the Lord," and "Who's On the Lord Side" are also reprised on Next Generation.
Whether contemporizing old hymns such as "What a Friend We Have in Jesus," or stomping it out on "Praise Him"—-Chrystal Rucker alternating between sweet notes and all-out squalls-—the full-voiced, joyous mass choir and a team of soloists demonstrate fealty to the larger-than-life sound advocated by the late Mattie Moss Clark and the Church of God in Christ Music Department.
Soloists of note on the album besides Rucker include John P. Kee, whose lead on "You Are God Alone" makes the David Wright-penned song sound like a New Life Community Choir selection. Danielle Kelley sings the glory down on "Who's on the Lord's Side," Shawn Bigby's expansive vocals glisten on "Thank You," and Andre Byrd's almost seductive style on "How Can I Forget" elicits more than a few female shrieks from the audience.
Pastor David Wright & The NY Fellowship Mass Choir, 'Made It Through the Storm,' a tribute to the survivors of Hurricane Sandy
The most engaging moments on the album belong to "We Made It Through the Storm." Declared a tribute to the survivors of Hurricane Sandy, the track includes interludes by The Seal Breakers, a shout band with roots in the United House of Prayer for All People. Shout bands are recorded so infrequently it is a joy to hear them whenever we can.
The husky, raw voice of Pastor David Wright, Bishop Timothy's son, is ever present throughout Next Generation, an album that is a rallying cry in the "Bring the Choir Back" movement.
Picks: "Praise Him," "We Made It Through the Storm."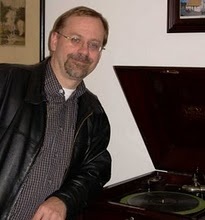 Bob Marovich is a gospel music historian, radio announcer and author. His "Gospel Memories" radio program of vintage black gospel music and artist interviews airs live first Sundays from 3 a.m. to 7:30 a.m. on Chicago's WLUW 88.7 FM, and streams live at the station's website. Snippets of recent broadcasts can be heard online at the Gospel Memories Radio Show. Bob is also the founder and editor of The Black Gospel Blog, the source for the reviews published here.