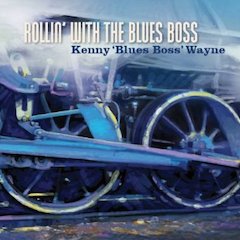 ROLLIN' WITH THE BLUES BOSS
Kenny 'Blues Boss' Wayne
Stony Plain
If you're wondering where you can find an album to foster some no-frills good rockin' tonight, look no further than Kenny "Blues Boss" Wayne's ingratiating new long player, Rollin' With the Blues Boss. Ruling the keys with grace, style and soul (the keys include piano, electric piano, hamming organ, Rhodes and clavinet, each expertly deployed in giving the album its many-textured flavor), the Blues Boss sums up his aims here in a couple of original songs: the slinky, horn-infused groove of "Slow Down" (with Sherman Doucette's country-tinged harmonica howls adding an unexpected atmospheric touch to the blues festivities) propels his message to the world to take a breath and enjoy the moment ("there's a clock that you can't beat/so take a load off your feet/so slow down and smell the roses" is one of the smooth-voiced Wayne's gentle suggestions), whereas the righteous New Orleans groove and Wayne's rippling Professor Longhair piano quotations of "Keep On Rockin'" make a creed of his personal manifesto to push on doing what he loves doing, even if others tell him it's passé, an idea many of us ought to take to heart.
Rollin' With the Blues Boss is simply a cool album, from the strutting opening number, "Leavin' in the Morning" (with co-producer Tom Lavin spicing the proceedings with some stinging B.B. King-style punctuations as the Boss man matter of factly informs his significant other of his intention to take a powder, under cover of darkness, "way before the rooster crows") to the exuberant outpouring of boogie-woogie on the album closer, the aptly titled "Out Like a Bullet" (with drummer Loren Ekin right there with Wayne maintaining a breathtaking pace until he drops out about midway through when Wayne, with only Lavin clicking and clacking behind him on what sounds like spoons, cuts out on a most furious rollin' and tumblin' interlude akin to the last of the Kansas City Blue Devils going toe-to-toe–or right hand-to-right hand–with the Crescent City's good Professor and James Booker, the Bayou Maharajah). Oh, you may find yourself thinking, as did your faithful friend and narrator, that you've heard one or the other of the songs before, so similar are their melodies (the Boss man's only perceived weakness is melodic variety), but our man is not trying to compete with Rodgers and Hart, or Johnny Mercer and Henry Mancini; on Rollin' With the Blues Boss, what carries the day is Wayne's personality, his incomparable musicianship and, underpinning these attributes, his sense of humor and his love for his art. The second cut, the funky "You Bring the Jungle Out of Me," begins with jungle sounds that may have listeners of a certain generation thinking they're into a cover of the Cadets' immortal "Stranded in the Jungle." Instead, with a melody similar to that of "Leavin' In the Morning," it seems like the next chapter of a saga, with this one centered on the protagonist's confession of being head-over-heels in love, to wit: "You bring the jungle outta me/I don't know what else it could be" and "I feel like Tarzan swingin' tree to tree," as the horns emulate the sound of elephants' trumpeting vociferously in the background.
From Rollin' With the Blues Boss, Kenny 'Blues Boss' Wayne in a an embittered duet with Diunna Greenleaf on 'It Ain't You'
From Rollin' With the Blues Boss, Kenny 'Blues Boss' Wayne's 'Keep On Rockin''
One of the major highlights here comes with the guest appearance of Diunna Greenleaf on a '70s-style soul-blues ballad, "Baby It Ain't You," which is in effect a dialogue between two embittered lovers going in different directions: Wayne admitting he screwed up and is to blame for undermining the relationship with his wayward eye, Greenleaf in his face declaiming against the wrong he done her and proclaiming her new life with a man that gives her what she's always wanted and "baby, it ain't you." Both artists give memorable performances, Wayne's as remorseful as Greenleaf's is mercilessly unforgiving, their wrenching dialogue playing out over the contrasting silkiness provided by a female backing chorus. The great Eric Bibb, the album's other headline guest, takes the accusatory lead in a boogie-woogie duet with Wayne on "Two Sides," a joint, piano-driven complaint lodged against a woman always sending mixed signals to her man: "One day you say I'm right/next day you say I'm wrong/'cause two sides of you can't get along," and variations on that theme with Bibb also stepping out mid-song with a frisky acoustic guitar solo.
From Rollin' With the Blues Boss, Kenny 'Blues Boss' Wayne's tribute to the after-hours jams back in the day in Kansas City
Apart from these moments Wayne gives his horn section a spotlight moment on the bopping "Ogopgo Boogie," chiming in with a lively right-hand excursion across the 88s himself; offers a smidgen of topicality in the pumping "I Can't Believe It," a horn-driven, dance floor-ready broadside about identity theft; and recalls the Kansas City blues piano giant Jay McShann telling him about after-hours jams called "hootenannies" (decades before the term became associated with the folk boom of the '60s) as a prelude to a buoyant tribute to those titans of old, "Hootenanny Boogie-Woogie." Wayne's "Roadrunner" is not related to the like-titled Jr. Walker classic but is rather a driving soul workout about a gent that can't stay in one place very long, his wanderlust embodied by Lavin's upper neck lead guitar lines snaking around the melody line like a second voice to the Boss man's. Good work all around: to paraphrase Johnny Mercer's "A Conversation While Dancing," the Boss man is a solid sender and his band a real ear-bender.  You dig?