It's the first Sunday of the month, which means a student or just-starting-out illustrator here at 7-Imp. Today, I welcome Brooke Boynton Hughes, who has already illustrated one children's book and is working on a handful of others now but is still relatively new to the field. It's a pleasure to share some of her artwork today. Let's get right to it, especially since Brooke gives us a few words of introduction.
Brooke: I've wanted to illustrate children's books ever since I was little. When other kids my age were moving on to middle-grade books, I was still poring over picture books. I loved reading, but I was especially enthralled by visual storytelling. As a kid, I spent a lot of time drawing and becoming engrossed in whatever visual world I was into at the time. There were a couple of years where I drew almost nothing except for tree houses, and there was the year of underground rabbit houses. The imagined worlds that I created in my drawings felt really real to me. I guess I loved, and still love, residing in imagined worlds.
I attended Colorado State University where I earned a BFA in printmaking. In 2006, I received an MFA in figurative art from the New York Academy of Art. I concentrated on drawing and relief printmaking and made a lot of woodcuts that focused on folktales. Today, I use pen and ink and watercolor on Arches 140 pound hot press watercolor paper to create my illustrations.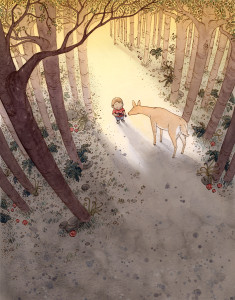 In 2005, while still in grad school, I joined the Society of Children's Book Writers and Illustrators and began attending their conferences. I've learned so much from SCBWI and have met most of my close friends at SCBWI conferences.
This summer I've been working on putting the finishing touches on Baby Love, written by Angela DiTerlizzi and published by Beach Lane Books. Baby Love (pictured below) will come out next Spring.
I've started on the illustrations for the second book in a middle-grade series, called Cupcake Cousins. The first Cupcake Cousins book, written by Kate Hannigan and published by Disney-Hyperion, came out at the beginning of May. I'm starting on the illustrations for a picture book titled MORE!, written by Linda Ashman and published by Random House. I'm also working on two book dummies of my own stories and am getting ready for this year's SCBWI Summer Conference.
Some of my favorite books when I was little were The Little Moon Theatre by Irene Haas; Where's Wallace by Hilary Knight; The Clown of God by Tomie DePaola ; and The Grey Lady and the Strawberry Snatcher by Molly Bang. Oh, and I can't leave out How Tom Beat Captain Najork and His Hired Sportsmen by Russell Hoban and illustrated by Quentin Blake! And just one more: Come Follow Me by Gyo Fujikawa. I spent so much time with that one that the binding broke and the cover fell off.
Thank you so much for sharing my work, Jules.
Jules: Thanks to Brooke for visiting. Because she gave me permission to pull more images from her website, I'd like to share these, too. The last two are my very favorites: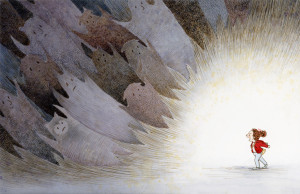 (Ed. to Add: For more information and artwork, don't miss Brooke's recent interview at Kidlit411)
All images used with permission of Brooke Boynton Hughes.