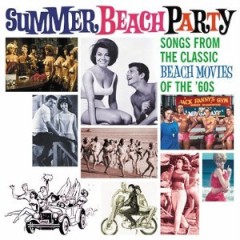 SUMMER BEACH PARTY
Songs From the Classic Beach Movies of the '60s
Various Artists
Varese Sarabande
When it came to the music in the various Beach Party movies—not only the iconic nine released by American International Pictures (most starring Frankie Avalon and Annette Funicello) but also beach-centered flicks from Warner Bros. (Palm Springs Weekend, 1963) and MGM (Get Yourself a College Girl, 1964)—the phrase "from the sublime to the ridiculous" is so apt. Every stilted Avalon performance seemed to produce an equal and opposite reaction of a tougher-edged nature from the likes of Dick Dale & His Del-Tones, who would rip the joint with "Secret Surfin' Spot" while spotlighting Dale's ferocious guitar and sheer animal magnetism, or Little Stevie Wonder, who righted the floundering ship of 1964's Bikini Beach with a stabilizing workout on "Happy Feelin' (Dance and Shout)" and returned that same summer in Muscle Beach Party (which boasted the virtue of a Boris Karloff cameo) with "Happy Street." Get Yourself a College Girl is an unjustly near-forgotten entry in the beach movie genre, perhaps because it's only tangentially about teens frolicking and lusting in the sand and sun, but it had a blockbuster music lineup, including the Dave Clark Five, The Animals, The Standells, '50s jukebox musical holdovers Freddie Bell & the Bell Boys (with Roberta Linn), the great jazz organ player Jimmy Smith with his Trio, plus Stan Getz and the stunning Astrud Gilberto (performing, yes, "The Girl from Ipanema"). The cast, led by Nancy Sinatra, Chad Everett and Miss America of 1959 Mary Ann Mobley, also included, in a non-singing role as Donnie, one Donnie Brooks, he of the sweet 1960 pop hit "Mission Bell."
The Tiger's loose! Dick Dale & Hit Del-Tones, Swingin' and A-Surfin',' a Gary Usher-Roger Christian tune featured in Beach Party (1964)
'Where the Gremmies and the Ho-Dads never go': Dick Dale and His Del-Tones' 'Secret Surfin Spot, from the Tiger's 1963 Checkered Flag album, was featured in Beach Party (1964)
Summer Beach Party's 19 tracks (some being released on record for the first time) are focused largely on the American International Pictures (AIP) beach releases—so no "Girl from Ipanema," no Animals doing "Around and Around," no DC5 doing "Whenever You're Around," no Jimmy Smith Trio with a cool instrumental, "The Sermon." Before anyone goes trashing the frothiest of this disc's entries, however, bear in mind that AIP did enlist a seasoned team of musicians/arrangers/producers/songwriters to craft its beach movie soundtracks. Les Baxter, whose career began in 1945 when he joined Mel Tormé's Mel-Tones and sang on Artie Shaw recordings, composed some of the original scores. In 1950 he joined the Capitol label and conducted the orchestra on Nat King Cole's "Mona Lisa" and "Too Young" hits while also fashioning a successful solo career with instrumental hits such as 1956's "Poor People of Paris" (a tune as omnipresent that year as "Happy" is this year, but much less annoying) and a series of concept albums that now credited with being seminal documents in the Exotica genre. How did he wind up at AIP, working on B movies? Seems Les clashed with Capitol's producer/arranger titans Nelson Riddle and Pete Rugolo, both of whom claimed Baxter had not written the material he was taking credit for. Baxter later dismissed these charges as being part and parcel of a smear campaign, but the end result was his friend Bronislaw Kaper getting the plum soundtrack assignments while Baxer headed for Beach Party notoriety. Complementing Les in the AIP music department were three legit names in the burgeoning surf music world: songwriters Gary Usher and Roger Christian (both of whom would strike up  close associations with Brian Wilson in those years) and the Tiger himself, Dick Dale. Resident AIP songwriters Guy Hemric and Jerry Styner ably supplemented this trio.
From Ghost In the Invisible Bikini, Nancy Sinatra, backed by the Bobby Fuller Four, rocks out on 'Geronimo' (1966)
Donna Loren, 'It Only Hurts When I Cry,' written by Guy Hemric and Jerry Styner, produced by Al Simms and Tutti Camarata. From Beach Blanket Bingo (1965).
Still, Summer Beach Party, the CD, is missing one crucial element, namely Annette Funicello, who is represented with but a single, obscure cut, Hemric and Styne's "Pajama Party," the lively title song of the fourth (and arguably most obscure) AIP beach movie (originally titled The Maid and The Martian, it became Pajama Party in an 11th-hour decision on the studio's part, necessitating a quick title song rewrite by Hemric and Styne—"we were what you might call…versatile," Hemric says in the liner notes). At least the track was produced by Tutti Camarata, the man who steered all of Annette's studio work and developed her from a neophyte, monotone vocalist into an appealing, personable recording artist who tackled more exotic material than any other teen idol of the day. Perhaps there was a licensing issue, but including Frankie Avalon's solo single release of "Beach Party," instead of Frankie and Annette's spirited duet as seen in the movie's opening sequence, seems like, well, cheating. Annette, America's sweetheart, represented by only "Pajama Party"? Not even by one of her two swooning love songs from Beach Party, the cringe-inducing "Treat Him Nicely" and the gently swinging "Promise Me Anything (But Give Me Love)," a terrific Camarata production with lovely strings and the clever use of Annette's multitracked voice singing counterpoint to her lead vocal? Really now.
The Astronauts, 'Surf Party,' recorded live in 1963 at Denver's Club Baja, the title track of 20th Century Fox's 1964 beach movie entry.
Jan and Dean, 'Ride the Wild Surf,' title song from the 1964 movie (and #16 pop single of the same year)
But then…but then…look what is here: Dick Dale with "Secret Surfin' Spot" and "Surfin' and A-Swingin'," two Usher-Christian surf rockers (the latter appearing on CD for the first time) from Beach Party that Dale roars through with impunity; Jan & Dean's ferocious take on the title track from Columbia Pictures' 1964 beach entry ('64, the year of the British Invasion, was also a very good year for the beach party film genre), Ride the Wild Surf, a musical evocation of big wave surfing almost without parallel in the surf music genre, dramatically realized in song by Jan Berry, Brian Wilson and Roger Christian; the shaven-headed Pyramids with a stomping instrumental, "Record Run," that was in fact Usher's rewrite of his vocal song "Custom Caravan" and features a slice-and-dice, treble-heavy guitar solo comparable to Dick Dale's most fevered outpourings; a punishing, powerhouse instrumental, "Surf Party," by The Astronauts (listen for the guitarist's interpolation of the descending "Pipeline" riff amidst the fury of it all); from '65's A Swingin' Summer, the Rip Chords of "Hey Little Cobra" fame checking in with a cool Roger Christian-Terry Melcher car song co-write of "Red Hot Roadster," with a lead vocal by Melcher (who, along with Bruce Johnston, was enlisted as a Rip Chord for the recording session; in the movie the actual touring Rip Chords are seen performing the tune in what is their only screen appearance ever); from Ghost in the Invisible Bikini, Nancy Sinatra, in her second beach film appearance but first singing role, swaggers with "Boots" attitude through Hemric-Styne's "Geronimo," a sizzling Camarata production (in the movie Nancy performs the song at poolside, backed by the Bobby Fuller Four); and not least of all, certainly not least of all, from Paramount Pictures' 1965 Girls On the Beach (aka Beach Girls), the Beach Boys with their beautiful, melancholy-tinged Mike Love-Brian Wilson monument of a title track, culled from the band's 1964 album, All Summer Long. Also, it would be unfair not to mention Donna Loren, aka The Dr. Pepper Girl (a counterpart to Pepsi Girl Joanie "Johnny Get Angry" Summers), seeing as how she has three tracks on this CD, outranking Dick Dale as most featured artist. Certainly easy on the eyes and a credible actress, Ms. Loren shows off her impressive vocal strength in belting out "Love's a Secret Weapon" and delivers an affecting portrayal of embittered heartbreak in "It Only Hurts When I Cry," in which her teen angst is set to a throbbing Spector-like Wall of Sound arrangement–yet another memorable Tutti Camarata production. (In the entire beach movie genre perhaps no scene is more fraught with Freudian implications than the one in which Ms. Loren sings this tune in Beach Blanket Bingo–while expressing her lingering affection for the guy who dumped her, she's roasting a frankfurter in a fireplace–and when the song ends she pulls it from the fire and it's burned to a crisp, a development the singer finds most amusing. Ouch!) Try as she might, the song "Muscle Bustle" simply doesn't give her much to work with lyrically and frankly raises the question as to why something more inspired, say "Surfer's Holiday" (with Frankie, Annette and Dick Dale all on the track), couldn't have been included instead.
Annette, Frankie and Dick Dale & His Del-Tones get it going on 'Surfer's Holiday' from 1964's Muscle Beach Party (conspicuous by its absence from the Summer Beach Party CD)
The Beach Boys, 'The Girls on the Beach,' from the group's All Summer Long album (1964), was the title song for Paramount Pictures' 1965 beach extravaganza also featuring Lesley Gore, who caught rubella before filming began and infected most of the crew
Yes, the essential tracks here can almost all be had elsewhere but Summer Beach Party is, in the end, a lot of fun. And for a certain generation, the memories of the world it recalls may well be sweet indeed, even if the music gets a little too saccharine at points. Does anyone hear American Graffiti's John Milner grousing, "Rock 'n' roll's been goin' downhill ever since Buddy Holly died"? If so, you'll want to pass on this disc; but if your inner teen is still alive and can be touched by the simplicity, innocence and bonhomie of these performances, you'll find the price of admission well worth it.