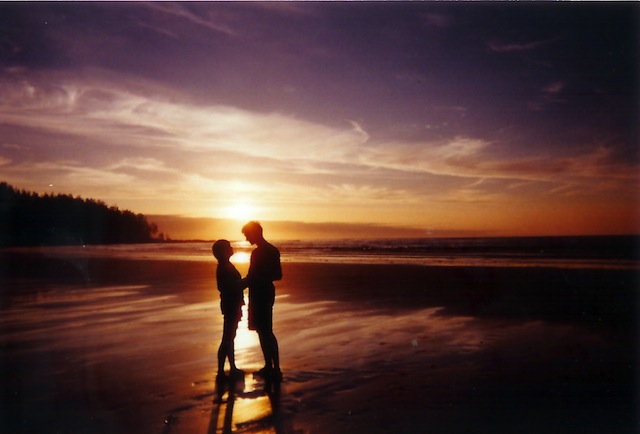 Little Things
'…the romance that was rekindled will burn for a long time'
By Colleen
It's been a long cold winter and I'm so glad it is over. There didn't seem to be much sunshine this year. Somehow when the sun stays away for such a long time the mood of the people around you starts to turn just as grey. When you add gloomy people to a gloomy day you really end up wishing you were somewhere else. On those days I would dream of Hawaii and my last summer there.
It started in May when everything was in bloom and the skies were blue. My husband and I decided that we were going to take the summer off and enjoy ourselves. We arranged for someone to watch the house and since we had saved our vacation time up we were able to be gone for the whole summer. And what a summer it was! Romance was in the air and we were totally affected by it.
We would walk along the shoreline holding hands and kicking up the sand now and then. The twinkles in our eyes competed with the twinkling stars at night, and my husband's smile could light up the dark. We both were able to fully relax and remember why we loved each other. The sweet aroma of the flowers surrounded us as we hiked the trails and explored everywhere. As our skin darkened from the sun our spirits lightened and we fully enjoyed every minute of every day.
'Te Tiare' by Hawaiian Heart
Our days were filled with kayaking, hiking, swimming, and exploring while our nights were full with dancing under the moon and sitting on the beach watching the reflections in the water. He would put his arms around me and nuzzle my neck as he whispered sweet nothings in my ear. I turned my head and smiled up at him as I snuggled closer in his arms. Frequently people would look at us, smile, and ask if we were newlyweds. We usually gave each other a quick look, a smile, and then said yes. After all – it's never been said that you couldn't be newlyweds after 25 years. Our love was just as strong and fresh as it was when we were first married.
Romance doesn't have to disappear with the years. It's the little things that mean so much and are often forgotten. The flowers picked from the garden and put in a vase for you to find when you get home from a long day at work. The little note you find in your pocket that says 'I Love You'. The look from across the crowded room that tells you he can't wait to go home with you. A smile, a caress, a softly spoken word – these are just a few of the little things that are so important.
Our summer in Hawaii had to come to an end, but the romance that was rekindled will burn for a long time. All we have to do is remember the little things.
Dedicated to everyone who reads this.

The Perfect Summer Affair
'I can always close my eyes and find my heart in the blue waters of Oahu'
By Anonymous
In the summer of 1984, my parents sent me to Hawaii for a graduation present. Brimming with eager enthusiasm, I fell for a beautiful surfer named Michael. He was tall, tan, blonde, blue-eyed and handsome. He whisked me around Waikiki and showed me the sights. We held hands down Kalakaua Boulevard, held each other in the surf at Lanikai Beach, and played tennis on the Fourth of July.
'I was sipping an exotic drink when the band started to play 'At Last.' The tears rushed down my face as the long buried memories flooded back. He was the one, my heart said. And I let him go.'
Twenty-one years later, after a whirlwind life that included living in New York, Boston, and Paris, I found myself back in Oahu. I was sipping an exotic drink when the band started to play "At Last." The tears rushed down my face as the long buried memories flooded back. He was the one, my heart said. And I let him go.
I don't have his last name, I only vaguely remember that he returned to Santa Cruz to study medicine. My mind started reeling–if I could somehow find this needle in a haystack, we certainly wouldn't look as we did over two decades ago. Would it be the same?
Perhaps it was better just left as it was–the memory of a perfect summer affair. I can always close my eyes and find my heart in the blue waters of Oahu.
Dedicated to Michael

Dancing Partners
'What music will we dance to?' 'Our own.'
By Anonymous
Every Monday after a day of difficult college classes, I could be found at a beach bar near Atlantic City. I went for one reason–to dance. It was a recently discovered passion and I loved it. The freedom and heart pounding exhilaration was not matched by anything else that I'd yet discovered in my young life.
The band played oldies tunes from the '50s and to kids our age it seemed like fun new music. The first time we pulled up to the parking lot, I could tell this would be an experience–the place was packed and the heavy beat could be felt through our closed car windows. We made our way through the crowds to the edge of the miniscule dance floor. Several people were dancing but I only noticed one. A fellow that I'd seen talking with my roommates in the college hallway. He'd always seemed like a likeable guy but he was amazing on the dance floor. But it wasn't his dancing skills that would catch your eye. He was simply full of life. He absolutely sparkled with it. Early on he caught my stare and pulled me into his circle and suddenly I was dancing and feeling a joy and freedom that I didn't know existed. Who would think that these wonderful old songs were so full of happiness?
From Blue Hawaii, the King with his timeless 'Can't Help Falling in Love' (1961)
From that night on for the rest of that semester and the next, this boy, Daniel and I became dancing partners. Oh, we danced with other people but everyone knew that Daniel and I saved the best songs for each other. Many times the floor cleared when he and I danced together. As the spring semester neared to a close, I felt a little lost thinking of the summer ahead. I would miss Daniel more than I had wanted to admit. We had started running into each other at the college and one day Daniel found me outside the cafeteria looking at the Help Wanted ads. "Hey Holly, I want to talk to you. My job with the restaurant chain is going so well that they offered to send me to Hawaii to be the assistant manager there." I gasped slightly. He continued. "It's just for the summer. But here's what I want you to think about." He cleared his throat a little. "I want you to come with me." He glanced down at the newspaper I'd been reading. "You can work there as well as here. I guess you know that I'm crazy about you. I have a vision of us dancing in the sand under a big Hawaiian moon." I looked into his eyes and felt more alive than I had all day and nodded. I smiled and asked, "But what music will we dance to?" He leaned down, touched his lips to mine and softly answered, "Our own."
(Dedicated to my husband of 16 years)

Summer Bliss
'I never feel Paul's touch in my dreams, but one day I know I will.'
By Anonymous
Many people believe in miracles and only hope that something amazing or unbelievable will occur to them. Then there are people who argue that fate is the only true thing that prompts each and every life changing event. Fate does not happen by chance but is merely blind, inescapable, and inscrutable. There are others of faith who say one's life is determined by a higher power greater than fate itself. Everyone experiences a significant occurrence in their life that either deals with love or friendship, or both. One event that never escapes the prison of my mind is this past summer in Hawaii when I crossed paths with this amazing guy and fell head over heels.
It is only what I yearn for; the comfort of someone when I hug them, the friendship of someone that I can share my deepest darkest secrets with, and the love from someone that makes me inseparable from their presence. It is here, in the glow from a single lit candle holding the scent of a midsummer night's breeze, that I separate myself from the world around me and allow my emotions to escape. Staring into the oval shaped mirror, I gently brush my golden locks, recalling when my blue eyes were vibrant and sparkly, and my face had a luminous glow to it. I stroll to my nightstand and gaze into the photograph that has started an unforgettable journey with someone I was content with.
The Beach Boys, live in '66, 'God Only Knows'
Immediately, there was a smile upon my face that I have been endlessly searching for. The somewhat bent photograph revealed my dewy, rose colored lips, and a boy that I allowed myself to open up to, a boy I could trust. We were hand in hand and appeared to be meant for each other. No one could tell us otherwise. One would think that night after night of seeing the same picture would make it turn into only that, a picture. Every time I gaze into this square paper, my mind and heart is drawn into it as if it were happening all over again. Not knowingly, I fell into the time the picture was taken.
It was a gorgeous summer day and the sun was forever shining. The sky was painted blue with traces of clouds only to remind everyone that it was not, in fact, a canvas, but a true day. Birds blissfully flew overhead and the breeze was just enough to send the smell of the lake water towards the porch of our lake house. Although on most other days, families gathered outside to fish, boat, or have a barbecue, the day seemed meant just for Paul and I. It was us and the melody of birds chirping and the sounds of waves splashing up against the sea wall. There was no special occasion, but the plan for the day was to sunbathe, listen to music, and take a quiet boat ride on the ocean's waves. It was our midsummer vacation and we were having a blast, not wasting any minute of it. The thought of us being separated did not faze me until the week before we were scheduled to depart and head back home. My heart truly felt empty just knowing that in merely five days, I would perhaps no longer see Paul again. I made it necessary that on the rest of the days, we would be with each other and talk about our relationship. As we walked down the deserted beach, the water lightly grazed our bare feet. Hand in hand we headed to the nearby restaurant and ordered drinks and discussed the days to come in specific detail.
The Beatles, 'Here, There and Everywhere'
We fantasized about what next years' summer vacation would bring and he promised to call me at whatever opportunity he could get. We finished our drinks and strolled the beach back towards the house. I stared deep into him, so deep in fact that I trembled from the inside out. My heart began to beat fast, like it always did when I was with him, but this time it was different. He ran his fingers through my windblown, sun streaked hair, and it was there that he professed his deepest feelings for me. "When I see you again, I will first touch your face and kiss your lips. I will then have to suck in the smell of your hair. Until then, take this picture of us, and remember me every night. Please use it to remind yourself that I will be back. Nothing will keep us apart." He slid the picture into the pocket of my jacket and placed his lips to mine for the sweetest, softest embrace that lasted for what seemed like hours.
Back to grim reality, where one can only find a true soul mate in fairy tales. Nobody lives the life of Cinderella, but can only dream of it. I fall onto my bed and know it is time to depart into my amazing world of dreams for the night. I never feel Paul's touch in my dreams, but one day I know I will. I carefully place the only photograph of us under my silk pillowcase with burning desire, as if a child was awaiting money from the tooth fairy. My eyes begin to close and I fall under the control of my own thoughts.
I am left at a halt on this winding road in my life. So here I ask again, will fate or a miracle bring us back together? I am left pondering whether I will be so lucky to see his face, run my fingers through his hair, or smell the sweet scent of his cologne again. Whether our paths cross again one day, the memories will never be forgotten, but cherished and kept close to my heart. I have learned from each life changing event, a lesson about the true meanings of life, love and the power of true friendship.
Dedicated to Paul