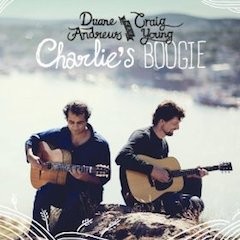 CHARLIE'S BOOGIE
Duane Andrews & Craig Young
Independent
Once thought extinct, the ivory-billed woodpecker (aka "The Elvis of the bird watching world") has in recent years been sighted in the Big Woods region of eastern Arkansas, a 550-acre corridor of swamps and floodplain forests. It's nice to have the old boy back.
In contemplating the re-discovery of the ivory-billed woodpecker, your faithful friend and narrator mused on another near-extinct breed, namely the guitar duo, the dedicated guitar duo, not merely a couple of pickers who happen to wander onstage together or find themselves on record together, and then go their separate ways possibly having made some nice music but not necessarily a Statement (excluding Chet Atkins and Mark Knopfler on 1992's Neck and Neck, and most notably Chet teaming with Les Paul on 1976's indelible, unforgettable masterwork, Chester & Lester, a Statement record if ever there was one). And long before Chet started teaming up with other fabulous guitarists, the brothers Sam and Kirk McGee did nothing less than define what a guitar duo could do, and they did it for about 50 years, from 1925 to 1975, although both McGee brothers were proficient on other stringed instruments and weren't slow to turn the guitar duo into a banjo-guitar duo or guitar-fiddle duo.
Duane Andrews & Craig Young, 'Charlie's Boogie,' live at A Night with Heavyweather at The Rock House, November 6, 2013 for MusicNL Week
Enter Duane Andrews and Craig Young, redoubtable pickers both and both well familiar to and beloved by their fellow Newfoundlanders. Both maintain successful solo careers, but on this, their debut album as a guitar duo, they seem intent on sticking around in order to say all they have to say, which cannot be contained on one disc. Charlie's Boogie is a beautiful, thoughtful record radiating an elevated sense of purpose and a keen instinct for precisely the right textures and phrasings in order to elicit emotional responses from listeners enchanted by the instruments' heartfelt outpourings. In most ways it brooks favorable comparison to Chester & Lester, especially in the pickers' precision execution and probing solo journeys, but takes a more rustic route to arrive at its destination, a strategy that may well find some historically minded listeners recalling the soulfulness and joy Sam and Kirk McGee brought to their every lick. Atkins and Paul explored the Great American Songbook in sensitive dialogues centered on Duke Elllington's "Caravan"; Jule Styne and Sammy Cahn's "It's Been a Long, Long Time"; Romberg and Hammerstein's "Lover Come Back to Me"; Will Hudson and Irving Mills's "Moonglow," et al. Andrews and Craig venture into more blues, bluegrass and country territory on several traditional numbers as well as tunes by Bill Monroe, Tony Rice and original tunes of their own. No matter the song's source, you'll perk up your ears now and again when you're sure you've heard a strain of Django Reinhardt-style gypsy jazz floating around an arrangement, and you'll be right—Andrews is a Django devotee and an assured player in that style, as he demonstrates fully here with a flawless, delightful speed-picked romp through Django's challenging "Babik."
To American audiences, Craig Young may be the more familiar artist in this duo, owing to his lengthy tenure as the guitarist in Terri Clark's fine band and an eight-year stint as a Nashville resident that found him sitting in with other country stars, including on the Grand Ole Opry from time to time. In his native Canada he's a much-honored musician, with his resume showing four CCMA awards for The Canadian Country Music Association All Star Band–Guitarist category and several top 40 singles. He's released two solo albums, 2010's Back Home (voted Country Music Album of the Year by MusicNL, the trade association promoting music from the provinces of Newfoundland and Labrador, and last year's Black Diamond Strings, which is up for no less than five MusicNL awards. According to his bio, Craig now lives and performs in the St. John's area and teaches at New Wave Music in Paradise.
Great moments from Charlie's Boogie: Duane Andrews and Craig Young perform Frank Dwyer's 'Joe Batts Arm Longliners' and Bill Monroe's 'Tennessee Blues'
Duane Andrews has been releasing solo albums since 2004, starting with his self-titled debut, and has several credits for music he's composed for film and television. He studied at the Conservatoire International de Paris and the CNR in Marseilles, France in addition to mentoring with screen composers Marvin Dolgay and Norman Orenstein through the Screen Composers Guild of Canada's MBP program. His time in France proved pivotal in more ways than establishing his bona fides as a film and TV composer; being in the land of Django, he absorbed the Reinhardt style and took it back home—that is, he found ways to fuse it to the traditional Newfoundland music, which is the product of a melting pot of influences incorporating elements of English, Spanish, Portuguese, Irish and French styles. His solo work reflects this cross-cultural approach, especially such inspired efforts at 2008's Raindrops (a collaboration with the Atlantic String Quartet) and his two albums with the Cape Breton fiddling giant Dwayne Côté (2010's Dwayne Côté and Duane Andrews and 2012's The Empress).
From Charlie's Boogie, Duane Andrews and Craig Young perform 'Kelly Russell's Reel,' written by Emile Benoit, the Newfoundland fiddling giant credited with popularizing Franco-Newfoundlander folk music traditions.
Andrews and Young waste not time asserting their love for their homeland in kicking off Charlie's Boogie with a high stepping medley of traditional tunes from Newfoundland, "Old Boney/Good Morning You Would Like Some Tea," a spirited dialogue in which the Irish influence runs deep and both instruments have ample room to support and bounce off each other's conversation. They exit the way they enter, saluting Canada with a sprightly set-to with a boogie-woogie flair on the title track, "Charlie's Boogie," penned by native son and legendary picker himself Smiley Bates (whom American country and bluegrass fans might recall for his flat-top contributions to Benny Martin's terrific Nashville Southern Fiddle album). In between these bookends the duo makes arresting stops. One of the most memorable comes by way of Fogo Island's Frank Dwyer's "Joe Batt's Arm Longliners," here in an instrumental version replete with the heart tugging mix of pride and wistfulness Dwyer's lyrics express in summoning the pride of the "fish plant" that is Joe Batt's Arm and the return to port of the longliners (longliners being the vessels that set nets that fish swim into). The lyrics are so beautiful you kind of wish the fellows had chosen to sing this one, but there's no getting around the depth of feeling their twin guitars conjure. Not sure if "Port Tobacco" is a real place, but the 1986 Tony Rice tune (from Rice's Me and My Guitar album) evokes a sense of place in its bright, optimistic gait and the lively interplay between the two instruments. Among other covers, Bill Monroe's "Tennessee Blues" charges hard from the start and proceeds at a breathtaking pace as the duo engages in some breathtaking, deftly executed speed-picked solo challenges to each other over the course of the tune's three-minutes-plus. A sweet workout on the jazz and pop standard "Confessin'," a Louis Armstrong signature tune from the time Pops first recorded it in 1930 and on throughout his career. In the Andrews & Young instrumental version, the spirit of Django infuses the track and, along with "Babik," affords Andrews an opportunity to display the more sensitive, romantic side of the Reinhardt style in what is a lovely, dreamy arrangement.
SELECTED TRACK: 'The D-18 Song' features Craig Young in the only vocal performance on Charlie's Boogie
To this repertoire Andrews and Young contribute a couple of originals. Andrews's "Supermoon Rag" is taken at a more deliberate tempo than the "Rag" in the title might suggest and has some intriguing twin guitar passages along the way and, unsurprisingly, a Django quality in its melody and stride. Young's "Cat's In the Bag" follows "Supermoon Rag" with a bit more uptempo strut about it and some nice, spirited upper and lower strings tradeoffs along the way. If you detect a Tony Rice influence on "Cat's In the Bag" not only would you be right but you'll hear it again in the fellows' take on Jerry Faires's tribute to a legendary instrument by way of "The D-18 Song," honoring the Martin guitar of said model number. Young delivers the album's lone vocal here in fine style, with a solid tenor delivery and engaging personality in a performance of comparable geniality to the Norman Blake-Tony Rice duo version gracing 1990's essential Norman Blake and Tony Rice 2 album. In the end, though Andrews and Young make no secret of their regard for Chester, Lester, the McGee Brothers, Smiley Bates, Tony Rice, et al., they have also made a Statement of their own with Charlie's Boogie, that the guitar duo is alive and well—possibly even more so than the ivory-billed woodpecker, in fact–and is every bit as capable of stirring the soul and lifting the spirit as any other configuration, with or without singers. They sing little here, but oh, they do say so much.