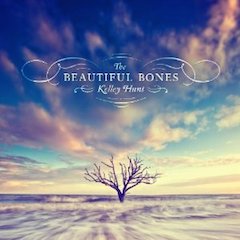 THE BEAUTIFUL BONES
Kelley Hunt
88 Records
On this, her sixth album, Kansas City-born and –bred soul/blues chanteuse and pianist Kelley Hunt puts it all together—the writing, the singing, the playing—and says what's in her heart and on her mind in a way she's heretofore rarely approached. If she doesn't grab you with the funky, horn-infused opener, "This Time," a rollicking workout centered on a message of self-realization; or "Golden Hour," a gospelized grinder about pressing on in the face of misfortune; three songs in she'll have you in the palm of her hand with "Let It Rain." Among songs of more recent vintage, it sounds similar in message and style to Dana Fuchs's "Let It Roll," but the deeper atmospheric influences are twofold and classic: the Temptations' "I Wish It Would Rain" and, especially, Brook Benton's take on Tony Joe White's "Rainy Night in Georgia." With an arrangement that blends the drama of the Tempts' monument with the bluesy, understated ambiance of Benton's gem, and an emotional but deliberate vocal reading, Ms. Hunt, who wrote the song with Caryn Miriam-Goldberg, surprises us with not a dark, heart wrenching testimonial but rather encouraging words about using your own good fortune to make others' lives better—there's a bit of Aretha testifying when Ms. Hunt drawls, "You have everything—everything—that you need/it is all given to you/now who will you give it to?/Pass it on/pay it forward/let it rain," over a softly humming B3 and rich, trebly stabs of electric guitar.
A sampler of Kelley Hunt's The Beautiful Bones CD
So begins The Beautiful Bones, whose title song, a slow, surging soul meditation that Ms. Hunt wrote on a snowy KC day and is framed by the reverbed, shimmering chords of John Jackson's electric guitar, and which the artist pinpoints as the song that "was the key to the album's identity," doesn't even crop up until track seven. It was a savvy bit of sequencing to place it so deep into the album, seeing as how its musing on, for lack of a better phrase, the social contract binding us in humanity, really does summarize the album's overarching theme of accepting individual responsibility in order to make a better world—"Now who will you give it to?" It all makes one wonder whether Ms. Hunt might not have been contemplating Ezekiel in the Valley of Dry Bones ("Dem bones, dem bones, dem dry bones," as the James Weldon Johnson spiritual has it), connecting and disconnecting them before he heard the word of the Lord, when inspiration visited in the form of Beautiful Bones. Just a thought.
ISELECTED TRACK: 'I Want You There,' from The Beautiful Bones
Such idealism, however admirable and well intentioned, has a bad habit of draining an album of its life, making everything around it overly precious, even stilted. Not so with the tunes here. Ms. Hunt never forgets to have some fun in the pulpit. Which is where a stomping workout such as "I've Got a Good Feeling," a co-write with her producer Al Berman, not only finds the singer enthusiastic about the promise a new day holds for doing the right thing, but seconds her emotion with a sizzling arrangement keyed by Tony Harrell's B3, her own acoustic piano and searing electric guitar jaunts via John Jackson, all of which gives the track the celebratory feel of the liveliest of church services. Another Hunt-Berman item, "When Love Is At the Wheel," simply won't be stopped as it rolls and tumbles down the highway on a high-octane blend of pumping horns, ferocious percussion, twanging guitar, Ms. Hunt's freewheeling acoustic piano (nice Jerry Lee gliss she throws in there) and the robust gospel-rooted vocal shadowing by The Keltastiks, all in service to the notion of love as an energizing force. On the romantic side, her soul love ballad "I Want You There," with her own voice multitracked into a sultry, feathery backup group and Mitch Reilly enhancing the sensual ambience with a lusty tenor sax solo, is a most affecting, and effective, articulation of a partner's worth, in spirit and in physical presence both. Six albums into a career may seem like a long time to hit your stride, but artists grow at different rates. Kelley Hunt has made good albums before this, but The Beautiful Bones is a cut above all the others. The end result is not only satisfying and meaty in the here and now, but whets the appetite for what she'll deliver next time around.