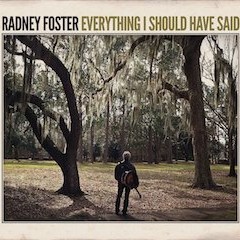 EVERYTHING I SHOULD HAVE SAID
Radney Foster
Devil's River Records
It's been five years since New Traditionalist pioneer Radney Foster released a collection of new original songs, dating back to 2009's powerful Revival. There could be any number of reasons for this sabbatical, but Foster himself provides a fairly strong clue on the first song on Everything I Should Have Said. "Whose Heart You Wreck (Ode to the Muse)." All subdued seething and fractured atmospherics (thanks to some decidedly Tom Waits-ish drums, which are actually, as Foster describes them in a release accompanying the album, "trashcans, a piece of angle iron and a big gear plate"), it finds Foster, in voice low and bruised, grousing, "Sometimes you kiss me, baby, sometimes you don't/Weave your magic all night long/Next night you won't/You come and go just as you please/I don't get no respect/'Cause you don't really give a damn whose heart you wreck." It would appear, then, that this formidable songwriter, whose facility and polish is the equal of any of his generation, had hit the wall, as will happen. Perhaps in lashing out at his fickle lover, though, Foster got his groove back, because the rest of this album compares favorably to his finest work of yore.
Radney Foster, 'Whose Heart You Wreck (Ode to the Muse),' the opening cut on Everything I Should Have Said
In fact, the aforementioned song serves a dual purpose. It seems to explain the five-year absence of his writer's voice, but it also sets the stage for what turns out to be a country torch album, by turns haunting and unsettling but also possessing real beauty in its artful, penetrating lyrics, in its scintillating melodies, in the complex moods its uncluttered arrangements evoke. In the end, Everything I Should Have Said is an album-length discourse on relationships in various stages of disrepair (or repair) with a sub-theme of second thoughts on the road not taken. "I should have chased those red taillights before they rolled out of view," he cries as the turbulence grows around him in "Talking Myself Out of Falling," in what is the album's metaphorical touchstone. With heavy twanging guitar or keening slide guitar; roiling percussion; mournful piano and his warm, expressive tenor voice, Foster surveys the wreckage from multiple perspectives. The barely contained fury of "Whose Heart You Wreck" is at the unforgiving end of the emotional spectrum. For the kind of lonely souls Frank Sinatra sang about on In The Wee Small Hours, Foster offers "California," a tender ballad that plays out in languid fashion over the course of more than four minutes of detail about two lost souls connecting for a night in which they "killed a little emptiness" en route to what each hopes will be a fresh start in the Golden State. Kacey Musgraves plays the distaff role to heart tugging perfection as Richard Comeaux's teary steel lines heighten the ache of the one-night stand. The mirror image of "California" is "Mine Until Morning," the album's most beautiful interlude. The dramatic personae are again a pair of lonely hearts who have found each other but aren't looking so much beyond the comfort they can find in the time they have, with Foster asking only, "Will you be mine until the morning," and hearing his words echoed plaintively by Patti Griffin, in an arrangement with honky tonk intimations in John Lancaster's piano and Comeaux's crying steel. Optimism rears its head in the heartfelt sentiments extolling the experience of unconditional warts-and-all love in the tough love song "The Man You Want," with its B3 (John Lancaster) underpinning and extra sizzle from Foster's electric guitar punctuations and, following that, the all-stops-out country rocker "Lie About Loving Me," in which Foster beseeches his paramour to make their affair essentially a matter of public record—"I hate leaving when the dawn's breaking/no more sneaking, I'm tired of waiting," he howls in testifying to wanting to be "the rock you're missing/do the heavy lifting/daylight, midnight, anytime I am/ready to be…the one you need."
Radney Foster, the title cut from Everything I Should Have Said
So Foster does let the sunshine in—two more upbeat tunes follow in the midtempo musing "Holding Back" (which is about not doing what the title suggests) and the appropriately raucous but warm hearted "Noise"–but the clouds gather again at the end, in the title song in which the twin themes of betrayal and remorse coalesce into a wrenching confession of complicity in a relationship's demise that winds down to a tortured, almost whispered reality check in the last words Foster utters on the disc, to wit: "It was more my fault than yours." Which, when you think about it, is another way of saying "Nobody wins," a familiar phrase to Foster fans but as fitting a moral to this album's story as any other. However long it took him to get here, Radney Foster is back in playing shape, as evidenced by a batch of tunes as meaty and memorable as any he's assembled on an album. If there's nothing here as immediately catchy as his solo career establishing hits "Just Call Me Lonesome" and "Nobody Wins," the depth of feeling he plumbs, and the frank chronicling of his own frailties and missteps, bespeak a maturity that ought to lead him into ever-richer lyrical territory in the time ahead. There's a scintillating prospect for you, music lovers.