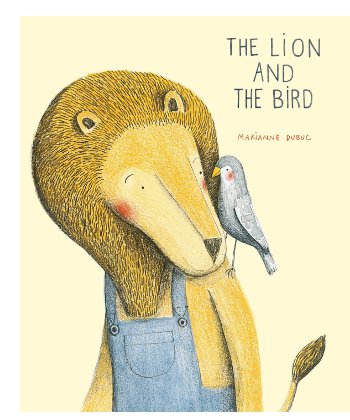 I've previously featured the work of Canadian author-illustrator Marianne Dubuc at 7-Imp–here and here. Her newest book, The Lion and the Bird (Enchanted Lion, May 2014), is a tender and moving story of friendship, first published in French in 2013 and translated by Claudia Z. Bedrick (intrepid leader of Enchanted Lion and possessor of exquisite taste). Maria Popova over at Brain Pickings writes that this book is an "ode to life's moments between the words." Oh, how I love that and wish I'd written it. That captures the book well. (You can read her entire post, also art-filled, about the book here, if you're so inclined. She describes the book so wonderfully.)
The story is about a lion, who lives alone and one day finds a wounded bird. After nursing the bird lovingly, they become friends, and the bird stays on. Their friendship grows, but when Spring comes, Lion knows the bird must fly away. Lion adjusts to his loneliness, and then the following Winter, the bird returns.
But, as Popova notes in her piece, there's so much to discover in the book's artwork and the expert pacing of the story. I remember reading once in a theatre text in college that a play is interrupted silence. (I think it was a quote from a French playwright? I really should look this up.) Well, this story is interrupted silence. Dubuc does wonders here, not rushing the story, letting it breathe, inviting in child readers to be with Lion as he adjusts to his loneliness and melancholy after Bird leaves, as time marches on. A lot of the gentle pacing comes from Dubuc's use of white space. ("White space—sometimes whole pages—speaks its own language of loss and hope," writes the Kirkus review.) For instance, here's very simply how we know that Bird has returned: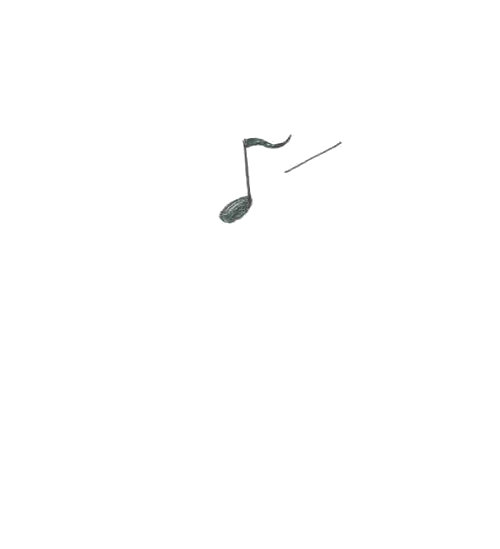 Even that tiny musical note is on the right side of a giant white double-page spread, and the page before that is white, too. Dubuc lets silence speak a lot here.
There's a lot of emotion, Dubuc conveying a great deal with her soft lines and warm palette. So much that is left unstated is conveyed in the expressive faces, if not in very economical words. "Yes, I know" is all that Lion says to Bird, as you can see below, when he realizes that Bird must fly away for Spring, and after his friend leaves, Dubuc merely writes: "And so it goes. Sometimes life is like that." The story sings with an earnestness that is never too loud or trying too hard. It's simply lovely.
Here's some more art. Enjoy.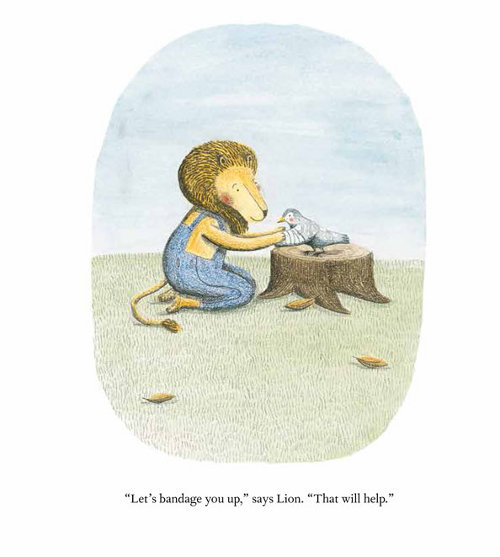 "It snows and snows."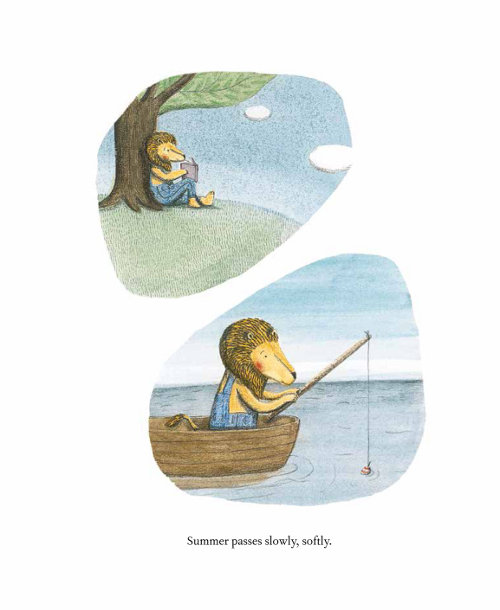 That's it for the art, but don't toss and turn, worrying about Lion. Remember the illustration that opens this post? Yeah. That. They are reunited.
THE LION AND THE BIRD. Copyright © 2013 by Marianne Dubuc. First American edition © 2014 by Enchanted Lion Books, Brooklyn, NY. Images reproduced by permission of the publisher.
This and many more of Jules's adventures in books, kids' lit and illustration can be found at her acclaimed blog,
Seven Impossible Things Before Breakfast
, where the above post was
published on May 18, 2014
.