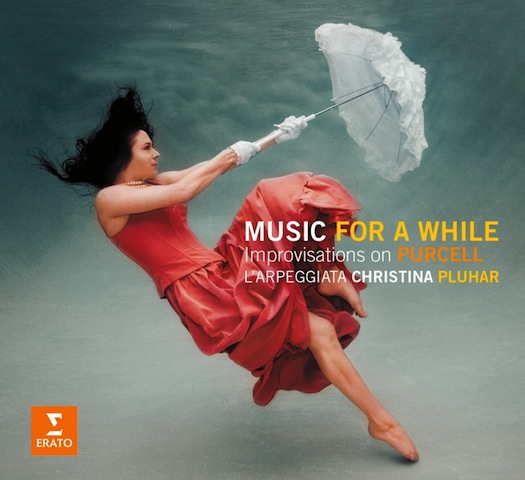 MUSIC FOR A WHILE: IMPROVISATIONS ON PURCELL
Christina Pluhar & L'Arpeggiata
Erato/Warner Classics
After the intoxicating heat of Mediterraneo, released in 2013, Christina Pluhar and her ensemble L'Arpeggiata–again in the company of countertenor Philippe Jaroussky, soprano Raquel Andueza and alto singer Vincenzo Capezzuto–now head to the cooler climes of England with Music for a While, an album based on the haunting, graceful and sometimes deeply moving music of Henry Purcell.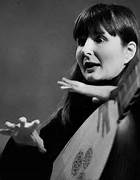 Often considered England's greatest composer, Purcell (1659-1695) represents an especially good match for the aesthetic of L'Arpeggiata: he made frequent use of the ground bass, a repeated (ostinato) figure in the lower line–the most famous instance of this occurs in Dido's lament 'When I am laid in earth,' the closing number from his opera Dido and Aeneas. The ground bass provides an ideal foundation for the brilliant, sometimes jazz-like improvisation that is the stock-in-trade of the L'Arpeggiata, here comprising singers, (plucked) strings, wind instruments, keyboard and percussion.
As the New York Times has written: "Just as the composers and ensembles that ply the indie path in new music combine structures and language from contemporary classical styles with gestures and timbres from pop and world music, L'Arpeggiata has lately been hopping through cultures and across centuries. The group uses modern pop vocal inflections and improvisational techniques from jazz in its performances of antique pieces … Its audacious hybrids are driven principally by a fascination with reviving the Baroque art of ornamental extemporization and a curiosity about how contemporary improvisatory styles might be enlisted in that quest." When L'Arpeggiata appeared at Carnegie Hall's Zankel auditorium in 2012, the newspaper reported that: "Here a lean septet combined precision and poise with the intuitive flexibility of a jazz combo."
'Wondrous Machine,' from Hail! Bright Cecilia (Ode for St. Cecilia's Day, 1692), words by Nicholas Brady, arrangement by Christina Pluhar, vocal by Vincenzo Capezzuto. From the album Music for a while: Improvisations on Purcell by Christina Pluhar & L'Arpgeggiata.
The contemporary element in Music for a While (named after a song written for John Dryden's play Oedipus) is exemplified by the contribution, on acoustic and electric guitar, of Austrian jazz-player Wolfgang Muthspiel, while the Baroque tradition is embodied in the celebrated French countertenor Dominique Visse, a singer who set an example for Philippe Jaroussky; Visse was a student of the pioneering British countertenor Alfred Deller (1912-1979), closely associated with the music of Purcell and the revival of interest in Baroque music.
In the course of 2014, Music for a While will be presented at concerts in Rome, Paris, Grenoble, Berlin, Ludwigsburg and London. When the Mediteraneo programme was presented in London in 2013, The Arts Desk reported that: "Perhaps the best bits of any L'Arpeggiata concert are the improvisations. Laying down a ground bass (a riff by any other name) the group then take it in turns to step forward for jazz-style breaks. Jazz might have come down to us via Africa but I defy anyone to hear a Purcell or Monteverdi ground and not trace the natural genealogy. Pluhar here makes her case without effort as we marvel at plucked bass and drums or–most impressive–a percussion solo for the finest wizard of percussion David Mayoral, giving us a single skin that can shriek, cry or sing according to the strokings of his fingers."
In Germany, the Potsdamer Neueste Nachrichten described a concert given by L'Arpeggiata with Philippe Jaroussky as "a rare two-hour feast of music-making. For years, exulting in sound, [Christina Pluhar and L'Arpeggiata] have been demonstrating in the most persuasive way how fresh and timeless 'old' music can sound. Pluhar recognizes no borders, no divisions between eras. For her, it is all music." –reviewed at MDT Blog
'Music for a while' (z583/2), from Oedipus (1692), words by John Dryden & Nathaniel Lee; arranged by Christina Pluhar; Philippe Jaroussky, countertenor
'The future of early music? Probably not, but who knows?'
This is an entirely novel treatment of Henry Purcell's music that may appeal greatly to experimentally minded listeners, but those mulling the purchase should be perfectly clear about what they're getting into. "Improvisations on Henry Purcell" is not quite the right subtitle. There are elements of improvisation, it's true, but really these are arrangements of famous Purcell songs and arias, most of them by L'Arpeggiata leader Christina Pluhar. A few of the pieces are performed straight, but most of them are very far from the conventional Purcell sound world, drawing on such diverse genres as rock (the opening "'Twas within a furlong" and "Strike the viol," both complete with electric guitar), world music, other Baroque styles, various styles of jazz, and even lounge music, applied to the sublime When I am laid in earth, from "Dido and Aeneas." Plainly there is a subset of listeners who will be absolutely driven crazy by this release, but just as plainly it gets major points for utter originality. Its strength lies in the fact that it is not simply a jazz or rock version of Purcell but a wholesale rethinking of an antique repertoire for a stylistically diverse modern musical world. Pluhar commands the services of an all-star trio of countertenors including Dominique Visse, Philippe Jaroussky, and Vincenzo Capezzuto, along with soprano Raquel Andueza; the singers generally sound like they're having a great deal of fun, and listeners should check the album out just to hear some hitherto unknown possibilities of the countertenor voice (try Visse's turn in "Man is for the woman made"). Despite all the craziness, Purcell's tunes are left generally intact, and this is another of the album's strengths. Things go seriously astray only with the bonus track, an inexplicable version of Leonard Cohen's "Hallelujah" by Capezzuto, but those hooked on the album's ideas by then will be inclined to accept it as the kind of excess that comes with original projects. The future of early music? Probably not, but who knows? –James Manheim, All Music Guide
'Here the deities approve,' from Welcome to all the pleasures (Ode for St. Cecilia's Day, 1683), words by Christopher Fishburn, arranged by Christina Pluhar. Vocal by Philippe Jaroussky. From the album Music for a while by Christina Pluhar & L'Arpeggiata.
'…there are many moments when you could be listening to an ECM jazz recording'
Baroque music often has elements of improvisation, but in the 14-piece group L'Arpeggiata's new CD, Music for a while, director and arranger Christina Pluhar, born in Graz in Austria, and based in Paris, who founded the group in 2000, has brought jazz into the mix alongside baroque instruments with winsome names like theorbo, cornet à bouquin and archlute, with the presence of Austrian guitarist Wolfgang Muthspiel (they went to school together) and Italian clarinettist Gianluigi Trovesi.
Pluhar's aim is to be "..constantly moving between the centuries in the harmonies and styles of the improvisations…" Although the music was written in the late 1600s, a progression like the descending bass line of When I am laid in earth could have been written for jazz and there are many moments when you could be listening to an ECM jazz recording.
Wondrous machine, with alto Vincenzo Capezzuto's light, expressive voice, has a wondrous groove. Quivering African-influenced percussion starts alongside trilling clarinet; guitar and piano improvise together over energetic bass lines. Countertenor Philippe Jaroussky brings grace to everything he sings- those long, pure notes with their miraculous crescendos. His phrasing is languorous but always precise, floating on the walking bass and gently swung brushes; the juxtaposition of classical singing and jazz instrumental styles is strikingly original. Trovesi's jazz clarinet solo wraps itself beautifully around the voice. Here the deities approve opens conventionally, with trailing piano lines (Francesco Turrisi) behind Jarroussky. A Cuban groove emerges behind Muthspiel's guitar solo. An Evening Hymn Upon a Ground starts with exquisite jazz-edged solo guitar, Jaroussky's sensuous voice melting into the jazz piano and guitar solos.
From the album Music for a while: Improvisations on Purcell by Christina Pluhar & L'Arpeggiata, 'Twas within a furlong' from The Mock Marriage (1695), words by Thomas D'Urfey, arranged by Christina Pluhar, featuring Vincenzo Capezzuto.
Raquel Andueza sings in the same register as the male singers, but with a folkier edge to the voice. Alfred Deller's '60s version of Strike the viol runs through my head, highlighting the way Andueza phrases freely behind the beat in this version. There's a kind of 17th Century New Orleans carefree collective improvisation, the clarinet riffing along with Muthspiel's guitar, with cornet arpeggios and dramatic percussion; Francesco Turrisi's organ could almost be Brian Auger. Andueza sings the melody of When I am laid in earth with poise as Jarrett-esque piano trades fours with Muthspiel. Her Ah! Belinda and A prince of glorious race descended have subtle jazz elements, with piano fills between vocal lines and a Muthspiel outro of great beauty in the latter.
Some pieces blur Early Music and folk. The lively One charming night (just a hint of reggae) and 'Twas within a furlong are sung with verve by Capezzuto. The latter, a ballad of love and marriage, has a country swing, shuffly percussion and a melodica. Dominique Visse treats Man is for the woman made almost like a comic patter song. The instrumental Curtain Tune on a Ground has robust but subtle percussion, and sounds like a folk dance.
Other pieces are performed in Early Music style, highlights being counterpointed duets between Jaroussky and Capezzuto in In vain the am'rous flute, and Jaroussky and Andueza inHark how the songsters of the grove. Veronika Skuplik's baroque violin heightens the melancholy of Andueza's voice in O let me weep. The ensemble playing is so good that you don't want to focus on individual instruments, as in O Solitude where Jaroussky's voice rests on a cushion of harps and lutes.
"Our listeners find themselves in a timeless music room," says Pluhar. The experience of hearing the 17th and 21st centuries (and probably a few in between) in the same songs is a thrilling one. L'Arpeggiata play with such finesse and zeal, that "Music for a while/ shall all your cares beguile." –by Alison Bentley in LondonJazz News