'…still traveling the gospel highway…'
JUST LOOK AT ME NOW
Brooklyn All Stars
Just Look At Me Now
4 Winds Records
Founded in the late 1950s, the Brooklyn All Stars are still traveling the gospel highway, spreading the old time religion that is the bread and butter of gospel quartets. Their 2011 album, Just Look At Me Now, offers new and old songs in the All Stars' style.
Perhaps the most endearing aspect of this CD is the presence of longtime member Thomas Spann. His rich bass underpins the harmonies with the resonance reminiscent of the quartet's Hardie Clifton era.
The album contains plenty of retro sounds. The "Brooklyn All Stars Medley" reprises some of the quartet's best-known songs, including classic covers of James Cleveland's "No Cross No Crown" and "I Stood on the Banks of Jordan." "Family Prayer," which gets a separate treatment, is another selection from the All Stars' catalog. "So Close," a cover of Alex Bradford's smash hit, is characteristically bluesy, but what sells it is the interplay between lead singer Ben "Lil' Sonny" MaClary and Spann, who encourages him like a deacon to a pastor.  When Lil' Sonny sings, "I can feel Jesus breathing on me," Spann responds, "That's mighty close!"
The Brooklyn All Stars with a live version of their classic cover of James Cleveland's 'No Cross No Crown,' from the group's album Just Look at Me Now.
Other highlights include the poignant title track, a Spann-led contemplation about making it to the ripe age of 85. "You Can't See for Looking at Me" is directed at the fault finders and gossipers all around us. "How can you see the moat in my eyes when you have a beam in yours?" the quartet queries.
As always, producer Ray Braswell gives quartets the crystal clear sound they deserve.
Just Look At Me Now is the Brooklyn All Stars doing what they do best, and have, for more than a half century: straightforward harmony, soulful arrangements and common-sense theology.
Picks: "So Close," "The Brooklyn All Stars Medley."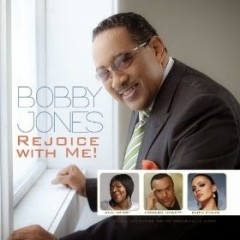 '…a blend of traditional and contemporary…'
REJOICE WITH ME!
Bobby Jones
EchoPark JDI Entertainment
While he is the undisputed king of gospel television—-Bobby Jones Gospel is the longest-running cable television program, period—-Ambassador Dr. Bobby Jones has not always fared as well on radio.
That just changed with Rejoice With Me! Produced by Michael Bereal and Professor James Roberson for EchoPark JDI, the album showcases the work of Jones' Nashville Super Choir, a team of capable musicians, and several soloists.
Functioning basically as narrator, Jones gives the album over to NSC and top-shelf gospel singers such as Faith Evans, who leads the spirited title track. Ann Nesby's biting traditional singing combines with Jones's opening solo on the up-tempo, Pentecostal-fueled "Right Now Praise," written by Percy Gray. Shawn McLemore fronts "Let's Praise The Lord," another spritely handclapper.  "The more I praise, the better I feel," McLemore sings, and it's clear he's feeling just fine.
"Faithful Is He" is the album's sleeper. Written by Pharis Evans Jr. and Jewell Maulty IV, this sweet ballad extolling the steadfastness of God is led by NSC member Kyla Jade, a stellar singer whose vibrant voice can also be heard at Cathedral of Praise COGIC, where she is a Praise and Worship leader under the Honorable Bishop Jerry L. Maynard.
Bobby Jones, the title track from Rejoice with Me! featuring lead vocals by Faith Evans
The tightness of the choir, the song selection, the tilt toward the traditional, and the work of the soloists, especially Kyla Jade, are what make this album work. Especially effective are the brief exposition of church classics, notably "My Faith Looks Up to Thee" and "No Not One." Each are given a solid reading by Jade, Jamar Carter, and Kimberly D. Fleming. The album would have been even stronger had the instrumental-plus-choir version of the title track been replaced by another one of these chestnuts.
Nevertheless, the blend of the contemporary and traditional on Rejoice With Me! will make it winner with a wide variety of gospel enthusiasts.
Picks: "Right Now Praise," "Let's Praise the Lord."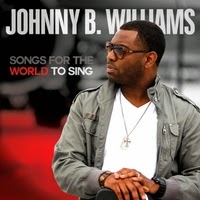 '…a gift for catchy melodies…'
SONGS FOR THE WORLD TO SING
Johnny B. Williams
Salathiel Records
I extolled the virtues of Johnny B. Williams in 2009 after listening to his five star album, The Way I Worship. With his latest CD, Songs for the World to Sing, Williams continues to demonstrate prowess as a singer, songwriter, producer, and multi-instrumentalist.
The album is packed with crisply produced radio-sized selections, all written and performed by Williams, who hails from Jewett, Texas. The songs range in their musical foundation from urban AC and contemporary gospel to tunes with island-flavored rhythms and traditional gospel. Williams is particularly adept at writing melodies, which are catchy without sounding contrived or derivative.
While Williams is comfortable in all gospel genres, he dazzles in the traditional arena. Perhaps neo-traditional would be a more accurate description, as the Swan Silvertones' influenced "Step Out on Water" is fixed in the quartet style—Williams's voice is multi-tracked so he IS the quartet—but its relaxed, finger-popping tempo borrows just as liberally from jazz-inspired contemporary gospel. Williams even lofts falsetto notes a la the Silvertones' Rev. Claude Jeter. "I'll Make It Through the Storm" is faster paced, a foot-patting gospel of exuberantly expressed hope and anticipation for better days to come.
From his album Songs for the World to Sing, Johnny B. Williams performs 'The Way You Love Me' at Fallbrook Chruch
Williams drops island beats in "Lord You Been Good to Me" and his current single, "All Over the World," which receives an assist from Christian reggae artist and Salathiel Records label mate Landlord with a cameo appearance by Dr. Myles Monroe.
The lyrics on Songs for the World to Sing range from uncomplicated plaudits ("The Greatest King") to the testimony vibe of "He's All I Need" to the wood church wisdom of "God's Got It," where A-list artist Shawn McLemore assists.
Salathiel Records' good fortune to have Johnny B. Williams on its roster is a loss for all those labels that have passed over this excellent artist.
Picks: "I'll Make It Through the Storm," "Step Out on Water."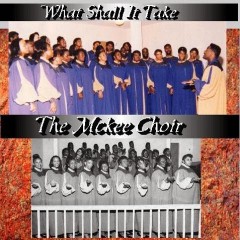 '…a sweet spot for contemporary gospel…'
WHAT SHALL IT TAKE
The Mckee Choir
What Shall It Take
Sharp Records
Named for Rev. James E. Mckee, the Mckee Choir was organized several years ago by Ulannie "Link" Brewer. The choir's album, What Shall It Take, was recorded at its home church of Dunham Temple CME in Greenwood, South Carolina, where Rev. Mckee is pastor.
The album is reminiscent of the self-produced church choir recordings that proliferated in the 1970s and 1980s. The 36-member Mckee Choir is a decent group with an above average, albeit uncredited, female lead vocalist whose intense vocal especially shines on the title track and "Try Jesus."
Contemporary gospel music is the choir's sweet spot, though it does deliver an up-tempo hand-clapper with "The Lord is Blessing You." The title track is the album's finest moment. A balladic altar call, the choir and soulful lead ask, "What shall it take/How long will you continue to wait/Jesus is calling you right now."
The funky musicians add greatly to the group's contemporary flair, and while the synth player is good, the choir would sound even better without synth and '80s electric piano riffs. This particular adornment is standard in gospel these days, but when it comes right down to it, organ, acoustic piano, guitar, bass, and drums are the main ingredients for a good gospel album (although brass adds a dramatic touch). Beyond that, the music can either overwhelm the singers it is supposed to support or is so synthetic as to be anachronistic.
Nevertheless, the Mckee Choir members put their heart and soul into their singing on this album and undoubtedly provide Dunham Temple with lively worship services.
Pick: "What Shall It Take"
'…an exceptional DIY album…'
IT'S OUR TIME
Dr. Vera J. Goodman & Anointed Praise
First Lady Productions
Independently produced church choir albums have been around since at least the early 1960s, and the results have been as mixed as the choirs recorded.
It's Our Time, a self-produced live recording by Jacksonville, Florida's Temple of One Accord Ministries, International, is an example of how a DIY album can be done very well.
One of the album's stars is songwriter and keyboardist Elder Jonathan Smith. Smith penned most of the thirteen songs, two of which are the gospel/inspirational equivalent of jam band arrangements. "I Believe," is the album's standout and was The Black Gospel Blog's Pick of the Week. To a gentle but insistent beat, the song builds from a belief in God to an extended anthem about rising above life's obstacles. "The Temple" is an eight-plus minute paean to perseverance that dazzles with inventive chord changes for the choir to navigate.
Speaking of the choir, the tight, sweet, and melodic harmonies of Anointed Praise brighten each song, particularly "Glory, Honor and Praise" and the brisk opener, "I'm Doin' Me."
Dr. Vera J. Goodman & Anointed Praise perform the title track of their 2007 album, Sanctuary of Praise
Anointed Praise also gospelizes two pop songs. "Don't Stop the Praise" is based on Yarborough and Peoples' 1980 R&B hit, "Don't Stop the Music." "Love Song" interpolates Stevie Wonder's "Ribbon in the Sky," and the hook line becomes "You're living in the sky for me." A little forced, perhaps, but the selection is lovingly sung and once again, the harmonies are sweet enough to eat.
The choir's leader, Dr. Vera J. Goodman, is first lady of the church, which opened in 2007 and is pastored by Bishop Dr. Jan D. Goodman. Anointed Praise's deft vocals, the album's quality production, and imaginative music make It's Our Time an exceptional church project.
Picks: "I Believe," "Glory, Honor and Praise."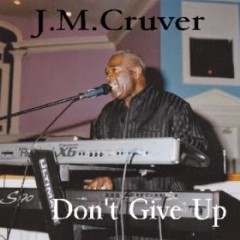 '…indie gospel grit and silk bound together with God's glue…'
DON'T GIVE UP
J. M. Cruver
Sharp Records
All James Michael Cruver wants to do is sing a church song. He sings six, as a matter of fact, on his new Sharp Records EP, Don't Give Up.
Originally from Newnan, Georgia, where he is primary musician at Resurrection Baptist Church, Cruver plays piano, organ, and bass guitar. He writes music—all the songs on Don't Give Up are from his pen—and can arrange and produce, as well.
His singing is what is most striking. He appears to have two voices: a high falsetto and a growing baritone, a combo reminiscent of 1950s/1960s R&B recording artist Johnnie Morrisette.
Cruver puts his falsetto on display on the EP's opener, "He That Believes," a song based on John 3:16 and with smooth harmonies and an arrangement based on northern soul. "It's Me O Lord," which riffs on the spiritual "Standing in the Need of Prayer," is another selection steeped in the smooth major seventh chords of 1960s northern soul vocal groups.
On the other end of the music spectrum is "If You Trust in the Lord," which features Cruver's quartet-esque hard-shouting vocals and a steaming guitar solo. On "Sing a Church Song," Cruver performs a litany of snippets of traditional Zion songs to a mid-tempo blues.
Don't Give Up is indie gospel grit and silk bound together with God's glue.
Pick: "He That Believes"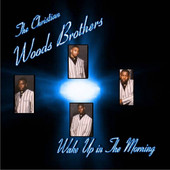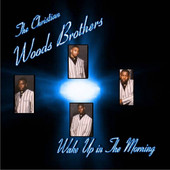 '…young men with old souls…'
WAKE UP IN THE MORNING
The Woods Brothers
Sharp Records
www.reverbnation.com/thewoodsbrothers
If I had not seen the front cover of the Woods Brothers' new CD, Wake Up in the Morning, I would have thought I was listening to a much older quartet. The traditional style in which the group sings suggests an ensemble that honed its harmonies in the 1960s and 1970s.
But lo and behold, the Woods Brothers from Atlanta, Georgia, are young men with old souls.
The seven-selection CD for Tony Sharper's Sharp Records imprint demonstrates the Woods Brothers' fealty to the old time way, especially on "Lift Jesus," an electrifying performance with a cymbal-crashing tempo and driving vamp. Proclaiming the soul freedom of being born again, "How Blessed I Am" is another up-tempo song (is any "born again" gospel song not up-tempo?). The title track rekindles two familiar gospel tropes—"If I don't wake up in the morning" and "Just hold on to God's unchanging hand."
If "The Name of Jesus" wanders into prosperity theology in that the vocalists seek a new home and new car, the charming "Black Eyed Peas" celebrates just the opposite: simple Southern living. "My mother raised me on cornbread and black eyed peas," the Woods Brothers assert, and that was "sure good enough for me."
If Wake Up in the Morning is any indication, the production quality of Sharp Records is improving. Producer Fred Standfers' balance between vocals and music is just right and the harmonies have a depth that is rich and rewarding.
Pick: "Lift Jesus."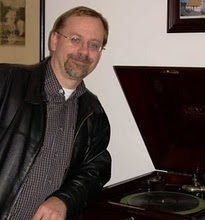 Bob Marovich is a gospel music historian, radio announcer and author. His "Gospel Memories" radio program of vintage black gospel music and artist interviews airs live first Sundays from 3 a.m. to 7:30 a.m. on Chicago's WLUW 88.7 FM, and streams live at the station's website. Snippets of recent broadcasts can be heard online at the Gospel Memories Radio Show. Bob is also the founder and editor of The Black Gospel Blog, the source for the reviews published here.