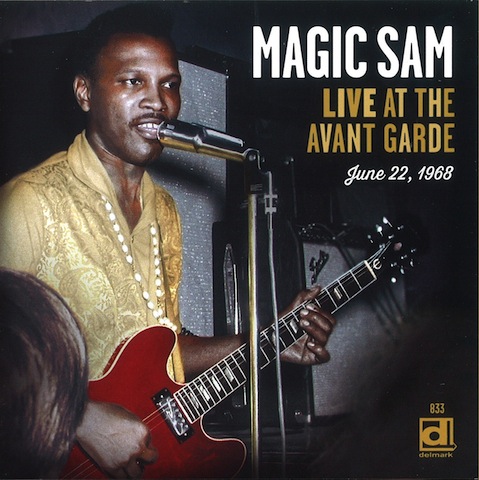 LIVE AT THE AVANT GARDE
Magic Sam
Delmark Records
Professionally known as Magic Sam, Grenada, Mississippi's Samuel Maghett migrated north to Chicago in 1950 after growing up in an environment in which hoedowns, square dances and fiddle tunes were much preferred over the blues. He arrived in the big city playing what soul singer/guitarist Syl Johnson described as "a hillbilly style." Johnson schooled Sam in blues and boogie, and Sam took it from there, developing a stinging, tremolo-rich sound signature to complement his high, keening voice. Soon enough Sam was in the mix with the likes of Buddy Guy and Otis Rush as their labelmate on Cobra Records, all engaged in fusing Chicago blues with early soul and rock 'n' roll and anticipating funk by a decade or more. He cut some towering records with Cobra producer Willie Dixon, notably "All Your Love" and "Everything Gonna Be Alright," but no sooner had he begun gaining traction as a musician than he was drafted into the Army, in 1959. Unable to adapt to the regimented lifestyle, he went AWOL, was caught and charged with desertion. A six-month stay in the brig awaited him, and, upon completing his sentence in 1961, a dishonorable discharge.
All roads led back to Chicago for Sam. Back in the Windy City again, he signed with Chief Records and began building a large and enthusiastic audience for his live shows in the local clubs and even in San Francisco, where he played the Fillmore West and Avalon Ballroom. During this period a single he cut caught the attention of Delmark Records' founder Bob Koester, who signed Sam and in '67 and '68 released the artist's essential, enduring albums West Side Soul and Black Magic, respectively. In '69 Sam blew away the audience at the Ann Arbor Blues Festival and was being courted by Stax Records. Big things seemed at hand, when, on December 1, 1969, at age 32, a massive heart attack claimed the youthful bluesman's life. Sam lived long enough to hear his influence on an emerging generation of young blues-rock pickers but not nearly long enough to reap the rewards, financial and otherwise, seemingly so near at hand when he passed.
From Live at the Avant Garde, Magic Sam with his original instrumental 'Lookin' Good.' With Big Mojo Elem on bass and Bob Richey on drums.
One of the hot spots Sam and many of his Chicago blues companions gravitated to was a tiny, alcohol-free Milwaukee club called the Avant Garde, which was perpetually under siege by a bluenosed group called the East Side Mothers and, not incidentally, by the Milwaukee police department, both of which objected to the venue's typical audience of "hippies, college protestors and bad elements," as a witness to these events, recording engineer Jim Charne, asserts. Charne, in fact, set up some rudimentary recording gear in the club (a second-hand Roberts 455 tape deck, placed right up against the bandstand; some Electro-Voice mics and a Y-adapter to link the mics) on the night of June 22 in the fateful year of 1968 (fateful socially and politically in America, if you think back, and musically coming a year after Sgt. Pepper's and the Summer of Love and a year before the tide turning Woodstock festival) and recorded for posterity a Magic Sam set, with Sam accompanied by bassist Big Mojo Elem and drummer Bob Richey. Forty-five years later, that tape, now in CD form, has resurfaced on the Delmark release of Live at the Avant Garde, with Charne's insightful liner notes providing all the necessary backstory both musically and sociologically from the tumultuous era in which the recording was made.
SELECTED TRACK: Live at the Avant Garde, 'Feelin' Good,' a Magic Sam original
Sam is in great form during this set and his band is right there with him. The church cry in his voice was at its most affecting, and his guitar was simply singing its own self. The 16-song set includes a healthy dose of Sam originals—and Sam had a real gift as a songwriter—along with solid entries by Freddie King, Muddy Waters, Lowell Fulson, B.B. King, Jimmy Rogers, Otis Rush, Willie Dixon, et al. The proceedings are mostly uptempo (this was a Saturday night crowd, after all), but the deep blue interludes are oh so memorable: Junior Wells's plaintive ode to a gone girl, "Come On In This House," is chilling, both in Sam's stark, stabbing guitar interjections and in the epic trill in his falsetto at the height of his misery; Fulson's "It's All Your Fault Baby" is an open wound of a communiqué to a faithless lover, positively malevolent in the anguish in Sam's vocal; in his terse, stinging solos and punishing, repeated riff with its top string run; and in the stalking bass line Elem lays down. Jimmy McCracklin's forthright love song "Everynight Everyday," the album's penultimate track, is remarkable for the intense conviction in Sam's vocal and the attendant heat he brings to his instrumental voice when he lets the guitar do the talking for him.
From Live at the Avant Garde, Magic Sam with 'That's All I Need,' a Jimmy Rogers song
Those who prefer their Magic Sam with a little more glide in his stride will hear the man in quintessential form here, starting with Sam's warm laugh before he kicks off the night with a feisty, altogether dazzling six-string workout with a pleasing variety of tone and textures on Freddie King's classic instrumental, "San-Ho-Zay." Four songs in he's romping through the first of his Magic Sam evergreens, "Feelin' Good," a Hooker-ish rouser with a humorous, good-time lyric and a freewheeling vocal advancing the headline "I feel alright!" Later he digs into another of his original gems, "All Your Love (I Miss Loving)," a tasty love letter delivered in warm sentiments and sultry guitar sorties over a Latin-inflected rhythmic pulse. Back to back in the set, Willie Dixon's "Hoochie Coochie Man" and Muddy's "Still a Fool" stomp and brood respectively in contemplating the sensual life, the latter being especially effective when Sam's fashions a heavy top strings riff in unison with his growling vocal. The title of Sam's own "Bad Luck Blues" pretty much tells the story of that song but amidst his catalogue of life's ills he breaks into a stomping midsection modeled after Doc Pomus's "Lonely Avenue" as realized on record by Ray Charles, which adds a smidgen of levity to an otherwise despairing monologue, although the true lighthearted moment comes on the bouncy, high-spirited "That's All I Need," Sam's pop-soul celebration (the lead track from West Side Soul, mistakenly attributed to Jimmy Rogers in the songwriter credit) that brings out a bit of Sam Cooke in his celebratory vocal (the similarity is downright uncanny when he starts shouting "I feel alright, yes, I do!").
A number of key Magic Sam recordings remain in print, notably: West Side Soul and Black Magic remain in the Delmark catalogue, and the label also offers a double live set featuring the sizzling Ann Arbor Blues Festival performance from 1969 as well as live set recorded at Chicago's Alex club (Live at Ann Arbor & In Chicago) and a must-have title in Give Me Time, this being a dozen 1968 home recordings Sam made at his West Side residence; and the Fuel label has released The Essential Magic Sam: The Cobra and Chief Recordings 1957-1961; and back to Delmark. To these add Live at the Avant Garde as one of the essential Magic Sam documents. It may be 45 years old now, but it sure sounds fresh and relevant to these ears.